Louisiana State Colors
Blue, White and Gold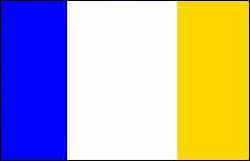 Adopted in 1972
Blue, white and gold became the official colors of the state of Louisiana in 1972 with Acts 1972, No. 603, §1.
Blue, white and gold, these colors also dominate the official state painting.
Also note: Mardi Gras colors are Purple (Justice,) Gold (Power,) and Green (Faith)
Symbolism of Louisiana Flag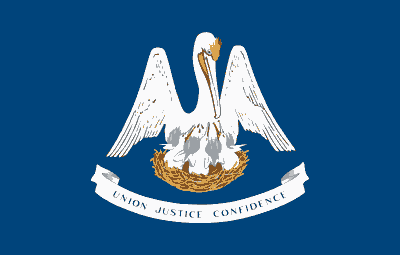 The blue color of the field is one that stands for truth. The eastern brown pelican depicted in white and gold, is the state bird. It stands as a Louisianan symbol of self-sacrifice from the 1800's. The initial settlers learned that pelicans were kind and good parenting birds. It was believed that pelicans would tear their own flesh and feed the blood to their little ones in times of food scarcity. Thus the Louisiana Flag portrays the same image of the pelican tearing at its breast. So this pelican stands for the state, that goes to any extent to protect its land and people
Louisiana Law
The law designating blue, white and gold as the official Louisiana state colors is found in the Louisiana Statutes, Title 49, Section RS 49:169.1
TITLE 49 - State administration
RS 49:161 - State colors

Universal Citation: LA Rev Stat § 49:161

§161. State colors

The official colors of the State of Louisiana shall be blue, white and gold.

Added by Acts 1972, No. 603, §1.

---