Louisiana State Symbol
"Fleur-de-lis"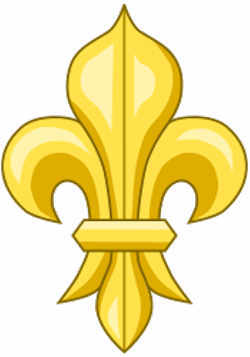 Adopted in 2008
Governor Bobby Jindal signed a bill on July 9, 2008 that made the fleur de lis the official symbol for Louisiana. It has been, however, a symbol for the state of Louisiana and more profoundly in New Orleans for some time. Most likely, any Louisiana landmark that you come across in Louisiana, there will be a fleur de lis symbol somewhere on the premises. In Baton Rouge, you will find fleur de lis symbols surrounding the Old Governor's mansion on the gates. Anywhere in New Orleans you will find local artwork, team logos, decor and more covered in the heritage inspired fleur de lis.
Louisiana takes pride in celebrating our French heritage, and the fleur de lis is a symbol of our early settlers. From the Cajuns, to the jazz in New Orleans and the zydeco in Lafayette and Breaux Bridge, Louisianians revel in the culture that was passed down through our previous generations and find any excuse to advertise these values.
You will hardly find a Louisianian that does not have either Mignon Faget fleur de lis pendant, fleur de lis home decor, or at least some sort of fleur de lis car decal or clothing.
Fleur de lis (also spelled fleur de lys), which translates from French to mean "Flower of the Lily". The actually lily that the fleur de lis symbol is supposed to have derived from is the yellow, 6-petaled lilies (and the way that the petals bend) that surround the River Luts in the Netherlands.
The meanings attached to the three bending petals differ according to the patriarch being questioned. King Louis X said they represented faith, wisdom and chivalry "and to be a sign of divine favour bestowed on France". Another meaning that is said to "represent French Royalty... signif[ies] perfection, light and life.
Original uses for the fleur de lis were for coat of arms, flags, a symbol of the convergence of the Mississippi and Missouri rivers, uniforms and many other uses.
Louisiana Law
The law designating the fleur-de-lis as the official Louisiana state symbol is found in the Louisiana Statutes, Title 49, Section RS 49:170.16
TITLE 49 - State administration

RS 49:170.16. State symbol

RS 49:170.16

§170.16. State symbol
There shall be an official state symbol. The fleur-de-lis shall be an official state symbol. The use of the fleur-de-lis on official documents of the state along with the insignia of the state is hereby authorized.
Acts 2008, No. 803, §1.

---