Vermont Geography: The Land
Geography and Landforms of Vermont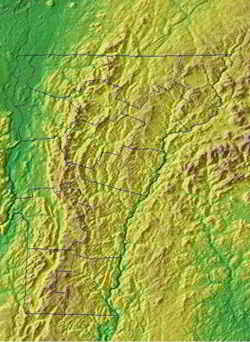 Find an overview of Vermont geography, topography, geographic land regions, land areas, and major rivers.
Access Vermont almanac, furnishing more details on the state geography, geographical and land regions, climate and weather, elevation, land areas, bordering states, and other statistical data.
Vermont is nicknamed the Green Mountain State because of the Green Mountains that run through the middle of the state. Mount Mansfield is the tallest mountain in Vermont, at 4,235 feet. As mountain ranges go, the Green Mountains are very old, and have been sculpted to their present form during several ice ages. Granite, marble, slate asbestos and talc have all been mined from the range. Vermont's Lake Champlain is the sixth largest body of fresh water in the United States. Seventy-seven percent of Vermont is still forests.
In comparison with most states, Vermont is small in total area. Still, Vermont is the second largest state in New England after Maine, just a few hundred square miles larger than New Hampshire. The Green Mountain State is bordered by Canada, New York, Massachusetts, and New Hampshire. It is 157.4 miles in length, 90.3 miles wide at the Canadian border, and 41.6 miles along the Massachusetts border. The Connecticut River forms the eastern boundary, while the western boundary runs down the middle of Lake Champlain for more than half of its length.
Vermont has 223 mountains over 2,000 feet in elevation. The mountainous areas of the state are primarily forested. In fact, although Vermont was virtually clear-cut of timber during the late 19th century, more than 75 percent of the state's total area is now forest. Below the mountains and rolling hills are the fertile valleys that support an extensive dairy industry.
Vermont Highest, Lowest, & Mean Elevations

Mean Elevation
1,000 ft.
Highest Point
Mt. Mansfield
4,393 ft.
Lowest Point
Lake Champlain
95 ft.

Vermont Land Area (Square Miles)

Geographic Center
In Washington County, 3 mi. E of Roxbury
Longitude: 72° 40.3'W
Latitude: 43° 55.6'N
Total Area
9,614.26 sq. mi.
45th
Land Area
9,249.56 sq. mi.
96.22%
Water Area
364.7 sq. mi.
3.78%
Forested Land Area
77.8%
Dimensions
(Length - Width)
160 miles - 80 miles
---
Geographers divide the state into six physiographic regions. These regions are determined by the age and type of rock in the area, by the landscape of the area, such as lowland, hills, or mountains, and by the climate of the area. Vermont's physiographic regions:
The Vermont Lowlands
The Green Mountains
The Taconic Mountains
The Valley of Vermont
The Vermont Piedmont
The Northeast Highlands
Vermont Lowland (Champlain Valley)
This valley borders Lake Champlain and is sometimes called the Vermont Lowland. It is fertile farmland. Dairy farms, apple orchards and fields of corn, hay, oats, and wheat are found here. Burlington, Vermont's largest city if found in the Champlain Valley.
Green Mountains
The Green Mountain Region is located in central Vermont. It is mostly made up the famous Green Mountains. Northfield, Worcestor and other lower mountain ranges also make up this region. The Green Mountains are an important source of minerals such as, granite, marble, talc and slate. It is also the center of the states tourism industry. Mount Mansfield (4,083 feet) is the highest peak in Vermont.
Taconic Mountains
This region cover a narrow strip of land in southwestern Vermont and extend into Massachusetts. It is made up of mountains, streams, and beautiful lakes. Some of the mountains found there are; Bear Mountain (3,260 feet), Mother Myrick Mountain (3,290 feet), Little Equinox Mountain (3,320 feet) Equinox Mountain(3,816 feet), and Equinox Mountain (3,816 feet).
Vermont Valley
Located in western Vermont is a small strip of land called the Vermont Valley. It is made up of small revers and river valleys and runs from the border of Massachusetts in the south into central Vermont. Located in the Vermont Valley are the Baton Kill and Waloomsac rivers.
Vermont Piedmont (Western New England Upland)
This region covers most of eastern Vermont. It runs south to Massachusetts and Connecticut. It is sometimes called the Vermont Piedmont. It has many lakes and is covered by fertile lowlands of the Connecticut River Valley. This area gradually rises from the east to west to the granite hills near Barre.
Northeast Highlands
Characterized by granite mountains that reach heights of 2,700 to 3,330 feet above sea level is the area of the Northeast Highlands located in the northeast corner of Vermont. This area also covers parts of New Hampshire and Maine. The granite mountains of this area are divided by swift flowing streams. Gore Mountain (3,330 feet), Burke Mountain (3,267 feet), and Mt. Monadnock (3,140 feet) are some of the highest mountains in Vermont.
Vermont Landscape and Landforms:
Northern New England
The Northern New England physiographic area extends from southern Maine through southern New Hampshire and Vermont and western Massachusetts, barely entering eastern New York in the Taconic Highlands. Landforms within the planning unit include Vermont's Killington Peak at 1,290 m ranging down to sea level along the Maine coast. Most of the region consists of Rolling hills and small mountains with large areas of farmland of the Connecticut, Merrimac, Androscoggin, and Kennebec river valleys. The planning unit also contains a large portion of the Green Mountain National Forest in southern Vermont. A majority of the planning unit is dominated by either sugar maple-beech-birch forest, red spruce-balsam fir forest, mesic hardwood forests dominated by northern red oak, or drier forests dominated by oak-hickory or pine-oak association. Presettlement forests in much of the region consisted largely of white pine and hemlock, with hardwood forests dominating after timber removal and other disturbance. Today, agriculture remains an important land use, but forest harvesting too shapes the habitats throughout Northern New England. Human populations have grown tremendously in this area and development for single family housing especially in rural and suburban areas is especially important.
St. Lawrence Plain
This physiographic area is a vast, flat plain, with elevations rarely exceeding 200m in Canada, and 300m in Vermont and New York. This area was originally a forest-wetland complex, although very little of the forest remains today. It now represents the best farmland in eastern Canada and much of the northeastern US Agriculture has been the primary land use throughout the planning unit for over 200 years, with increasing urbanization and industrialization along the St. Lawrence River. Currently, the agriculture-dominated landscape of the St. Lawrence Plain represents a vast "agricultural grassland," which supports some of the largest populations of grassland and other early successional bird species in eastern North America. Unlike in many other agricultural regions, climate and poor drainage conditions favor establishment of freshwater wetlands and promote late season harvesting, which enhance the value of the region to breeding birds. In addition, these grassland habitats, interspersed with numerous freshwater wetlands, are vital to breeding and migrating waterfowl and other wetland bird species. Forest habitats remain primarily as isolated fragments that are reduced in tree-species diversity due to repeated selected cutting of sugar maple associates such as hickory, basswood, and butternut. The vast majority of lands in this planning unit are in private ownership.