Vermont State Almanac: Facts and Figures
Quick Facts, Figures, and Overview of the State of Vermont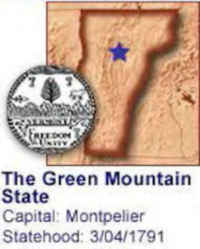 Vermont is one of the New England states of the US. It is the 45th biggest state of the United States. The neighboring states are New York, Quebec (Canada), New Hampshire, and Massachusetts. Vermont is an English form of the name that French explorer Samuel de Champlain gave to Vermont's Green Mountains on his 1647 map. He called them "Verd Mont" meaning green mountain.
Vermont leads the nation in the production of monument granite, marble, and maple products. It is also a leader in the production of talc. Vermont's rugged, rocky terrain discourages extensive agricultural farming, but is well suited to raising fruit trees and to dairy farming.
Principal industrial products include electrical equipment, fabricated metal products, printing and publishing, and paper and allied products.

Official Name
Vermont
Capital
Montpelier
Nicknames
Green Mountain State
Motto
Freedom and unity
Location
Region
44.26648 N, 072.57185 W
New England
Northeastern
Constitution Ratified
1793
Statehood
March 04, 1791
14th state
Population
625,741 (2010
65.83 sq. mi.
49th
Largest City
(by population)
10 largest cities (2010 est.): Burlington, 42,417; Essex, 19,587; South Burlington, 17,993; Colchester 17,067; Rutland, 16,495; Bennington 15,764, Brattleboro 12,046; Milton, 10,352; Hartford, 9,952; Springfield, 9,078; Barre, 9,052; Williston, 8,698; Middlebury, 8,496
Bordering States
North: Canadian province of Qu├ƒ┬ębec
East: New Hampshire (West bank of the Connecticut River forms the Eastern boundary)
South: Massachusetts
West: New York (Part of the Western boundary runs through Lake Champlain)
Major Industry
maple syrup, farming (dairy), tourism, electronics, forest products (especially paper)
Major Rivers
Connecticut River, West River, Otter River
Major Lakes
Lake Champlain, Lake Memphremagog
Vermont Counties
14 Counties in Vermont
Largest County
(by population)
Chittenden County
156,545 (2010)
539 sq. mi.
Largest County
(by area)
Windsor County
971 sq mi.
State forests
300,000 ac.
State parks
52
Presidential Birthplace

Chester Alan Arthur was born in Fairfield on October 5, 1830 (he was the 21th US President, serving from 1881 to 1885).

Calvin Coolidge was born in Plymouth on July 4, 1872 (he was the 30th US President, serving from 1923 to 1929).

Electoral Votes
3
US Congress
2 Senators; 1 Representative
Time Zone
Eastern Standard Time
Zip Codes
NANPA
State Quick Facts
Census Bureau Quick Facts
---
Vermont Climate and Weather

Vermont, like most of New England, has changeable weather and four distinct seasons. September temperatures range from 41 to 79 F/5 to 25 C, and October runs a brisk 31 to 62 F/-1 to 17 C.

Spring comes late in Vermont. Generally, by May or June warm weather has arrived, and summers are generally mild and dry. The temperature ranges 51-82 F/11-28 C, making all kinds of outdoor recreation attractive. July is the hottest month, with a few days in the 90s F/32-35 C. Evenings can be chilly even at this time of year, especially in the mountains, so take along a jacket just in case.

Winters are quite cold (2 to 30 F/-15 to -1 C), though the weather varies from place to place. Burlington and southern Vermont have somewhat milder temperatures. The annual snowfall averages 55-65 in/140-165 cm, but can be as much as 120 in/305 cm at higher elevations.
Highest Temperature
105 degrees
July 4, 1911 - Vernon
Lowest Temperature
-50 degrees
December 30, 1933 - Bloomfield
Avg. Temp:
High - Low
80.5 degrees - 7.7 degrees

Vermont Points of Interest

The Green Mountain State of Vermont has so many many things to see and do that it's really hard to choose.

ermont's many famous ski areas include Stowe, Killington, Mt. Snow, Okemo, Jay Peak, and Sugarbush. Hunting and fishing also attract many visitors to Vermont each year. Among the many points of interest are the Green Mountain National Forest, Bennington Battle Monument, the Calvin Coolidge Homestead at Plymouth, and the Marble Exhibit in Proctor, and so much more.

Vermont Highest, Lowest, and Mean Elevations (Feet)

Mean Elevation: 1,000 feet

Highest Point: Mt. Mansfield: 4,393 feet

Mount Mansfield is the highest of Vermont's peaks at an elevation of 4,393 feet. When viewed from the east, the mountain has a profile of a human face with a forehead, nose, lips, chin and Adam's apple. Mansfield summit (the chin is the highest point) offers views of the Green Mountain range, east to New Hampshire's White Mountains and west across Lake Champlain to New York's Adirondacks.

Lowest Point:
Lake Champlain
95 feet

Vermont Land Area (Square Miles)

Geographic Center
In Washington County, 3 mi. E of Roxbury
Longitude: 72°40.3'W
Latitude: 43°55.6'N
Total Area
9,614.26 sq. mi.
45th
Land Area
9,249.56 sq. mi.
96.22%
Water Area
364.7 sq. mi.
3.78%
Forested Land Area
77.8%
Dimensions
(Length - Width)
160 miles - 80 miles
County Information and County History
Almanac Online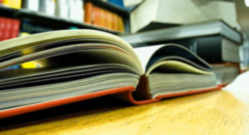 Information on people & places that make US a great place to live, visit, or study.