Missouri State Day
Third Wednesday in October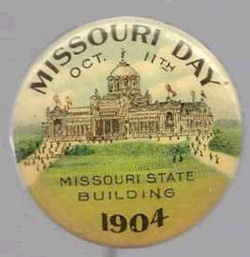 Adopted on March 22, 1915.
On March 22, 1915, the 48th General Assembly set aside the first Monday in October each year as "Missouri Day," due to the efforts of Mrs. Anna Brosius Korn, a native Missourian.
In 1969, the 75th General Assembly changed the date to the Third Wednesday in October. Missouri Day is a time for schools to honor the state and for the people of the state to celebrate the achievements of all Missourians. (RSMo 9.040)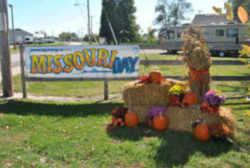 Missouri Day is an observance in the U.S. state of Missouri, currently held on the third Wednesday in October. Created by State Resolution 9.040 in 1915, Missouri Day is set aside to "foster love for our state's history and to teach rising generations of boys and girls the glories of Missouri."
The inspiration for the day came from native Missourian and schoolteacher Anna Lee Brosius Korn. Having composed the former state song, "Missouri", she felt the state needed an entire day to recognize significant Missourians. Korn later, after moving to Oklahoma, founded Oklahoma Day as well as the Oklahoma Hall of Fame.
Missouri Law
The law designating the third Wednesday in October as the official Missouri state day is found in the Missouri Revised Statutes, Title 2, Chapter 9, Section 9.040
TITLE II SOVEREIGNTY, JURISDICTION AND EMBLEMS
Chapter 9
Public Holidays
Section 9.040

August 28, 2013

Missouri Day, date of--how observed.

9.040. The third Wednesday of October of each year is known and designated as "Missouri Day" and is set apart as a day commemorative of Missouri history to be observed by the teachers and pupils of schools with the appropriate exercises. The people of the state of Missouri, and the educational, commercial, political, civic, religious and fraternal organizations of the state of Missouri are requested to devote some part of the day to the methodical consideration of the products of the mines, fields, and forests of the state and to the consideration of the achievements of the sons and daughters of Missouri in commerce, literature, statesmanship, science and art, and in other departments of activity in which the state has rendered service to mankind.

(RSMo 1939 § 15316, A.L. 1957 p. 725, A.L. 1969 S.B. 70)

Prior revisions: 1929 § 14226; 1919 § 5852
---