South Carolina State Almanac: Facts and Figures
Quick Facts, Figures, and Overview of the State of South Carolina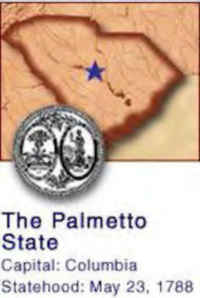 South Carolina is one of the South Atlantic states of the US. South Carolina is bordered to the north by North Carolina; to the south and west by Georgia, located across the Savannah River; and to the east by the Atlantic Ocean. South Carolina encompasses total area of 80,583 square kilometer. South Carolina was named to honor Charles IX of France and then Charles I and Charles II of England. Carolina is rooted in Latin and comes from the word Caroliinus. This word is derived from the name Carolus, translated as "Charles."
Once primarily agricultural, South Carolina today has many large textile and other mills that produce several times the output of its farms in cash value. Charleston makes asbestos, wood, pulp, steel products, chemicals, machinery, and apparel.
Farms have become fewer but larger in recent years. South Carolina ranks second in peach production after California. Other top agricultural commodities include broilers (31.5% of total state farm receipts), turkeys, greenhouse products, cattle and calves, and corn. One of only two commercial tea plantations in America is 20 mi south of Charleston on Wadmalaw Island.

Official Name
South Carolina
Capital
Columbia
Nicknames
Palmetto State ...and more
Motto
Animis Opibusque Parati (Prepared in mind and resources)
Dum Spiro Spero (While I breathe, I hope)
Location
Region
34.03923 N, 080.88634 W
Southern
South Atlantic
Appalachia
Constitution Ratified
1895
Statehood
May 23, 1788
8th state
Population
4,679,230 (2010)
133.24 sq. mi.
26th
Largest City
(by population)
10 largest cities (2010 est.):Columbia, 129,272; Charleston, 120,083; North Charleston, 97,471; Rock Hill, 66,154; ; Greenville, 58,409; Sumter, 40,524; Florence 37,056, Spartanburg, 37,013; Goose Creek, 35,938; Aiken, 29,524
Bordering States
North: North Carolina
East and South East: Atlantic Ocean
South West and West: Georgia (Savannah River forms almost all of the boundary with Georgia, and the Chattooga River forms most of the rest)
Coastline: 187 mi.
Major Industry
farming (tobacco, soybeans), textiles, manufacturing chemicals, processed foods, machinery, electronics, paper products, tourism
Major Rivers
Santee River, Edisto River, Savannah River
Major Lakes
Lake Marion, Lake Moultrie, Lake Murray, Hartwell Lake
South Carolina Counties
46 Counties in South Carolina
Largest County
(by population)
Greenville County
451,225 (2010)
792 sq. mi.
Largest County
(by area)
Horry County
1,134 sq mi.
State forests
4
State parks
47 (80,000+ ac.)
Electoral Votes
8
US Congress
2 Senators; 6 Representatives
Time Zone
Eastern Standard Time
Zip Codes
NANPA
State Quick Facts
Census Bureau Quick Facts
---
South Carolina Climate and Weather

South Carolina's climate is mild and humid. Its long coast lies near the Gulf Stream, which keeps coastal areas warmer in winter and cooler in summer than the interior. The mountains in the northwest help protect the rest of the state from cold air, but the higher elevations are usually cooler in summer and colder in winter than the rest of the state.

January temperatures are mild, with some days below freezing along the coast, but most range 37-59 F/3-14 C. Expect temperatures to run 53-76 F/11-24 C along the coast in April, 61-83 F/16-27 C in May. Some severe thunderstorms or tornadoes can occur in spring. Visitors will find pleasant conditions at the beaches through the fall, though summers are hot (high 80s F/30 C to above 90 F/32+ C) and humid. Humidity at 50%-60% in high heat can be quite exhausting, so if you visit in the warm-weather months, pace yourself.

Fall can be a pleasant time to visit. The humidity during these months is generally fairly comfortable and temperatures are in the 55-84 F/12-28 C range. Indian summers can last through November, with dry days and temperatures from the low 40s F/5 C to the mid 60s F/18 C.
Highest Temperature
111 degrees
June 28, 1954 - Camden
Lowest Temperature
-19 degrees
January 21, 1985 - Caesar's Head
Avg. Temp:
High - Low
91.9 degrees - 31.2 degrees

South Carolina Points of Interest

As an aggressive and resilient player in both America's past and present, this somewhat small state is renown for its antebellum homes, historical sites and southern style, especially in the aesthetically pleasing harbor city of Charleston.

Add hundreds of coastal islands and beaches, over 300 golf courses, wilderness areas, watersports of all description, and some the country's most popular NASCAR events, and South Carolina is understandably a mecca for travelers throughout the year. Other points of interest include Fort Sumter National Monument, Fort Moultrie, Fort Johnson, and aircraft carrier USS Yorktown in Charleston Harbor; the Middleton, Magnolia, and Cypress Gardens in Charleston; Cowpens National Battlefield; the Hilton Head resorts; and the Riverbanks Zoo and Botanical Garden in Columbia.

South Carolina Highest, Lowest, and Mean Elevations (Feet)

Mean Elevation: 350 feet

Highest Point: Sassafras Mountain: 3,560 feet

Pickens County, northwest South Carolina on North Carolina border 30 miles northwest of Greenville. The summit, owned by the Duke Energy Company, is open to the public without restriction (other than you have to walk 100 yards up a paved trail). It straddles the North Carolina border.

Lowest Point:
Atlantic Ocean
Sea level

South Carolina Land Area (Square Miles)

Geographic Center
In Richland County, 13 mi. SE of Columbia
Longitude: 80°52.4'W
Latitude: 33°49.8'N
Total Area
32,020.20 sq. mi.
40th
Land Area
30,109.47 sq. mi.
Water Area
1,910.73 sq. mi.
5.96%
Forested Land Area
65.7%
Dimensions
(Length - Width)
260 miles - 200 miles
County Information and County History
Abbeville, Aiken, Allendale, Anderson, Bamberg, Barnwell, Beaufort, Berkeley, Calhoun, Charleston, Cherokee, Chester, Chesterfield, Clarendon, Colleton, Darlington, Dillon, Dorchester, Edgefield, Fairfield, Florence, Georgetown, Greenville, Greenwood, Hampton, Horry, Jasper, Kershaw, Lancaster, Laurens, Lee, Lexington, Marion, Marlboro, McCormick, Newberry, Oconee, Orangeburg, Pickens, Richland, Saluda, Spartanburg, Sumter, Union, Williamsburg, York
Almanac Online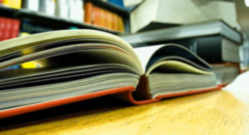 Information on people & places that make US a great place to live, visit, or study.