Montana State Arboretum
Campus of the University of Montana--Missoula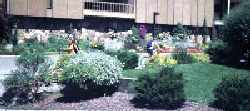 Adopted in 1991
Small arboretum on campus at the University of Montana, Missoula, was adopted in 1991. It includes native plants from north Rocky Mountain region. Many established large specimens. Xeriscape garden. Many native plants from plains and drier areas of the state.
Where is the Montana Arboretum?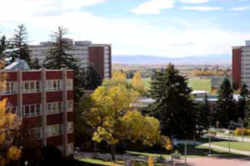 In 1991, the Montana Legislature designated it be on the University of Montana campus in Missoula, but omitted a few significant details- like funding and direction. Over the years, the campus arboretum committee has been on its own, helping guide the planting and maintenance of its trees and shrubs.
When Philip Maechling of the Missoula Office of Planning and Grants learned the Idaho-Montana Chapter of the American Society of Landscape Architects was hosting its annual conference ("Rocky Mountain Rendezvous") on the Missoula campus, April 13-15, he suggested to the conference organizers they present some design ideas for the arboretum. And that is just what transpired. On Friday, April 13, landscape architects and students, about 50 all toll, toured the campus and then went to work to sketch plans for the UM Arboretum, led by Professor Bob Grese, director of the University of Michigan's Nichols Arboretum. Mr. Grese, known for his landscape restoration work, presented a half-dozen examples of North American campus arboretums. The landscape architects and future LAs examined historic maps and aerial photos, including the original campus plan from 1896.
The challenges are creating an aesthetically pleasing and functional design, within the constraints of the topography, soil conditions and water issues, while not treading on future building projects.
Perry Brown, dean of forestry and conservation and chair of the UM Arboretum Committee, noted the campus has over 2,000 trees, only recently mapped. He aspires for the arboretum to be a place for research, education and an asset for the students and community.

University of Montana-Missoula
Campus grounds (physical address)

Missoula, MT 59812-0002
406-243-4636
dpohl@montana.edu
Facility type: arboretum

Hours of Operation:
Year-round

Admission price:
Free
The campus of this university is designated the state arboretum
Montana Law
The law designating the campus of the university of Montana-Missoula as the official Montana state arboretum is found in the Montana Revised Statutes, Title 1, Chapter 1, Part 5, Section 1-1-513
TITLE 1. GENERAL LAWS AND DEFINITIONS
CHAPTER 1. GENERAL PROVISIONS
Part 5. State Symbols - Official Designations

1-1-513. State arboretum.
The campus of the university of Montana-Missoula, is the state arboretum.
History: En. Sec. 1, Ch. 332, L. 1991; amd. sec. 36, Ch. 308, L. 1995.
---