Montana State Almanac: Facts and Figures
Quick Facts, Figures, and Overview of the State of Montana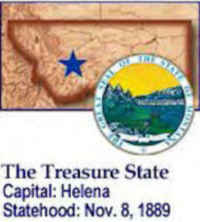 Montana is one of the Mountain states of the US. Montana is bordered by Canadian provinces British Columbia, Alberta, and Saskatchewan to the north, North Dakota and South Dakota to the east, Wyoming to the south, and Idaho to the west. Western Montana is characterized by the Rocky Mountains, of which there are 77 named ranges in the state. Created out of the Idaho Territory in 1864, the name Montana is a derivation of the Latin word "montaanus" which means mountainous.
Montana has had an economy based on its diversified natural resources. The state is divided into two distinct physical and economic regions: the Rocky Mts. in the West produce lumber and metal ores, and the Great Plains in the East produce petroleum, coal, and agricultural goods. Fields of grain cover much of Montana's plains. It ranks high among the states in wheat and barley, with rye, oats, flaxseed, sugar beets, and potatoes as other important crops. Sheep and cattle raising make significant contributions to the economy.
Official Name
Montana
Capital
Helena
Nicknames
Treasure State ... and more
Motto
Oro y Plata (Gold and Silver)
Location
Region
46.59652 N, 112.02038 W
Great Plains
Northwestern
Northwest, Pacific
Rocky Mountains
Constitution Ratified
1972
Statehood
November 08, 1889
41st state
Population
989,415 (2010)
6.20 sq. mi.
44th
Largest City
(by population)
10 largest cities (2010): Billings, 104,170; Missoula, 95,802; Great Falls, 58,505; Bozeman, 37,280; Butte-Silver Bow,1 34,200; Helena, 28,190; Kalispell, 19,927; Havre, 9,310; Anaconda-Deer Lodge County, 9,298; Miles City, 8,410
Bordering States
North: Canadian provinces of British Columbia, Alberta, and Saskatchewan
East: North Dakota and South Dakota
South: Wyoming and Idaho
West: Idaho. (Continental Divide forms much of the Southwestern boundary)
Major Industry
farming (wheat, sugar beets), cattle ranching, mining (gold, silver, copper, coal), oil, lumber, tourism
Major Rivers
Yellowstone River, Missouri River, Clark Fork River
Major Lakes
Flathead Lake, Fort Peck Lake
Montana Counties
56 Counties in Montana
Largest County
(by population)
Yellowstone County
147,972 (2010)
2,635 sq. mi.
Largest County
(by area)
Beaverhead County
5,543 sq. mi.
State forests
7
State parks
50
Electoral Votes
3
US Congress
2 Senators; 1 Representative
Time Zone
Mountain Standard Time
Zip Codes
NANPA
State Quick Facts
Census Bureau Quick Facts
---
Montana Climate and Weather

Montana's winters can be bitterly cold - though temperatures in January range 11 to 35 F/-11 to -2 C, most places experience at least a week below 0 F/-17 C. If you're primarily interested in the state's historical, cultural and sightseeing attractions, you would do well to visit in the summer months. This is when the greatest number of resorts, hotels and attractions are open and when the greatest number of events are scheduled. Expect the warmest temperatures in July, when the statewide range is 64-88 F/17-31 C, though most places will record 90 F/32 C a few times each summer. Parts of the state west of the Continental Divide are generally cooler than the southeast. On summer nights, expect temperatures of 50-60 F/10-15 C (a sweater will be more than welcome). May-July is the rainiest part of the warm season.
Highest Temperature
117 degrees
July 5, 1937
Lowest Temperature
-70 degrees
January 20, 1954 - Rogers Pass
Avg. Temp:
High - Low
86.6 degrees - 8.1 degrees

Montana Points of Interest

Glacier National Park, Little Bighorn Battlefield and National Monument, Ski Resorts, and Yellowstone National Park. Tourist attractions also include hunting, fishing, skiing, and dude ranching. Glacier National Park, on the Continental Divide, has 26 glaciers, 200 lakes, and many streams with good trout fishing. Other major points of interest include Virginia City, Fort Union Trading Post and Grant-Kohr's Ranch National Historic Sites, and the Museum of the Plains Indians at Browning, and much much more

Montana Highest, Lowest, and Mean Elevations (Feet)

Mean Elevation: 3,400 feet
Highest Point: Granite Peak: 12,799 feet

The Custer National Forest is home to 12,799 ft. Granite Peak, the tallest mountain in Montana. Granite Peak is located in the Absaroka-Beartooth Wilderness, an arduous 21 to 25 mile trek (round trip) from either of three approaches.

Lowest Point:
Kootenai River
1,800 feet

Montana Land Area (Square Miles)

Geographic Center
In Fergus County, 11 mi. W of Lewistown
Longitude: 109°38.3'W
Latitude: 41°1.9'N
Total Area
147,042.40 sq. mi.
4th
Land Area
145,552.43 sq. mi.
88.99%
Water Area
1,489.96 sq. mi.
1.01%
Forested Land Area
24.8%
Dimensions
(Length - Width)
630 miles - 280 miles
County Information and County History
Anaconda-Deer Lodge, Beaverhead, Big Horn, Blaine, Broadwater, Butte-Silver Bow, Carbon, Carter, Cascade, Chouteau, Custer, Daniels, Dawson, Fallon, Fergus, Flathead, Gallatin, Garfield, Glacier, Golden Valley, Granite, Hill, Jefferson, Judith Basin, Lake, Lewis And Clark, Liberty, Lincoln, Madison, McCone, Meagher, Mineral, Missoula, Musselshell, Park, Petroleum, Phillips, Pondera, Powder River, Powell, Prairie, Ravalli, Richland, Roosevelt, Rosebud, Sanders, Sheridan, Stillwater, Sweet Grass, Teton, Toole, Treasure, Valley, Wheatland, Wibaux, Yellowstone
Almanac Online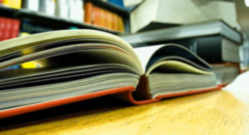 Information on people & places that make US a great place to live, visit, or study.