Montana State Korean War Veterans' Memorial - Missoula
Missoula Memorial Rose Garden, Missoula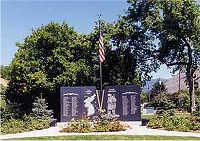 Adopted in 1999.
In April 1999, Governor Marc Racicot signed Senate Bill 352 which designated the Missoula Memorial Rose Garden as a "State Veteran's Memorial Rose Garden" and the Korean War Memorial as a "State Korean War Memorial" Both will be shown on official Montana State Highway maps.
Montanans who served and died in what has been termed "America's Forgotten War" are no longer forgotten in Montana where a state memorial was erected in Missoula MT on 14 June 1997 as a tribute to their dedication and sacrifice.

Since the late 60's, the Korean War and its veterans slipped into the shadow of the more controversial Vietnam War. To correct what many perceive as an oversight, an 18 man committee was formed in September 1995 to raise money to create the memorial which was dedicated on Flag Day, 14 June 1997 in Missoula's Rose Memorial Park. The park is home to memorials for every war and conflict from WW II forward.

In just three years 33665 Americans were killed in action. 3275 died from non hostile causes and 103284 were wounded. There are still 8176 American service members missing in action (MIA). 7000 were prisoners of war, 51% of whom died in prison camps.

Montana lost 138 men in combat in the war.

The memorial is constructed of black academy granite, the same as that used in the Korean Memorial in Washington D. C. It is located in the State Veteran's Rose Memorial Park, so designated in April 1999 by Governor Marc Racicot.

The names of the 138 Montana men who died in combat are etched into the granite slabs. The original design and artwork was donated by Missoula artist and Vietnam veteran, Bruce Haegg Johnson. It features a map of Korea and a soldier looking down at the helmet of a fallen comrade.

Montana Law
The law designating the Missoula memorial rose garden, located in Missoula as the official Montana state Korean war veterans' memorial - Missoula is found in the Montana Revised Statutes, Title 1, Chapter 1, Part 5, Section 1-1-517
TITLE 1. GENERAL LAWS AND DEFINITIONS
CHAPTER 1. GENERAL PROVISIONS
Part 5. State Symbols - Official Designations

1-1-517. State Korean war veterans' memorial - Missoula.
(1) The Missoula memorial rose garden, located in Missoula, Montana, is officially designated as a state Korean war veterans' memorial.
(2) The department of commerce and the department of transportation shall identify the Missoula memorial rose garden on official state maps as a state Korean war veterans' memorial. History: En. Sec. 2, Ch. 296, L. 1999; amd. Sec. 1, Ch. 7, L. 2001.
---