Oregon State Mother of Oregon
Tabitha Moffatt Brown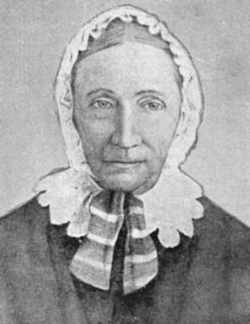 Adopted in 1987.
Tabitha Moffatt Brown (May 1, 1780 - May 4, 1858) was an American pioneer emigrant who traveled the Oregon Trail to the Oregon Country. At 66 years of age, she financed her own wagon for the trip from Missouri to Oregon. There she assisted in the founding of The boarding school for orphans that she established later became known as Tualatin Academy, which would grow to become Pacific University in Forest Grove, Oregon.
Honored by the 1987 Legislature as Mother of Oregon, Tabitha Moffatt Brown "represents the distinctive pioneer heritage and the charitable and compassionate nature of Oregon's people."
Biography
Tabitha Moffatt Brown 1780-1858
Tabitha Moffatt Brown was born in Brimfield, Massachusetts on May 1, 1780. She was the daughter of Dr. Joseph Moffatt and Lois Haynes Moffatt. Little is known about her childhood.

Tabitha Moffatt and Rev. Clark Brown were married in Brimfield on December 1, 1799. Rev. Brown (1771-1817) was a Congregational minister who later became an Episcopalian clergyman following a conflict with his former church.

The Browns moved to various places, at one point living at George Washington's estate while their own home was being constructed.

Tabitha and Clark Brown had four children--three sons and one daughter--Orus Brown, Manthano Brown, John Mattocks Brown and Pherne Brown (pronounced "Ferny"). John Mattocks Brown died at age six, while the other children became adults, married and had families of their own. Rev. Clark Brown died within a short time after son John's death, and was buried beneath the alter flooring of William and Mary's Church, Charles County, Maryland.

Tabitha Brown took up teaching to support her small family after her husband's death. After some years , Mrs. Brown decided to move her family to Missouri. This decision was made, in part at least, because her sons wished to follow their father's brother, Captain John Brown, who was a ship's captain. Captain Brown's stories of life on the high seas captivated Tabitha's boys. In Missouri, Tabitha also taught school, and it was there that her children grew to adulthood and married.

Orus Brown, Tabitha's oldest son, heard talk of the wonderful land available in Oregon, so in 1843 he decided to go to Oregon and find out for himself. He left his wife and children behind to make the journey to the unsettled territory.

When he returned he was so enthusiastic about what he had seen, that he not only convinced his own family to make the move to Oregon Territory, but, he convinced his sister's family as well. As 66 year old Tabitha listened to all the talk about going west, she made up her mind to go too. When she told Orus, he was astounded that she would even consider such a thing. Not only did Tabith consider going, but, Captain John Brown also decided to go. Captain Brown who was 78 years old at the time, had been living with Tabitha and her family since he left the sea and settled down. Orus tried to talk his elderly mother and uncle out of going. However, despite his concern, they began to prepare for the journey west.

Tabitha expected all three of her children to accompany her, Manthano, however, decided not to go because of his health and his wife's unwillingness to leave her parents. Manthano remained in Kansas on his farm where he became quite successful.

Their journey on the Oregon Trail was without incident until they passed Fort Hall in present-day Idaho. There Tabitha and her family first heard of the Applegate Trail. A man promised them that he would lead them along the short cut and they would be in Oregon City before the others who were taking the trail down the Columbia River. Three out of the four trains of immigrants were convinced that a short cut had been found. This was in August and they had left Missouri in April of 1846. The idea of shortening the journey was, indeed, very appealing. The Applegate trail, which actually went hundreds of miles south of Oregon into Utah Territory and California then finally turning north again back toward Oregon.
The guide had promised to clear the road ahead of the train so that they would have no trouble in getting their wagons over the trail. However, after the wagon train was well on its way, the guide, who had already been paid, disappeared and left the immigrants on their own. The guide was probably Levi Scott or Jesse Applegate, who were promoting what came to be variously known as the Scott-Applegate Trail, the Applegate Trail or the South Road.

Tabitha, Pherne, and Pherne's family lost nearly all of their cattle; and Tabitha lost her wagon and many supplies while crossing the Rogue river. She was left with a horse and a few clothes. Tabitha and her family were among the first of the wagons to go through a particular canyon so they fared better than those who followed. Out of a hundred wagons, only one came through without breaking.

Taking longer than they expected, winter had set in and travel had become nearly impossible, but, staying there was impossible as well, so they pressed on in an attempt to reach Oregon City before they all died. After several weeks of travel and struggle, the little party was exhausted. Mr. Pringle, Pherne's husband, set out on horseback to the settlements to try and bring help and food back to his starving family. While they waited for Virgil Pringle to return, his eldest son, Clark, shot one of his father's best working oxen and dressed it. It was a poor animal without fat, but, it provided food sufficient to keep starvation at bay.

In 1846 a remarkable 66-year-old widow completed a rugged trip west with her family to live in the Oregon Territory with the help arrived in the form of Orus and others who had heard of their plight. Tabitha Moffatt Brown finally made it to Oregon, but not before undergoing much hardship. At one point on the journey by wagon train, she was left alone on the trail in the bitter cold with her ailing 77-year-old brother-in-law. She pulled them through, despite being near starvation, and they reached the temperate Willamette Valley on Christmas Day. Tabitha stepped across the threshold of the first house she had set foot in nine long months.
After the Browns were settled Tabitha journeyed from Oregon City to her daughter's home in Salem. During this trip she discovered she was not as destitute as she at first thought. Tabitha had noticed something in the finger of her glove, she had supposed it to be a button, however, upon inspection, Tabitha discovered a picayune worth about six and one quarter cents. With this small sum Tabitha purchased three needles. She then traded some of her extra clothes to some Indian women for buckskins, and proceeded to make and sell gloves for the men and women of Oregon. This, her first, business transaction cleared around thirty dollars.
Her compassion was not destroyed either; for after being in Oregon for a while Tabitha began to notice the many orphan children here; and her heart was touched, she wanted to do something to make their life easier. Tabitha Brown and Mr. Harvey Clark, concerned for the welfare of the many orphans in the area.

Mr. Clark decided to give a piece of land for the orphan asylum. With the help of her neighbors and friends, Tabitha gathered the supplies and then the children. She began to provide them with love, and direction, as well as the creature comforts of life. Mrs. Brown was "house-mother" to the students and had become a driving force behind the school. From this small beginning developed first, the orphan asylum, then the Indian training school.
In the summer of 1848, the Rev. George H. Atkinson came to Oregon, commissioned by the Home Missionary Society of the Congregational Church Association to "found an academy that shall grow into a college...on the New England model." Atkinson and Clark drew up plans for a new educational institution, based on the orphan school.

Tualatin Academy was created through the efforts of Rev. Harvey Clark, Tabitha Brown and Rev. George Atkinson. Its purpose was to educate children in the local area, carrying forward the work of the "Orphan Asylum" started by Rev. Clark and Grandma Brown. The Territorial Legislature gave its official sanction to the newschool, establishing by charter the Tualatin Academy on September 26, 1849--the first such charter granted.
By January 10, 1854 a new charter had been granted, establishing "Tualatin Academy and Pacific University," since the academy was devoted to educating younger children, a collegiate department was proposed after a few years of operation.

The growth of a local public high school caused the Tualatin Academy to be closed in
1915 and Pacific University stood on its own - a pioneer institution of higher education.

Tabitha Moffatt Brown died on May 4, 1858, in Salem, Oregon, and is buried in the Pioneer Cemetery in Salem.
---