Oregon Famous People
Famous Americans: History and Biographies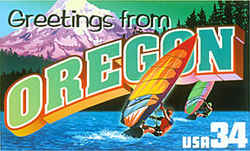 Links to histories and biographies of the famous people of Oregon. Many famous people of Oregon have made significant contributions to the history of our nation and the state of Oregon. These famous Americans, famous entertainers, famous players, famous scientist, famous singers, famous statesmen, famous women, heroes, great explorers, and others Oregon famous Americans have all made Oregon their home. This list includes Oregon historical figures, celebrities and those individuals of Oregon who have influenced the lives of others.
Danny Ainge (1959) Ainge was born in Eugene, Oregon and attended Brigham Young University. He was a college All-American and won the Wooden Award as college basketball player of the year in 1981, but he also played professional baseball with the Toronto Blue Jays while he was in college. He was eventually drafted to play basketball with the Boston Celtics, and ended his career with the Blue Jays. He started for two NBA championship teams as a Celtic, and when he retired, he was the second player in NBA history to hit 900 three-point shots. After retirement, he served briefly as coach of the Portland Trail Blazers.
Beverly Cleary (1916 - ) was born in McMinnville, Oregon and grew up on a family farm. She studied to be a librarian at the University of Washington, and served as a children's librarian in Yakima, Washington. It was not until she was in her early thirties that she finally found time to write, something she had always wanted to do. She is probably best known for her "Ramona" books, including "Ramona Forever," "Beezus and Ramona" and "Ramona's World." She has written more than 30 books, and won the Laura Ingalls Wilder Award and the Newberry Medal for her children's books.
Abigail Scott Duniway (1834 - 1915) Journalist and woman-suffrage leader; lived in Lafayette.
Dick Fosbury (1947 - ) Invented the "Fosbury Flop" move in high jumping, flipping over the bar backwards. Set an Olympic record in 1968; born in Portland.
Matt Groening (1954 - ) Born in Portland, Oregon, Matt was the son of a cartoonist who encouraged his son to draw from an early age. After graduating from college in 1977, he moved to Los Angeles with hopes to become a writer. Not finding much success, he began to send messages to his friends back home in the form of a comic book he called "Life in Hell." This comic strip is still active and appears in newspapers around the work. His success with this project led television producer James L. Brooks to hire Groening to develop an original animated comedy series, and "The Simpsons" debuted on Fox Television in 1990. The show is the longest running prime time animated show in history.
Chief Joseph, or Young Joseph was born in the Wallowa Valley, Joseph was a member of the Nez Perce tribe. Known primarily as a peaceful leader, he was forced into a war in 1877 over issues of white settlement. After trying to lead his people on a 1,500 mile trek to Canada, he was forced to surrender when his people were left starving and near frozen to death. He was first relocated to Oklahoma, but then returned to his homeland and encouraged Indians to get an education and to abstain from drinking and gambling.
Phil Knight graduated from the University of Oregon with a BS in business administration and competed on the track team. In 1964, Knight and his former track coach, Bill Bowerman, each invested $500 to start Blue Ribbon Sports, the company that would later become Nike. The first athletic shoe to bear the Nike brand was the Cortez in 1972. By 1979, the company (named for the Greek goddess of victory) claimed 50% of the US running shoe marked. Today Knight is the chief executive officer, president and chairman of Nike.
Ursula LeGuin (1929 - ) Author. She has written science fiction and fantasy novels and short stories, including The Wizard of Earthsea trilogy and The Left Hand of Darkness; lives in Portland.
Edwin Markham (1852 - 1940) Famous poet born in Oregon City who is frequently called the "Dean of American Poetry." Works include The Man with the Hoe, and Lincoln, Man of the People.
John McLoughlin, baptized Jean-Baptiste McLoughlin, (October 19, 1784 – September 3, 1857) was a French-Canadian, later American, Chief Factor and Superintendent of the Columbia District of the Hudson's Bay Company at Fort Vancouver from 1824 to 1845. He was later known as the "Father of Oregon" for his role in assisting the American cause in the Oregon Country in the Pacific Northwest. In the late 1840s, his general store in Oregon City was famous as the last stop on the Oregon Trail.
Carl Hilding "Doc" Severinsen (born July 7, 1927) is an American pop and jazz trumpeter. He is best known for leading the NBC Orchestra on The Tonight Show Starring Johnny Carson.
Lindsay Jean Wagner (born June 22, 1949) is an American actress. She is best known for her portrayal of Jaime Sommers in the 1970s television series The Bionic Woman (for which she won an Emmy Award), though she has maintained a lengthy career in a variety of other film and television productions since. Wagner was born in Los Angeles, California, the daughter of Marilyn Louise (Thrasher) and German American William Nowels Wagner. In the fall semester of 2013, she began to teach at San Bernardino Valley College in southern California (Acting and Directing for Television and Film, Motion Picture Production) as an adjunct faculty member.
---
More Famous People of Oregon
Find more more Oregon famous people below. You may not even realize many of these famous people were born in Oregon or notable associated with Oregon, including actors, actresses, explorers, historical figures, inventors, musicians, novelists, professional athletes, important politicians, singers, sport stars and more.
Cecil D. Andrus secretary of the interior, Hood River
Garner Ted Armstrong evangelist, Eugene
James Beard food expert, Portland
Raymond Carver writer, poet, Clatskanie
Homer Davenport political cartoonist, Silverton
Douglas Engelbart inventor, Portland
Mark Hatfield senator, Dallas
Joni Huntley track athlete, McMinnville
David Kennerly photographer, Roseburg
Dave Kingman baseball player, Pendleton
Phyllis McGinley author, Ontario
Linus Carl Pauling chemist, Portland
Jane Powell actress, singer, Portland
Steve Prefontaine track athlete, Coos Bay
Ahmad Rashad (1949 - ) Played 11 years in the NFL. He is currently an NBC Sportscaster; born in Portland.
John Reed poet, journalist, Portland
Pat Schroeder politician, Portland
Norton Simon business executive, Portland
Sally Stanford politician, Baker City
Sally Struthers actress, Portland