Oregon State Beverage
Milk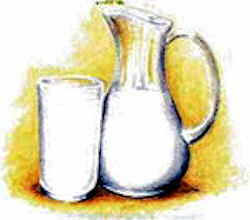 Adopted in 1997.
Milk was selected in 1997 as the state beverage. The legislature recognized that milk production and the manufacture of dairy products are major contributors to the economic well-being of Oregon agriculture. Milk consumption in Oregon, ranks highest in the nation in many areas. Top quality milk, and prize-winning products, are aggressively, and effectively marketed by the Oregon Dairy Products Commission, to the state's 3.5 million citizens.
Senate Agriculture and Natural Resources Committee, consisting of Senators Bob Kintigh, Bill Fisher, Bill Dwyer, Gary George, Veral Tarno, Ted Ferrioli, and Thomas Wilde, choose to have a public hearing for SJR 8 on February 12, 1997. Around 10:30 a.m., the sixth grade class from Tillamook county, which requested the bill, SJR 8, arrived with teachers, parents, Senator Dukes, and, maybe, a representative of the dairy industry. Acting like a high pressure salesman and he began passing milk out to the committee members with fervor. The committee members became playful and started joking about having a state cookie to go along with the milk. Already milk was the state beverage in their minds. Any opposition to the legislation was dismissed with impunity.
The legislature recognized that milk production and the manufacture of dairy products are major contributors to the economic well-being of Oregon agriculture. Tillamook County has long been known for its dairy farms and now Morrow County has seen growth in the number and size of its dairy operations.
Did you know that: Milk has been proclaimed the official state beverage or drink in each of the following states:
State Symbol: Milk
Arkansas | Delaware | Louisiana | Minnesota | Mississippi | Nebraska
New York | North Carolina | North Dakota | Oregon | Oklahoma | Pennsylvania | South Carolina | South Dakota | Tennessee | Vermont | Virginia | Wisconsin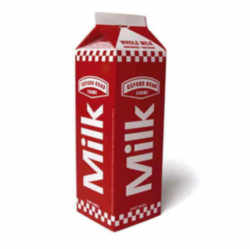 Milk is a white liquid produced by the mammary glands of mammals. It is the primary source of nutrition for young mammals before they are able to digest other types of food. Early-lactation milk contains colostrum, which carries the mother's antibodies to the baby and can reduce the risk of many diseases in the baby. It also contains many other nutrients.
The Oregon dairy industry is a community-conscious, caring business that contributes nearly $1 billion to Oregon's economic well-being each year. Oregon's dairy farm families, with the help of 120,000 dairy cows, and Oregon dairy processors throughout the state, consistently produce top quality, delicious dairy products for consumers to enjoy. Oregon dairymen and women care about their cows, their communities, and the land, air and water of Oregon.
Oregon milk consistently ranks in the top five states nationwide for milk quality. This is a direct reflection of top notch animal care and the innovation and high standards within product processing. The commitment to producing and processing high quality, wholesome and nutritious dairy products has been standard since the industry was founded more than 150 years ago.
The average Oregon cow produces 65 pounds of milk a day, on a farm size of 300 acres. Oregon dairy produces roughly 2.2 billion pounds of milk annually. Holsteins are the most popular breed and Jerseys come in second with a small percentage of other dairy breeds. Oregon dairy cows spend time at pasture seasonally and live in spacious free-stall barns the rest of the year.
Where milk comes from and how it's made.
Ever wonder where delicious milk comes from? It all starts with healthy, well-fed cows that live on farms all around America the beautiful.


All cows are females (males are called bulls).
A cow can't give milk until she's given birth to a calf.
Cows provide 90% of the world's milk supply.
A cow's udder can hold 25-50 pounds of milk at a time - no wonder she's so eager to be milked - and a cow gives nearly 200,000 glasses of milk in her lifetime.
Can You Say, "I'm Full?"
Cows are BIG eaters. Did you know that cows have four stomachs and eat 90 pounds of food a day? That's probably more than you weigh! A cow that chows on only grass can make 50 glasses of milk a day. But one that eats grass, corn and hay can make 100 glasses of milk a day!
Oregon Senate Joint Resolution 8 - 1997
69th OREGON LEGISLATIVE ASSEMBLY--1997 Regular SessionLC 1678
Senate Joint Resolution 8

Sponsored by Senator DUKES, Representative JOSI; Senators ADAMS, BAKER, BROWN, BRYANT, BURDICK, DERFLER, DWYER, FERRIOLI, FISHER, GEORGE, GORDLY, HAMBY, HANNON, HARTUNG, KINTIGH, LEONARD, LIM, SHANNON, STULL, TARNO, TIMMS, TROW, WILDE, YIH, Representatives ADAMS, BECK, L. BEYER, R. BEYER, BOWMAN, BRIAN, CARTER, CORCORAN, COURTNEY, DECKERT, DEVLIN, EDWARDS, EIGHMEY, FAHEY, GARDNER, HARPER, HILL, JENSON, JOHNSON, JOHNSTON, JONES, KRUSE, LEHMAN, LEWIS, LOKAN, LUNDQUIST, MARKHAM, MESSERLE, MILNE, MINNIS, MONTGOMERY, OAKLEY, PIERCY, PROZANSKI,RASMUSSEN, REPINE, ROBERTS, ROSS, SCHRADER, SHETTERLY, SHIELDS, SIMMONS, SNODGRASS, STARR, SUNSERI, TAYLOR, THOMPSON, UHERBELAU, VANLEEUWEN, WATT, WELLS, WELSH, WESTLUND, WHELAN, WOOTEN (at the request of Robert Arthur, Nathaniel Belcher, Gary Blaser, Cassi Brown, David Burdick, Jeremy Cham, Jeff Dominguez, Travis Faller, Larry Fonton, Toni Fusco, Jessica Gorham, Carrie Lamkin, Danika Laviolette, Mitchell Leno, Amy Merritt, Carole Mortimore, Darren Noffsinger, Brandi Pierson, Heather Reeves, Rachelle Scott, Adam Shoulders, Steve Warren, Chris Yates, Bruce Cardin)

SUMMARY

The following summary is not prepared by the sponsors of the
measure and is not a part of the body thereof subject to
consideration by the Legislative Assembly. It is an editor's
brief statement of the essential features of the measure as
introduced.

Designates milk as Oregon state beverage.

JOINT RESOLUTION
Whereas milk production and the manufacture of dairy products
are major contributors to the economic well-being of Oregon
agriculture; and

Whereas the United States Department of Agriculture's Food
Guide Pyramid recommends that individuals over the age of two
drink or eat two to three servings each day from the milk, yogurt
and cheese group; and

Whereas milk is an invaluable source of calcium, B vitamins,
protein and other nutrients such as phosphorus, magnesium,
potassium, riboflavin and vitamins A and D; and
Whereas milk and milk products promote and maintain strong
bones and good health; now, therefore,

Be It Resolved by the Legislative Assembly of the State of
Oregon:

Milk is recognized as and hereby is designated to be the
official beverage of the State of Oregon.

---