Utah State Almanac: Facts and Figures
Quick Facts, Figures, and Overview of the State of Utah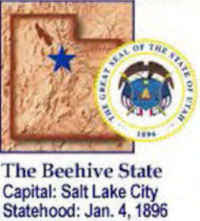 Utah is one of the Mountain states of the US. Being the 13th biggest state in the United States, Utah constitutes a part of the western region of the country. The state covers a total area of 84,899 sq. miles and is bordered by Colorado, Arizona, Idaho, and Wyoming. Navajo Indians were referred to by the Apache as "Yuttahih" meaning "one that is higher up." Europeans misunderstood this term to refer to the tribes living higher in the mountains than the Navajo, the Utes, and the territory was called the land of the Utes, thus the name Utah.
Rich in natural resources, Utah has long been a leading producer of copper, gold, silver, lead, zinc, potassium salts, and molybdenum. Oil and natural gas have also become major products. Utah is the only state that produces gilsonite, a pure form of asphalt used in dark colored printing inks and paints, oil well drilling muds and cements, asphalt modifiers, foundry sands additives, and a wide variety of chemical products.
The state's top agricultural commodities include cattle and calves, dairy products, hay, greenhouse and nursery products, and hogs.
Official Name
Utah
Capital
Salt Lake City
Nicknames
Beehive State ...and more
Motto
Industry
Location
Region
40.77726 N, 111.92992 W
Rocky Mountains
Southwestern
Constitution Ratified
1896
Statehood
January 04, 1896
45th state
Population
2,763,885 (2010)
27.18 sq. mi.
34th
Largest City
(by population)
10 largest cities (2010 est.):Salt Lake City,186,440; West Valley City, 129,480;Provo, 112,488; West Jordan, 103,712; Orem, 88,328; Sandy, 87,461; Ogden, 82,825; St. George, 72,897; Layton, 67,311; Taylorsville, 58,652
Bordering States
North: Idaho
East: Colorado
South: Arizona
West: Nevada
Major Industry
oil, natural gas, mining (coal, copper, iron ore, silver, gold), steel-making, farming (cattle, sheep, dairy products), tourism (especially skiing)
Major Rivers
Colorado River, Green River
Major Lakes
Great Salt Lake, Lake Powell, Utah Lake
Utah Counties
29 Counties in Utah
Largest County
(by population)
Salt Lake County
1,029,655 (2010)
737 sq. mi.
Largest County
(by area)
San Juan County
7,821 sq. mi.
National parks
5
National monuments
6
State parks/forests
40
Electoral Votes
5
US Congress
2 Senators; 3 Representatives
Time Zone
Mountain Standard Time
Zip Codes
NANPA
State Quick Facts
Census Bureau Quick Facts
---
Utah Climate and Weather

Utah is known for low humidity and lots of sunshine. The statewide average high temperature in July is near 80 degrees, while in January, a 30 degree high is average. Severe winter cold conditions do occur in the upper elevations.

Annual precipitation varies from less than five inches in Utah's Great Salt Lake desert to more than 50 inches in the northern mountain ranges. Snow frequently accumulates to depths of 10 feet or more at many Wasatch Mountain ski resorts.
Highest Temperature
117 degrees
July 5, 1985 - Saint George
Lowest Temperature
-69 degrees
February 1, 1985 - Peter's Sink
Avg. Temp:
High - Low
93.2 degrees - 19.7 degrees

Utah Points of Interest

The Great Salt Lake Desert area, Lake Powell and the Colorado River, Flaming Gorge Recreational Area, Bryce Canyon, Grand Staircase-Escalante National Monument, Monument Valley and Zion National Park. Utah is a great vacationland with 11,000 mi of fishing streams and 147,000 acres of lakes and reservoirs. Among the many tourist attractions are Arches, Bryce Canyon, Canyonlands, Capitol Reef, and Zion National Parks; Cedar Breaks, Dinosaur, Hovenweep, Natural Bridges, Rainbow Bridge, Timpanogos Cave and the Mormon Tabernacle in Salt Lake City. Salt Lake City hosted the 2002 Winter Olympics

Utah Highest, Lowest, and Mean Elevations (Feet)

Mean Elevation: 6,100 feet

Highest Point: Kings Peak: 13,528 feet

Kings Peak is the highest peak in Utah. It is located in the High Uintas Wilderness Area, roughly two hours east of Salt Lake City. The Uintas are the only major mountain range in the United States that run in an east - west direction. They feature several peaks over 4,000 meters. Kings Peak rises just south of the main Uintas crest.

Lowest Point:
Beaverdam Wash
2,000 feet

Utah Land Area (Square Miles)

Geographic Center
In Sanpete County, 3 mi. N. of Manti
Longitude: 111°41.1'W
Latitude: 39°23.2'N
Total Area
84,898.83 sq. mi.
13th
Land Area
82,143.65 sq. mi.
96.76%
Water Area
2,755.18 sq. mi.
3.24%
Forested Land Area
29.9%
Dimensions
(Length - Width)
350 miles - 270 miles
County Information and County History
Almanac Online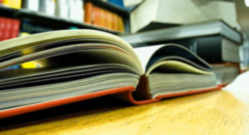 Information on people & places that make US a great place to live, visit, or study.