Virginia State Beverage
Milk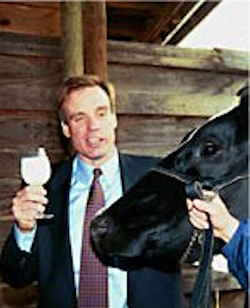 (lac vaccum)
Adopted in 1982.
Milk was recognized as the official state beverage of Virginia in 1982. On March 19, 2002, at Harvue Farms in Berryville, Governor Mark R. Warner signed a proclamation declaring March 17 - 23 as Agriculture Week in Virginia. After signing the official proclamation, he toasted Virginia's number one industry, agriculture, with the state's official beverage, milk. "To your health," the Governor said to the assembled crowd and to Harvue Encore Lady, handled by farm staff Scott Donnelly.
Did you know that: Milk has been proclaimed the official state beverage or drink in each of the following states:
State Symbol: Milk
Arkansas | Delaware | Louisiana | Minnesota | Mississippi | Nebraska
New York | North Carolina | North Dakota | Oregon | Oklahoma | Pennsylvania | South Carolina | South Dakota | Tennessee | Vermont | Virginia | Wisconsin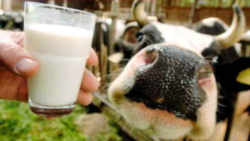 There are 98,000 dairy cows in Virginia. Milk is Virginia's third largest commodity with $372 million
in sales.
Milk is a white liquid produced by the mammary glands of mammals. It is the primary source of nutrition for young mammals before they are able to digest other types of food. Early-lactation milk contains colostrum, which carries the mother's antibodies to the baby and can reduce the risk of many diseases in the baby. It also contains many other nutrients.
Where milk comes from and how it's made.
Ever wonder where delicious milk comes from? It all starts with healthy, well-fed cows that live on farms all around America the beautiful.

All cows are females (males are called bulls).
A cow can't give milk until she's given birth to a calf.
Cows provide 90% of the world's milk supply.
A cow's udder can hold 25-50 pounds of milk at a time - no wonder she's so eager to be milked - and a cow gives nearly 200,000 glasses of milk in her lifetime.
Can You Say, "I'm Full?"
Cows are BIG eaters. Did you know that cows have four stomachs and eat 90 pounds of food a day? That's probably more than you weigh! A cow that chows on only grass can make 50 glasses of milk a day. But one that eats grass, corn and hay can make 100 glasses of milk a day!
Virginia Law

The law designating milk as the official Virginia state beverage is found in the Code of Virginia, Title 1, Chapter 5, Section 1-510. Virginia symbols were re-organized under one section of the Code of Virginia in 2005.
Title 1 - GENERAL PROVISIONS.
Chapter 5 - Emblems
§ 1-510. Official emblems and designations.

The following are hereby designated official emblems and designations of the Commonwealth:

Artisan Center - "Virginia Artisans Center," located in the City of Waynesboro.

Bat - Virginia Big-eared bat (Corynorhinos townsendii virginianus).

Beverage - Milk.

Blue Ridge Folklore State Center - Blue Ridge Institute located in the village of Ferrum.

Boat - "Chesapeake Bay Deadrise."

Covered Bridge Capital of the Commonwealth - Patrick County.

Covered Bridge Festival - Virginia Covered Bridge Festival held in Patrick County.

Dog - American Foxhound.

Emergency medical services museum - "To The Rescue," located in the City of Roanoke.

Fish - Brook Trout.

Fleet - Replicas of the three ships, Susan Constant, Godspeed, and Discovery, which comprised the Commonwealth's founding fleet that brought the first permanent English settlers to Jamestown in 1607, and which are exhibited at the Jamestown Settlement in Williamsburg.

Flower - American Dogwood ( Cornus florida).

Folk dance - Square dancing, the American folk dance that traces its ancestry to the English Country Dance and the French Ballroom Dance, and is called, cued, or prompted to the dancers, and includes squares, rounds, clogging, contra, line, the Virginia Reel, and heritage dances.

Fossil - Chesapecten jeffersonius.

Gold mining interpretive center - Monroe Park, located in the County of Fauquier.

Insect - Tiger Swallowtail Butterfly (Papilio glaucus Linne).

Motor sports museum - "Wood Brothers Racing Museum and Virginia Motor Sports Hall of Fame," located in Patrick County.

Outdoor drama - "The Trail of the Lonesome Pine Outdoor Drama," adapted for the stage by Clara Lou Kelly and performed in the Town of Big Stone Gap.

Outdoor drama, historical - "The Long Way Home" based on the life of Mary Draper Ingles, adapted for the stage by Earl Hobson Smith, and performed in the City of Radford.

Shell - Oyster shell (Crassostrea virginica).

Song emeritus - "Carry Me Back to Old Virginia," by James A. Bland, as set out in the House Joint Resolution 10, adopted by the General Assembly of Virginia at the Session of 1940.

Sports hall of fame - "Virginia Sports Hall of Fame," located in the City of Portsmouth.

War memorial museum - "Virginia War Museum," (formerly known as the War Memorial Museum of Virginia), located in the City of Newport News.

(Code 1950, § 7-35, 7-36, 7-37; 1966, cc. 102, 547, § 7.1-37, 7.1-38, 7.1-39; 1974, c. 24, § 7.1-40; 1982, c. 191, § 7.1-40.1; 1986, c. 138, § 7.1-40.2; 1988, c. 317, § 7.1-40.3; 1991, cc. 71, 575, § 7.1-40.4, 7.1-40.5; 1993, cc. 251, 509, § 7.1-40.6; 1994, cc. 33, 134, 220, 464, § 7.1-40.2:1, 7.1-40.8; 1995, cc. 12, 180, § 7.1-40.2:2; 1996, c. 52, § 7.1-40.9; 1997, cc. 66, 576, § 7.1-40.10; 1999, cc. 69, 336, § 7.1-40.11; 2001, cc. 97, 134, § 7.1-40.12; 2001, c. 228, § 7.1-40.13; 2005, cc. 557, 839; 2006, c. 128; 2007, cc. 391, 685; 2008, c. 262.)
---
State Foods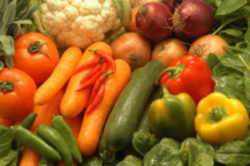 List official US state foods. Includes drinks, deserts, cookies, and muffins to complete meals.
Colleges & Universities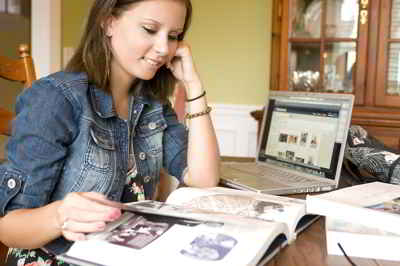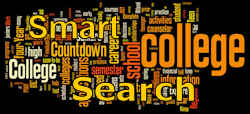 Get Your Degree!
Find schools and get information on the program that's right for you.
Powered by Campus Explorer