Michigan State Motto
"Si quaeris peninsulam amoenam, circumspice"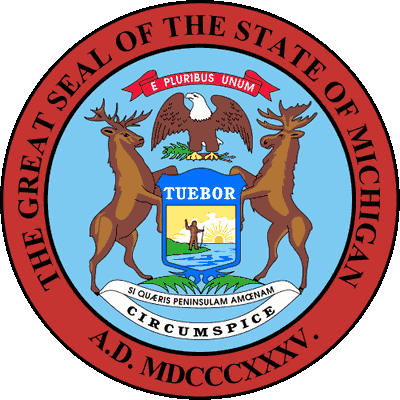 (If you seek a pleasant peninsula, look about you.)
Adopted in 1835.
Language: Latin
Focus: Geographical
The State motto of Michigan, "Si Quaeris Peninsulam Amoenam Circumspice", meaning: If you seek a pleasant peninsula, look around you, is said to have been suggested by the mural inscription on the north door of St. Paul's Cathedral in London, which reads, Si Monumentum Requiris Circumspice. Adopted in 1835.
This statement holds many truths. Michigan is a land of great splendors. Full of natural beauty, historical importance and citizens full of hope and energy as we enter into a new millennium. Michigan is also a place of economic opportunities, with Michigan gaining recognition as being the state with the most new plants or expansion projects for the third year in a row. So, relocating or starting a business in Michigan is a smart choice.
There are four states with mottos that focus on geography:
Michigan Law
The law designating the official Michigan state motto is found in the Michigan Compiled Laws, Chapter 2, Section 22.
This statute describes the Michigan coat of arms The motto is specified within this description.
CHAPTER 2. STATE.
SECTION 2.22.

2.22 State coat-of-arms; emblazonment.

Sec. 2.
The coat-of-arms shall be blazoned as follows:
Chief, Azure, motto argent Tuebor;
Charge, Azure, sun-rayed rising sinister proper, lake wavey proper, peninsula dexter grassy proper, man dexter on peninsula, rustic, habited, dexter arm-raised, dexter turned, sinister arm with gun stock resting, all proper;
Crest, On a wreath azure and or, an American eagle rising to the dexter, tips of wings partly lowered to base, all proper, dexter talon holding an olive branch with 13 fruit, sinister talon holding a sheaf of 3 arrows, all proper. Over his head a sky azure environed with a scroll gules with the motto "E Pluribus Unum"argent;
Supporters;
Dexter, An elk rampant, proper;
Sinister, A moose rampant, proper;
Mottoes, On the scroll unending superior narrow argent, in sable, the motto, "Si quaeris peninsulam, amoenam."
On the scroll unending inferior, broader argent in sable the motto "circumspice."
Observations:
Scroll support and conventional leaf design between shield and scroll superior or;
Escutcheon supporters rest on the scroll supports and leaf design.

History: 1911, Act 209, Eff. Aug. 1, 1911 ;-- CL 1915, 1099 ;-- CL 1929, 135 ;-- CL 1948, 2.22
---
Mottos of the States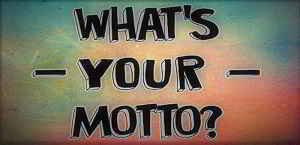 State motto is a word, phrase, or sentence inscribed on or attached to a coin, building, or other object. The motto states an important idea for a group of people within the state.