Michigan State Almanac: Facts and Figures
Quick Facts, Figures, and Overview of the State of Michigan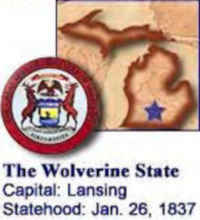 Michigan Almanac furnishes quick facts and figures on the state, its history and geography; largest and smallest counties, largest cities; climate and weather, temperature, highest, lowest, and mean temperatures; elevations, lowest, highest elevations; total area, land area and water area, state forest and park areas; bordering states, electoral votes, number of senators and representatives to the US Congress, and other statistical data.
Use this almanac of Michigan for information on local issues, politics, events, celebrations, people and business pertaining to the state of Michigan that can be found online.
Michigan, one of the East North Central states of the US. Michigan consisting mainly of two large peninsulas: the Lower Peninsula and the smaller Upper Peninsula. The state is bounded on the south by the states of Ohio and Indiana, sharing land and water boundaries with both. Michigan's western boundaries are almost entirely water boundaries, from south to north, with Illinois and Wisconsin in Lake Michigan; then a land boundary with Wisconsin and the Upper Peninsula, that is principally demarcated by the Menominee and Montreal Rivers; then water boundaries again, in Lake Superior, with Wisconsin and Minnesota to the west, capped around by the Canadian province of Ontario to the north and east. Michigan's name originally referred to a clearing on the lower peninsula and was derived from the Chippewa Indian word "majigan" which means clearing. Lake Michigan was named after this clearing by European explorers in the area in the 1670's. From Chippewa words mici gama meaning "great water," after the lake of the same name.

Michigan economy, dominated in the 19th century by fur trapping, farming, lumbering, and mining, became highly industrialized after 1900 as the state developed into the major center in production of motor vehicles and parts, it is also a leader in many other manufacturing and processing lines, including prepared cereals, machine tools, airplane parts, refrigerators, hardware, and furniture. The state produces important amounts of iron, copper, iodine, gypsum, bromine, salt, lime, gravel, and cement. Michigan's farms grow apples, cherries, beans, pears, grapes, potatoes, and sugar beets. Michigan's forests contribute significantly to the state's economy, supporting thousands of jobs in the wood-product, tourism, and recreation industries. With 10,083 inland lakes and 3,288 mi of Great Lakes shoreline, Michigan is a prime area for both commercial and sport fishing.
Official Name
Michigan
Capital
Lansing
Nicknames
Wolverine State ...and more
Motto
Si Quaeris Peninsulam Amoenam Circumsice (If you seek a pleasant peninsula, look about you)
Location
Region
42.70910 N, 084.55399 W
Midwest
Northeastern
Constitution Ratified
April 1,1963
Statehood
January 26, 1837
26th state
Population
9,883,640 (2010)
174.94 sq. mi.
8th
Largest City
(by population)
10 largest cities (2010): Detroit, 713,777; Grand Rapids, 188,040; Warren, 134,056; Sterling Heights, 129,699; Lansing, 114,297; Ann Arbor, 113,934; Flint, 102,434; Dearborn, 98,153; Livonia, 96,942; Clinton Township, 96,796
Bordering States
North and East: Ontario
South: Ohio and Indiana
West: Wisconsin
Great Lakes: (Most boundaries are formed by four of the Great Lakes: Superior, Huron, Erie, and Michigan)
Major Industry
car manufacturing, farming (corn, soybeans, wheat), timber, fishing
Major Rivers
Detroit River, Grand River, Kalamazoo River, St. Clair River, St. Marys River
Major Lakes
Lake Michigan, Lake Superior, Lake Huron, Lake Erie, Lake St. Clair
Michigan Counties
83 Counties in Michigan
Largest County
(by population)
Wayne County
1,820,584 (2010)
614 sq. mi.
Largest County
(by area)
Marquette County
1,821 sq. mi.
State parks and recreation areas
97
Electoral Votes
17 (as of the 2004 Presidential Election)
US Congress
2 Senators; 16 Representatives (15 Representatives as of the 2002 election)
Time Zone
Eastern Standard Time
Zip Codes
NANPA
State Quick Facts
Census Bureau Quick Facts
---
Michigan Climate and Weather

Michigan has four distinct seasons with activities and attractions suited to each. Though it has heavy snowfall in places, the Great Lakes tend to

moderate the temperatures of the surrounding land, cooling the summers and warming the winters. This results in a milder climate in portions of the basin compared to other locations of similar latitude. The lakes also act as a giant humidifier, increasing the moisture content of the air throughout the year. In the winter, this moisture condenses as snow when it reaches the land, creating heavy snowfall in some areas, known as "snow belts" on the downwind shores of the lakes. The shores of Lake Superior are prone to this "lake effect" snow and have recorded up to 350 inches of snow in a single year. During the winter, the temperature of the lakes continues to drop. Ice frequently covers Lake Erie but seldom fully covers the other lakes.

The lake breezes also make the shore areas (along Lake Michigan, in particular) several degrees cooler in summer. In most years, winter-sports enthusiasts will find plenty of snow in the Upper Peninsula and northern Lower Peninsula from mid November through March.

Accumulations of 120-170 in/305-432 cm are common. Temperatures usually drop below 0 F/-18 C once or twice each winter, but the average January temperature ranges 6 to 32 F/-15 to 0 C. In spring, expect temperatures from the mid 30s to the mid 60s F/2-17 C. Summer offers temperatures on the average 47-83 F/8-27 C. Humidity is occasionally uncomfortable, but the moderate temperatures usually keep things from getting too extreme. Mid September to late October offers temperatures running 41-62 F/5-16 C.

Highest Temperature
112 degrees
July 13, 1936 - Mio
Lowest Temperature
-51 degrees
February 4, 1934 - Vanderbilt
Avg. Temp:
High - Low
83.1 degrees - 14.0 degrees

Michigan Points of Interest

Michigan is ringed by the Great Lakes and home to the world's longest freshwater coastline. Here you will find countless miles of beaches, more than 100 lighthouses and numerous (maritime) historical points-of-interest.

Outdoor activities are plentiful year-round, including biking, boating, camping, cross-country skiing and snowmobiling, and of course, world-class fishing

Some of Michigan's most popular attractions include the 24/7 city of Detroit, Greenfield Village, the Henry Ford Museum, Isle Royal National Park, Mackinac Island; Pictured Rocks and Sleeping Bear Dunes National Lakeshores; Upper Peninsula and Sugarloaf Mountain, and the Soo Locks at Sault Sainte Marie.

Michigan Highest, Lowest, and Mean Elevations (Feet)

Mean Elevation: 900 feet
Highest Point: Mt. Arvon: 1,979 feet

Mount Curwood in Baraga County was recognized as the highest point in Michigan. In 1982, however, the US Department of Interior's Geological Survey team gathered new measurements and found Mount Curwood to be slightly lower in elevation than nearby Mount Arvon. Mount Curwood measured 1,978.24 feet above sea level and Mount Arvon registered at 1,979.238 feet above sea level.

Lowest Point:
Lake Erie
572 feet

Michigan Land Area (Square Miles)

Geographic Center
In Wexford County, 5 mi. NNW of Cadillac
Longitude: 84°56.3'W
Latitude: 45°3.7'N
Total Area
96,716.11 sq. mi
11th
Land Area
56,803.82 sq. mi
Water Area
39,912.28 sq. mi
41.26%
Forested Land Area
53.2%
Dimensions
(Length - Width)
490 miles - 240 miles
County Information and County History
Alcona
,
Alger
,
Allegan
,
Alpena
,
Antrim
,
Arenac
,
Baraga
,
Barry
,
Bay
,
Benzie
,
Berrien
,
Branch
,
Calhoun
,
Cass
,
Charlevoix
,
Cheboygan
,
Chippewa
,
Clare
,
Clinton
,
Crawford
,
Delta
,
Dickinson
,
Eaton
,
Emmet
,
Genesee
,
Gladwin
,
Gogebic
,
Grand Traverse
,
Gratiot
,
Hillsdale
,
Houghton
,
Huron
,
Ingham
,
Ionia
,
Iosco
,
Iron
,
Isabella
,
Jackson
,
Kalamazoo
,
Kalkaska
,
Kent
,
Keweenaw
,
Lake
,
Lapeer
,
Leelanau
,
Lenawee
,
Livingston
,
Luce
,
Mackinac
,
Macomb
,
Manistee
,
Marquette
,
Mason
,
Mecosta
,
Menominee
,
Midland
,
Missaukee
,
Monroe
,
Montcalm
,
Montmorency
,
Muskegon
,
Newaygo
,
Oakland
,
Oceana
,
Ogemaw
,
Ontonagon
,
Osceola
,
Oscoda
,
Otsego
,
Ottawa
,
Presque Isle
,
Roscommon
,
Saginaw
,
Sanilac
,
Schoolcraft
,
Shiawassee
,
St. Clair
,
St. Joseph
,
Tuscola
,
Van Buren
,
Washtenaw
,
Wayne
,
Wexford