New Mexico State Tree
Nut Pine or Pinyon
(Pinaceae Pinus edulis)
Adopted on March 16, 1949.
When the New Mexico Federation of Women's Clubs was asked to select a state tree, the pinyon, (Pinaceae Pinus edulis,) was their choice. It was adopted on March 16, 1949, the same day the roadrunner was adopted as the state bird. Ten years later, Nevada adopted the single-leaf pinyon.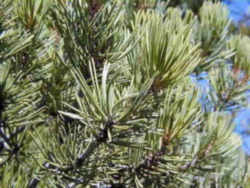 Pinyon (Pinus edulis) is a small, drought-hardy, long-lived tree widespread in the southwestern United States. Its common name is derived from the Spanish piņon which refers to the large seed of pino (pine). For this reason the tree is known in the Southwest and throughout its range by this Spanish equivalent (49). Other common names are Colorado pinyon, nut pine, two-needle pinyon, and two-leaf pinyon (50). Its heavy, yellow wood is used primarily for fuel. Because of their delicate flavor its seeds are in much demand, making them its most valuable product.
Common names
Piņon ( Elmore & Janish 1976 ); New Mexican, Colorado, mesa, two-leaved, or common piņon (or pinyon) pine ( Peattie 1950 ).
Identification of the Pinyon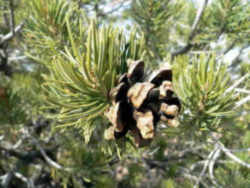 Pinus edulis, the Colorado pinyon, two-needle pinyon, or piņon pine, is a pine in the pinyon pine group whose ancestor was a member of the Madro-Tertiary Geoflora (a group of drought resistant trees) and is native to New Mexico
Leaf: Usually two needles per fascicle. Needles are coarse, thick, curved, blue-green or yellow-green, stiff, and one to two inches long.
Flower: Monoecious; males red, cylindrical, in clusters near ends of branches; females purplish at branch tips.
Fruit: Cones are ovoid, 2 inches long, short stalked, brown in color, with very thick cone scales. Each scale contains two very large edible "pine nuts". Maturing in September and October.
Twig: Stout and orange-brown, somewhat scraggly.
Bark: Scaly or with small plates, red brown to gray.
Form: A small tree with an irregular rounded crown.
Habitat: Open, orchardlike woodlands, alone or with junipers. Mostly on dry, rocky foothills, mesas, plateaus and lower mountain slopes. Native to New Mexico.
New Mexico Law
CHAPTER 12 Miscellaneous Public Affairs Matters
ARTICLE 3 State Seal, Song and Symbols

12-3-4. State flower; state bird; state tree; state fish; state animal; state vegetables; state gem; state grass; state fossil; state cookie; state insect; state question; state answer; state nickname; state butterfly; state reptile; state amphibian; state aircraft; state historic railroad.

A. The yucca flower is adopted as the official flower of New Mexico.
B. The chaparral bird, commonly called roadrunner, is adopted as the official bird of New Mexico.
C. The nut pine or pinon tree, scientifically known as Pinus edulis, is adopted as the official tree of New Mexico.
D. The native New Mexico cutthroat trout is adopted as the official fish of New Mexico.
E. The native New Mexico black bear is adopted as the official animal of New Mexico.
F. The chile, the Spanish adaptation of the chilli, and the pinto bean, commonly known as the frijol, are adopted as the official vegetables of New Mexico.
G. The turquoise is adopted as the official gem of New Mexico.
H. The blue grama grass, scientifically known as Bouteloua gracillis, is adopted as the official grass of New Mexico.
I. The coelophysis is adopted as the official fossil of New Mexico.
J. The bizcochito is adopted as the official cookie of New Mexico.
K. The tarantula hawk wasp, scientifically known as Pepsis formosa, is adopted as the official insect of New Mexico.
L. "Red or green?" is adopted as the official question of New Mexico.
M. "Red and green or Christmas" is adopted as the official answer of New Mexico.
N. "The Land of Enchantment" is adopted as the official nickname of New Mexico.
O. The Sandia hairstreak is adopted as the official butterfly of New Mexico.
P. The New Mexico whiptail lizard, scientifically known as Cnemidophorus neomexicanus, is adopted as the official reptile of New Mexico.
Q. The New Mexico spadefoot toad, scientifically known as Spea multiplicata, is adopted as the official amphibian of New Mexico.
R. The hot air balloon is adopted as the official aircraft of New Mexico.
S. The Cumbres and Toltec scenic railroad is adopted as the official historic railroad of New Mexico.

Taxonomic Hierarchy of the Pinyon

Kingdom
Plantae -- Plants
Subkingdom
Tracheobionta -- Vascular plants
Superdivision
Spermatophyta --Seed plants
Division
Coniferophyta --Conifers
Class
Pinopsida --
Order
Pinales --
Family
Pinaceae --Pine family
Genus
Genus Pinus L. --pine
Species
Pinus edulis Engelm. --two needle pinyon
Source:
Dendrology at Virginia Tech
US Department of Agriculture
State Trees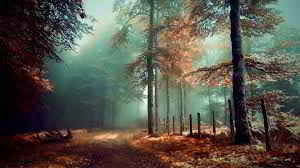 All of the state trees, except the Hawaii state tree, are native to the state in which they are designated.
Colleges & Universities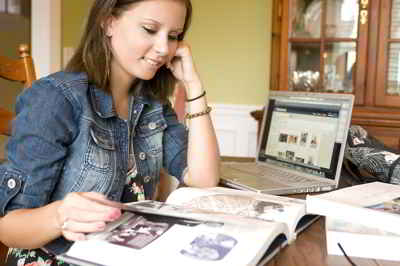 With access to over 8,500 schools to choose from!
Get Your Degree!
Find schools and get information on the program that's right for you.
Powered by Campus Explorer