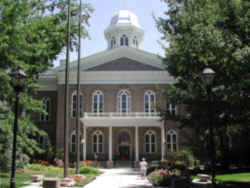 State Facts - History Firsts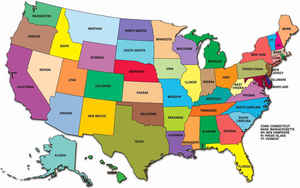 Nevada State Facts - Nevada History Firsts
Catch up on your state trivia with these Nevada history firsts and interesting fun facts about the state.
Official Name
Nevada
Capital
Carson City
Location
Region
39.14832 N, 119.74324 W
Southwest
Constitution Ratified
1864
Statehood
October 31, 1864
36th state
Number of Counties
17 Counties in Nevada
Largest County
(by population)
Clark County
1,375,765
7,911 sq. mi.
1828 - The first recorded white men in the Elko area were fur trappers who trapped beaver in the area starting.
1843 and 1844 - John Charles Fremont led the first thorough exploration of the Great Basin, which includes most of Nevada, in 1843 and 1844.
1859 - Nevada was made famous by the discovery of the fabulous Comstock Lode. Its mines have produced large quantities of gold, silver, copper, lead, zinc, mercury, barite, and tungsten.
1862 - While Samuel Clemens took the penname "Mark Twain" as a reporter working for the "Territorial Enterprise," he began his writing career as a reporter in the Midwest some years before moving to Virginia City.
1864 - The longest morse code telegram ever sent was the Nevada state constitution. Sent from Carson City to Washington D.C. in 1864. The transmission must have taken several hours.
1866 - Find out more about Nevada State Great seal
1870 - Virginia City, founded when the Comstock Lode was discovered, was home to 20,000 people at its peak in the 1870s but now has only about 800.
1870 -

Camels were used as pack animals in Nevada as late as 1870.
Construction of the Nevada State Capitol located in Carson City was proposed on April 14, 1870. Carson City is one of the smallest state capitals in the country. Update: {With current growth, may now be 14th smallest.}

1899 - Charles Fey invented a slot machine named the Liberty Bell. The device became the model for all slots to follow.
1917 - Sagebrush was selected as Nevada State Flower
1929 - Find out more about the Nevada State Flag
1931 -

The Pair-O-Dice Club was the first casino to open on Highway 91, the future Las Vegas Strip.
In March 1931 Governor Fred Balzar signed into law the bill legalizing gambling in the state.

1933 -

Construction worker Hard Hat's were first invented specifically for workers on the Hoover Dam in 1933.
"Home Means Nevada," written by Mrs. Bertha Raffetto was selected as Nevada State Song

1938 - The Virginia City steam train still operates and was featured in the Imax project "Mark Twain's America." The "steam train" is a modern-day tourist train and does not link back to the original Virginia & Truckee RR which had its last run to Virginia City in 1938.
1953 - The Single-leaf pinon was designated as Nevada State Tree
1959 - The longest running show in Las Vegas is the Follies Bergere at the Tropicana Hotel and Casino. It opened in 1959. The production numbers in "Showgirls" were written specifically for the Paul Verhoeven film and shot in the Horizon Hotel at Lake Tahoe. The bulk of the movie used locations located at the Luxor and the Forum Shops at Caesars.
1960 -

There were 16,067 slots in Nevada.
Pershing County located in Cowboy Country features the only round courthouse in the United States. Update: {the Bucks County Courthouse in Pennsylvania, constructed in 1960, is considered round. Now there are two.}

1967 -

The first community college in Nevada opened in Elko in 1967. Great Basin College was the forerunner of a statewide system associated with the University of Nevada.
The Mountain bluebird was chosen as Nevada State Bird

1973 - The Desert bighorn sheep was adopted as
1976 - You see the name Hughes on numerous locations and developments. Howard Hughes bought up considerable Nevada property before he died in 1976, including the following hotels and casinos: Castaways, Desert Inn, Frontier, Landmark, Sands, Silver Slipper, and Harold's Club. Part of the Hughes legend was recounted in Jonathan Demme's "Melvin and Howard."
1977 -
1981 - The Lohontan Cutthroat trout is Nevada State Fish
1983 - Silver and blue was chosen as Nevada State Colors
1986 - The state's Highway 50, known as the Loneliest Highway in America, received its name from "Life" magazine in 1986. There are few road stops in the 287 mile stretch between Ely and Fernley
1987 -
1989 - The Desert tortoise was designated as Nevada State Reptile
1995 - The Tule duck decoy was designated as Nevada State Artifact
1999 - Nevada had 205,726 slot machines, one for every 10 residents.
2001 -
2009 -
---
More Nevada History Firsts & State Facts
Nevada is the driest state in the nation with an average annual rainfall of only about 7 inches. The wettest part of state receives about 40 inches of precipitation per year, while the driest spot has less than four inches per year.
During the Cold War, the US Atomic Energy Commission chose a Nevada site to test nuclear weapons.
Berlin-Ichthyosaur State Park near Gabbs has fossils of ancient fishlike reptiles.
The Reno Ice Pavilion is a 16,000-square-foot rink once dismantled and moved to Reno from Atlantic City, New Jersey.
Bugsy Siegel named his Las Vegas casino "The Flamingo" for the long legs of his showgirl sweetheart, Virginia Hill.
The Imperial Palace on the Las Vegas strip is the nation's first off-airport airline baggage check-in service.
Bertha was a performing elephant that entertained for 37 years at John Ascuaga's Nugget casino located in Sparks. She was 48 years old when she died.
Nevada is the gambling and entertainment capital of the United States.
Hoover Dam, near Las Vegas, impounds the waters of Lake Mead, one of the world's largest artificial lakes.
Nevada is the largest gold-producing state in the nation. It is second in the world behind South Africa.
Las Vegas has more hotel rooms than any other place on earth.
Once the highest concrete dam in the world, Hoover Dam offers guided tours and a museum of artifacts of the construction and its workers.
In Death Valley, the Kangaroo Rat can live its entire life without drinking a drop of liquid.
The ghost town of Rhyolite still pays homage to early pioneers and their dreams. Remains of the depot, glass house, bank and other buildings are on display.
In Tonopah the young Jack Dempsey was once the bartender and the bouncer at the still popular Mispah Hotel and Casino. Famous lawman and folk hero Wyatt Earp once kept the peace in the town.
Berlin-Ichthyosaur State Park is constructed around the fossilized remains of ancient, mysterious reptiles within a well-preserved turn-of-the-century Nevada mining camp.
Austin's oldest church, St. Augustine, requires the establishment's bells in the tower to be rung by pulling a rope located in the men's restroom.
Nevada takes its name from a Spanish word meaning snow-clad.
Most of the state is desert but the Sierra Nevada mountain range near Reno and the Ruby Mountains near Elko has snow for half the year.
Locals use terms like The Sagebrush State, The Silver State, and The Battle Born State as nicknames for Nevada.
Nevada is the seventh largest state with 110,540 square miles, 85% of them federally owned including the secret Area 51 near the little town of Rachel.
Nevada has more mountain ranges than any other state, with its highest point at the 13,145 foot top of Boundary Peak near the west-central border.
Grammatically, the proper term for the mountains is the Sierra Nevada not the Sierras. Robert Conrad almost called one of his television series High Sierra Rangers but changed it to High Mountain Rangers.
Wayne Newton owns a home in the Las Vegas area, and it was a real location for the film "Vegas Vacation."
Misfits Flats off Highway 50 near Stagecoach takes its name from the John Huston film. Huston used the privately owned area to film a complicated wild horse round up with Clark Gable, Marilyn Monroe, Montgomery Clift and Eli Wallach.
Nevada is the largest gold-producing state in the nation. It is second in the world behind South Africa.
The state has about 50,000 miles of paved road, much of it featured in films like "Vanishing Point," "Breakdown," "Rainman," and "Lethal Weapon 4."
Hoover Dam, the largest single public works project in the history of the United States, contains 3.25 million cubic yards of concrete, which is enough to pave a two-lane highway from San Francisco to New York. The dam face was used in an amazing stunt for Roland Emerich's "Universal Soldier" and has been seen in such films as "Viva Las Vegas" and "Fools Rush In."
Frank Sinatra once owned the Cal-Neva at Lake Tahoe's Crystal Bay. It is possible to stand in both Nevada and California inside Cal-Neva's building
Nevada tribes include the Shoshone, Washo and Paiute. Tribal lands have been used in such film projects as "Misery," and "The Greatest Story Ever Told."
The Las Vegas Strip is actually under jurisdiction of Clark County and can be seen in just about any film set in the city.
Nevada is the only state with an entire museum devoted to the life and time of entertainer Liberace.
Writer and commentator Lowell Thomas called Elko the last cowtown in America. Elko is the home of the annual Cowboy Poetry Gathering.
Area 51 is acknowledged with State Route 375 officially christened "The Extraterrestrial Highway" in a ceremony featuring the director and cast of the movie "Independence Day." The highway runs between Alamo and Tonopah. There is a tiny restaurant stop at the Little Ale' Inn at Rachel.
The only Nevada lake with an outlet to the sea is man made Lake Mead.
To drive from Los Angeles, California to Reno, Nevada the direction traveled is to the west.
Las Vegas has more hotel rooms than any other place on earth.
Las Vegas has the majority of the largest hotels in the world.
Virginia City is the home of the Nevada Gambling Museum
County Information and County History
State Facts & History Firsts