Nevada State Insect
Vivid Dancer Damselfly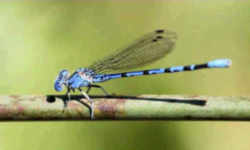 (Argia vivida)
Adopted on May 4, 2009.
On May 4, 2009, Governor Jim Gibbons signed the legislation naming the vivid dancer damselfly, (Argia vivida,) the official state insect of the State of Nevada, effective October 1, 2009.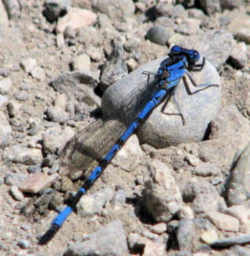 Vivid Dancers, (Argia vivida,) are small damselflies. In adult males, the overall color is blue with some black. The dark stripe on the top of the thorax is urn shaped (wider at the top, narrower at the bottom). The black shoulder stripe is wide-narrow-wide (wider towards the front and back, and pinched in the middle). The abdomen is blue with black rings and triangle-shaped spots on the sides. Females are similar, except brown where males are blue.
These active creatures are harmless to humans, but they are voracious predators of small flying insects such as flies and mosquitoes.
Characteristics of the Vivid Dancer Damselfly
Naiad-This is a small, but stocky naiad about (17 mm) long. The coloration is mottled dark brown.
Adult-This is a small damselfly (29 to 35 mm) long. The males at first glance look like Bluets, but they are a vivid electric blue. The dark stripe on the upper thorax becomes a fine line about half the way down. The upper surface of the abdomen is predominately blue, except for segment seven, which is black with a blue spot. Females are tan, and are patterned very similarly to the males.
Range:
This species is found in eastern British Columbia and Alberta south to Texas, New Mexico, and Baja California. In Idaho, it is found throughout the state.
Habitat:
This damselfly is found at spring-fed streams, usually in arid or semi-arid areas.
Adult Flight Season:
April 15 to October 25
Diet:
Naiad-Naiads eat a wide variety of aquatic insects, including mosquito larvae, mayfly larvae, and other aquatic fly larvae.
Adult-Adults eat a wide variety of small soft-bodied flying insects, such as mosquitoes, mayflies, flies and small moths. They will also pick small insects such as aphids from plants.
Ecology:
This species is very closely associated with spring-fed streams, and generally remains close to where it emerged. It probably has the longest flight season of any dragonfly or damselfly in our area.
Reproduction:
The males set up territories at choice breeding sites. After males and females mate, the male remains attached to the female (called "in tandem") as she oviposits in vegetation at spring-fed streams.
By ED VOGELLAS VEGAS REVIEW-JOURNAL CAPITAL BUREAU


CARSON CITY - Gov. Jim Gibbons made a lot of fourth-graders happy today when he signed into law a bill making the vivid dancer damselfly Nevada's official state insect.

The effort to make the blue and silver insect Nevada's favorite was led by a Beatty Elementary School class in Las Vegas. The strikingly beautiful insect resembles a dragonfly.

Three of the students in that Beatty class - Megan Anders, Ryan Underwood and Lexie Aranchibia - testified during legislative hearings.

With Gibbons' signature on Senate Bill 166, Nevada becomes the 43rd state with an official insect. The bill earlier was approved unanimously by both the Assembly and Senate.

During hearings, legislators joked that the barfly, the mosquito or the "lobbyist"should have been named the official insect.

At one hearing, Sen. John Lee, D-North Las Vegas, displayed photos of "older"damselflies that had faces that looked like Sen. Joyce Woodhouse, D-Henderson, and Assemblyman Lynn Stewart, R-Henderson. The two legislators sponsored the bill.

They had learned last year that Nevada did not have a state insect and decided a contest should be held among schoolchildren to pick one.

More than 70 nominations and essays were sent in by 57 fourth-grade classes across the state. A group of educators and scientists selected the damselfly.

At a hearing, Beatty fourth-grade teacher David Slater said he was surprised to find that seven of his students went home and immediately began research on Nevada insects after he told them of the contest.

The students told legislators they liked the damselfly because its colors are Nevada's colors and that it is found throughout the state. It also eats mosquitoes.
Nevada Senate Bill 166
On March 4, 2009, Senate Bill No. 166 (SB166) was introduced in the Nevada State Senate by Senator Joyce Woodhouse (Treasurer: Greater Las Vegas affiliate, Kids Voting USA).
S.B. 166
SENATE BILL NO. 166-SENATOR WOODHOUSE
MARCH 4, 2009

JOINT SPONSOR: ASSEMBLYMAN STEWART

Referred to Committee on Government Affairs

SUMMARY-Designates the official state insect of Nevada.
(BDR 19-914)

FISCAL NOTE: Effect on Local Government: No.
Effect on the State: No.

EXPLANATION - Matter in bolded italics is new; matter between brackets [omitted material] is material to be omitted


AN ACT relating to state emblems; designates the Vivid Dancer
Damselfly (Argia vivida) as the official state insect of the
State of Nevada; and providing other matters properly
relating thereto.


Legislative Counsel's Digest:
Existing law establishes various official state emblems, including a state bird, state reptile, state animal, state fish and others. (NRS 235.020-235.130) This bill establishes the Vivid Dancer Damselfly (Argia vivida) as the official state insect.

This insect was selected through a contest that was open to all fourth grade and Gifted and Talented Education (GATE) classrooms in Nevada to select a state insect because Nevada is one of only eight states in the country that does not have a state insect. The contest was open to public, private, parochial and homeschooled pupils. To participate in the contest, the classes were required to submit a one-page, research-based essay supporting the nomination of an insect found in Nevada, including the pupils' rationale for why that insect would be a good symbol for the State of Nevada. The 74 classrooms that participated in the contest represented 57 schools in seven counties.

The winners are the fourth grade class taught by Mr. David R. Slater at John R. Beatty Elementary School, which is located on Hidden Palms Parkway in Las Vegas.
Vivid Dancer Damselfly Essay
On March 18, 2009, three students from John R. Beatty Elementary School offered their essay in testimony before the Senate Committee on Government Affairs in Carson City.
Our class has selected Argia vivida, the Vivid Dancer Damselfly as our submission to the Nevada State Insect Contest. It is a small (about 1.5 inches in length) flying insect and belongs to the family Coenagrionidae of the order Odonata. It was first classified by Hermann August Hagen in 1865, the year after Nevada statehood. Hagen later became the first professor of entomology at the American University, Harvard.

We first voted for Argia vivida because of its colors. The adult male is a rich blue with clear wings that appear silver when rapidly beating in sunlight. Silver and blue are Nevada's state colors. This color scheme is sometimes repeated during mating. While most females are tan or tan ant grey, some are colored a silver grey. After mating, the mail and female fly in tandem (he protecting her from other males) to a spot where she can deposit her eggs on vegetation just below the waterline.

Next we learned the Vivid Dancer Damselfly is abundant in all four regions of our state. Its habitat is the springs and ponds of Nevada. We thought it was important that the state insect not have a limited range or be endangered. It should represent and prosper throughout the entire state.

It was when we discovered Argia vivida is helpful to humans that we believed we had made a great choice. The Vivid Dancer Damselfly preys upon mosquitoes, flies, aphids and other pests. It isn't just pretty. It serves Nevadans by contributing to our economy and quality of life.

There are fifty-five state insects. There are twenty-four butterflies, seventeen bees, seven lady bugs and two dragonflies on that list, but not one damselfly. The selection of the Vivid Dancer would reinforce Nevada's status as unique among the states.

It is for these reasons that we nominate Argia vivida, the Vivid Dancer Damselfly, as Nevada's state insect.
Nevada Law
The law designating the Vivid Dancer Damselfly as the official Nevada state insect is found in the Nevada Revised Statutes, Title 19, Chapter 235, Section 235.062.
TITLE 19- MISCELLANEOUS MATTERS RELATED TO GOVERNMENT AND PUBLIC AFFAIRS
CHAPTER 235 - STATE EMBLEMS; GIFTS AND ENDOWMENTS
MISCELLANEOUS STATE EMBLEMS

NRS 235.062 State insect. The insect known as the Vivid Dancer Damselfly (Argia vivida) is hereby designated as the official state insect of the State of Nevada.
(Added to NRS by 2009, 48)
Taxonomic Hierarchy: Vivid Dancer Damselfly
Kingdom: Animalia (Animals)
Phylum: Arthropoda (Arthropods)
Subphylum: Hexapoda (Hexapods)
Class: Insecta (Insects)
Order: Odonata (Dragonflies and Damselflies)
Suborder: Zygoptera (Damselflies)
Family: Coenagrionidae (Narrow-winged Damselflies)
Genus: Argia (Dancers)
Species; vivida (Vivid Dancer)
---
State Insects,
Butterflies, and Bugs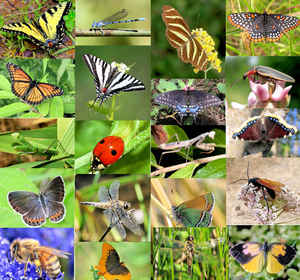 State insects are selected by 45 states of the 50 United States. Some states have more than one designated insect, or have multiple categories (e.g., state insect and state butterfly, etc.).