Nevada State Grass
Indian Rye Grass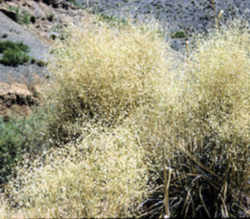 (Oryzopsis hymenoides)
Adopted in 1977
Indian Rice Grass, (Oryzopsis hymenoides,) was adopted in 1977 as the Nevada State Grass. It was once a source of food for Native Nevada Indians. Indian Rice Grass now provides valuable feed for wildlife and range livestock. This tough native grass, which is found throughout the state, is known for its ability to reseed and establish itself on sites damaged by fire or over grazing.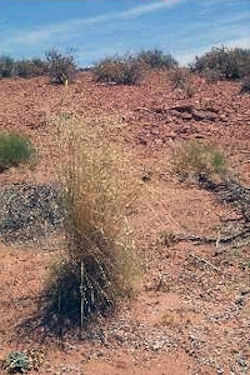 Oryzopsis hymenoides (Synonym: Stipa hymenoides, Common name: Indian ricegrass) is a perennial cool-season[citation needed] bunchgrass with very narrow, rolled leaf blades. It is native to western North America east of the Cascades from British Columbia and Alberta south to southern California, northeastern Mexico, and Texas. In the wild it typically grows 4 to 24 inches (10 to 61 cm) tall and 8 to 12 inches (20 to 30 cm) wide.

It grows in a variety of habitats from desert shrub up to ponderosa pine forests. It can live in soils from sand to clay, but it does particularly well in sand, where it is the dominant grass growing with sagebrush and may occur almost unmixed with other plants
It is drought-resistant, adapted to dry, sandy soils. The plant grows in dense clumps, up to 2 feet tall and are beautifully airy & a graceful accent in rock garden, or flower beds & a great sandy soil/meadow reclamation grass.
By June, it turns straw colored & remains this color until Winter rains renew its growth. Often found in flower markets, many people grow it specifically for cutting. The leaves are slender and nearly as long as the stems. It is highly palatable to livestock, both while green in summer and dried in winter. Natural stands in many areas have been greatly depleted by over grazing. This is an important species for reseeding range lands. Seeds were formerly used by Indians for grinding into meal and making bread.
Nevada Law
The law designating the Indian Ricegrass as the official Nevada state grass is found in the Nevada Revised Statutes, Title 19, Chapter 235, Section 235.055.
TITLE 19- MISCELLANEOUS MATTERS RELATED TO GOVERNMENT AND PUBLIC AFFAIRS
CHAPTER 235 - STATE EMBLEMS; GIFTS AND ENDOWMENTS
MISCELLANEOUS STATE EMBLEMS

NRS 235.055 State grass. The grass known as Indian Ricegrass (Oryzopsis hymenoides) is hereby designated as the official state grass of the State of Nevada.
(Added to NRS by 1977, 386)

Taxonomic Hierarchy: Indian Ricegrass
Kingdom: Plantae - Plants
Subkingdom: Tracheobionta - Vascular plants
Superdivision: Spermatophyta - Seed plants
Division: Magnoliophyta - Flowering plants
Class: Liliopsida - Monocotyledons
Order: Cyperales -
Family: Poaceae - Grass family
Genus: Achnatherum Beauv. - needlegrass
Species: Achnatherum hymenoides (Roemer & J.A. Schultes)
Barkworth - Indian ricegrass
---