Michigan Famous People
Famous Americans: History and Biographies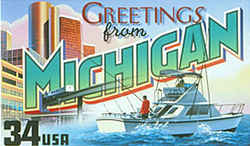 Links to histories and biographies of the famous people of Michigan. Many famous people of Michigan have made significant contributions to the history of our nation and the state of Michigan. These famous Americans, famous entertainers, famous players, famous scientist, famous singers, famous statesmen, famous women, heroes, great explorers, and others Michigan famous Americans have all made Michigan their home. This list includes Michigan historical figures, celebrities and those individuals of Michigan who have influenced the lives of others.
Tim Allen (1953 - ) Actor, famous for the T.V. series Home Improvement; grew up in Birmingham.
Chris Van Allsburg (1949 - ) Writer of children's books who won Caldecott Awards for drawings in The Polar Express and Jumanji; born in Grand Rapids.
Antoine de la Mothe Cadillac (1658 - 1730), French colonial administrator, founder of Detroit (1701).
Lewis Cass (1782 - 1866), Michigan territorial governor (1813 - 1831), U. S. senator from Michigan (1845 - 1857), U. S. cabinet officer, and Democratic candidate (1848) for the U. S . presidency.
Walter P. Chrysler (April 2, 1875 - August 18, 1940) was an American automotive industry executive and founder of the Chrysler Corporation. Chrysler was born in Wamego, Kansas, the son of Anna Maria (née Breymann) and Henry Chrysler. He grew up in Ellis, Kansas. His father was born in Chatham, Ontario in 1850 and immigrated to the United States after 1858. A Freemason, Chrysler began his career as a machinist and railroad mechanic. He took correspondence courses from International Correspondence Schools in Scranton, Pennsylvania, earning a mechanical degree from the correspondence program.
Madonna Louise Ciccone (1958 - ) Singer with hit singles "Material Girl," and "Vogue." She has also acted in such movies as A League of Their Own, and Evita; born in Bay City.
Ty Cobb (1886 - 1961) Baseball star, played 22 seasons (1905 - 1926) for the Detroit Tigers.
Francis Ford Coppola (1939 - ) Writer, producer, and director, most famous for The Godfather; born in Detroit.
George Armstrong Custer (1839 - 1876) Commander of Michigan's cavalry brigade in the Civil War, later killed in the Battle of the Little Bighorn
Thomas Edison (1847 - 1931) Inventor; lived in Port Huron.
Edna Ferber (1885-1968) was born in Kalamazoo, Michigan. She was considered to be the greatest American female writer of her day. Her best known work is Showboat, a novel that was made into Broadway music and adapted into three motion pictures. She won the Pulitzer Prize in 1924 for her book So Big.
Gerald R. Ford (1913 - ) Became the 38th President of the United States when Richard Nixon resigned; grew up in Grand Rapids.
Henry Ford (1863 - 1947), born in Dearborn, Michigan, was an automobile production pioneer. He founded the Ford Motor Company in 1903 and introduced the moving assembly line in 1913. Ford revolutionized the auto industry by mass-producing vehicles that were priced within reach of the middle class Americans.
Daniel Gerber (1898 - 1974) Developed canned baby food in 1927.
Julia Ann "Julie" Harris (December 2, 1925 - August 24, 2013) was an American stage, screen, and television actress. She won five Tony Awards, three Emmy Awards and a Grammy Award, and was nominated for an Academy Award. In 1994, she was awarded the National Medal of Arts. She is a member of the American Theatre Hall of Fame and received the 2002 Special Lifetime Achievement Tony Award. Harris was born Julia Ann Harris in Grosse Pointe, Michigan, the daughter of Elsie L. (née Smith), a nurse, and William Pickett Harris, an investment banker.
Earvin "Magic" Johnson (1959 - ) Basketball star that led the Los Angeles Lakers to five NBA titles in the 1980s; retired in 1991 after announcing he had the AIDS virus and now works to educate people about the disease; from Lansing.
John Harvey Kellogg (1852 - 1943) & William Keith Kellogg (1860 - 1951) Invented corn flakes and founded the Kellogg Company in 1906; brothers from Battle Creek.
Charles Lindbergh (1902-1974) Charles Lindbergh (1902-1974), born in Detroit, was an American aviator who made the first solo, non-stop flight across the Atlantic on May 20-21, 1927. Lindbergh won a Pulitzer Prize in 1953 for his autobiography, The Spirit of St. Louis.
Joe Louis (1914 - 1981) World heavyweight boxing champion (1937 - 1949); lived in Detroit.
Walter Reuther (1907 - 1970) Labor leader, president of the United Automobile Workers (1946 - 1970).
"Sugar" Ray Robinson (1921 - 1989) Boxing Champion often called the best fighter in the history of boxing; from Detroit.
Diana Ernestine Earle Ross (born March 26, 1944) is an American singer, actress and record producer. Diana Ross was born at Hutzel Women's Hospital in Detroit, Michigan on March 26, 1944. The second-eldest child of Ernestine (née Moten; January 27, 1916 - October 9, 1984), a schoolteacher, and Fred Ross, Sr. (July 4, 1920 - November 21, 2007), a former United States Army soldier. Raised in Detroit, she rose to fame as a founding member and lead singer of the vocal group The Supremes, which, during the 1960s, became Motown's most successful act and is to this day America's most successful vocal group. As part of the Supremes, Ross most notably rivaled the career of The Beatles in worldwide popularity, and their success made it possible for future African American R&B and soul acts to find mainstream success. Following her departure from The Supremes in 1970, she released her debut solo album, Diana Ross, which contained the hits "Reach Out and Touch (Somebody's Hand)" and "Ain't No Mountain High Enough". Ross also ventured into acting, with a Golden Globe Award and Academy Award nominated performance in Lady Sings the Blues. Later starring in two other big screen films, Mahogany and The Wiz. Later acting included roles in the television films Out of Darkness and Double Platinum.
---
More Famous People of Michigan
Find more more Michigan famous people below. You may not even realize many of these famous people were born in Michigan or notable associated with Michigan, including actors, actresses, explorers, historical figures, inventors, musicians, novelists, professional athletes, important politicians, singers, sport stars and more.
Nelson Algren author, Detroit
Ralph J. Bunche statesman, Detroit
Ellen Burstyn actress, Detroit
Bruce Catton historian, Petoskey
Roger Chaffee astronaut, Grand Rapids
Francis Ford Coppola film director, Detroit
Thomas E. Dewey politician, Owosso
Henry Ford industrialist, Dearborn
William R. Hewlett inventor, Ann Arbor
Earvin Magic Johnson basketball player, Lansing
Donald B. Keck inventor, Lansing
Julie Krone jockey, Benton Harbor
Ring Lardner writer, Niles
Dick Martin comedian, Detroit
John N. Mitchell attorney general, Detroit
Ted Nugent singer, Detroit
John T. Parsons inventor, Detroit
Gilda Radner comedienne, Detroit
Della Reese singer, Detroit
Thomas Schippers conductor, Kalamazoo
Steven Seagal actor, Lansing
Bob Seger singer, Detroit
Tom Selleck actor, Detroit
John C. Sheehan (1915-1992) was born in Battle Creek, Michigan. He was an inventor who developed the synthetic form of penicillin in 1957, revolutionizing the field of medicine. Sheehan was awarded more than 40 patents including one for the explosive RDX, which replaced TNT in rocket, bomb, and torpedo warheads.
Potter Stewart jurist, Jackson
Lily Tomlin actress, Detroit
Danny Thomas entertainer, Deerfield
Margaret Whiting singer, Detroit
Stevie Wonder singer, Saginaw