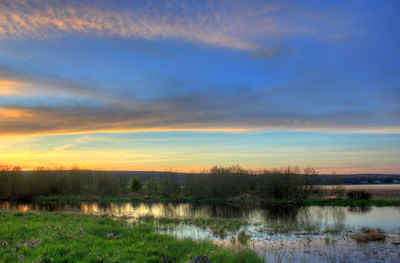 Michigan Counties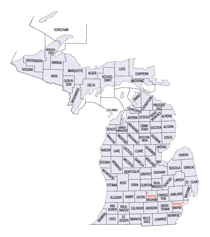 Click Image to Enlarge
Michigan Counties
The boundaries of the eighty-three counties in Michigan have not changed substantially since 1897. Wayne County was the sixth county in the Northwest Territory, formed 15 August 1796 and organized in 1815. Wayne County was created 21 November 1815 as an original county of Michigan.
Michigan Counties: History and Information
Find a brief history of Michigan Counties
The earliest counties were organized by the territorial government as areas became settled. The first county was Wayne. Michigan had 38 counties by the end of the year in which it became a state (1837). Throughout the years some county names and many county borders have changed.
The names of Michigan's 83 counties reflect the state's Native American, French, British and early American heritage. Thirty-two counties have names drawn from Native American languages; 29 are named for people; 16 are named for natural features such as rivers that already had been given names; and 6 have names meant to describe the county's geography (e.g., Hillsdale).
Themes exist for the names of some counties.
In 1829 the legislature set off 12 new counties, naming eight of them for President Andrew Jackson and members of his cabinet: Barry, Berrien, Branch, Calhoun, Eaton, Ingham, Van Buren.
Cass County was also created in 1829 and named for Lewis Cass, the Territorial Governor at the time. Cass later served in Jackson's Cabinet, making a case for it to be included as a cabinet county. Livingston County was created in 1833 and named for Edward Livingston, Jackson's Secretary of State at the time.

Barry County, Michigan, named for US Postmaster General William T. Barry
Berrien County, Michigan, named for US Attorney General John M. Berrien
Branch County, Michigan, named for US Secretary of the Navy John Branch
Calhoun County, Michigan, named for US Vice President John C. Calhoun
Cass County, Michigan, named for Jackson's second Secretary of War, Lewis Cass
Eaton County, Michigan, named for Secretary of War John Eaton
Ingham County, Michigan, named for US Secretary of the Treasury Samuel D. Ingham
Jackson County, Michigan, named for Andrew Jackson himself
Livingston County, Michigan, named for Jackson's second Secretary of State, Edward Livingston
Van Buren County, Michigan, named for US Secretary of State (later Vice President and then President) Martin Van Buren

In 1840 the legislature changed the names of 16 counties and gave 5 counties names from Ireland: Antrim, Clare, Emmet, Roscommon and Wexford.
Henry Rowe Schoolcraft, author and Indian agent, mixed words and syllables from Native American, Arabian and Latin languages to make up Native American-sounding words for some of the 28 counties set off in 1840. They include Alcona, Allegan, Alpena, Arenac, Iosco, Kalkaska, Leelanau, Oscoda and Tuscola.
Coincidentally, it was Jackson who, as one of his last acts in office, signed the 1837 bill making Michigan the 26th state.
County
2000
Population
Square
Miles
County Seat
Created
Alcona County
11,719
674
Harrisville
1840
Alger County
9,862
918
Munising
1885
Allegan County
105,665
828
Allegan
1831
Alpena County
31,314
574
Alpena
1840
Antrim County
23,110
477
Bellaire
1840
Arenac County
17,269
367
Standish
1883
Baraga County
8,746
904
L'Anse
1875
Barry County
56,755
556
Hastings
1829
Bay County
110,157
444
Bay City
1857
Benzie County
15,998
321
Beulah
1863
Berrien County
162,453
571
Saint Joseph
1829
Branch County
45,787
507
Coldwater
1829
Calhoun County
137,985
709
Marshall
1829
Cass County
51,104
492
Cassopolis
1829
Charlevoix County
26,090
417
Charlevoix
1869
Cheboygan County
26,448
716
Cheboygan
1840
Chippewa County
38,543
1,561
Sault Sainte Marie
1826
Clare County
31,252
567
Harrison
1840
Clinton County
64,753
572
Saint Johns
1831
Crawford County
14,273
558
Grayling
Delta County
38,520
1,170
Escanaba
1843
Dickinson County
27,472
766
Iron Mountain
1891
Eaton County
103,655
576
Charlotte
1837
Emmet County
31,437
468
Petoskey
1853
Genesee County
436,141
640
Flint
1835
Gladwin County
26,023
507
Gladwin
1855
Gogebic County
17,370
1,102
Bessemer
1881
Grand Traverse County
77,654
465
Traverse City
1851
Gratiot County
42,285
570
Ithaca
1855
Hillsdale County
46,527
599
Hillsdale
1835
Houghton County
36,016
1,012
Houghton
1845
Huron County
36,079
837
Bad Axe
1840
Ingham County
279,320
559
Mason
1838
Ionia County
61,518
573
Ionia
1837
Iosco County
27,339
549
Tawas City
1840
Iron County
13,138
1,166
Crystal Falls
1885
Isabella County
63,351
574
Mount Pleasant
1831
Jackson County
158,422
707
Jackson
1832
Kalamazoo County
238,603
562
Kalamazoo
1829
Kalkaska County
16,571
561
Kalkaska
1870
Kent County
574,335
856
Grand Rapids
1836
Keweenaw County
2,301
541
Eagle River
1861
Lake County
11,333
568
Baldwin
1870
Lapeer County
87,904
654
Lapeer
1837
Leelanau County
21,119
348
Leland
1863
Lenawee County
98,890
751
Adrian
1822
Livingston County
156,951
568
Howell
1836
Luce County
7,024
903
Newberry
1887
Mackinac County
11,943
1,022
Saint Ignace
Macomb County
788,149
480
Mount Clemens
Manistee County
24,527
544
Manistee
1855
Marquette County
64,634
1,821
Marquette
1843
Mason County
28,274
495
Ludington
1855
Mecosta County
40,553
556
Big Rapids
1859
Menominee County
25,326
1,044
Menominee
1863
Midland County
82,874
521
Midland
1850
Missaukee County
14,478
567
Lake City
1840
Monroe County
145,945
551
Monroe
1817
Montcalm County
61,266
708
Stanton
1831
Montmorency County
10,315
548
Atlanta
1881
Muskegon County
170,200
509
Muskegon
1859
Newaygo County
47,874
842
White Cloud
1840
Oakland County
1,194,156
873
Pontiac
1819
Oceana County
26,873
540
Hart
1831
Ogemaw County
21,645
564
West Branch
1875
Ontonagon County
7,818
1,312
Ontonagon
1843
Osceola County
23,197
566
Reed City
1869
Oscoda County
9,418
565
Mio
1840
Otsego County
23,301
515
Gaylord
1875
Ottawa County
238,314
566
Grand Haven
1837
Presque Isle County
14,411
660
Rogers City
1840
Roscommon County
25,469
521
Roscommon
1875
Saginaw County
210,039
809
Saginaw
1835
Sanilac County
44,547
964
Sandusky
1848
Schoolcraft County
8,903
1,178
Manistique
1843
Shiawassee County
71,687
539
Corunna
1822
St. Clair County
164,235
724
Port Huron
1820
St. Joseph County
62,422
504
Centreville
1829
Tuscola County
58,266
813
Caro
1840
Van Buren County
76,263
611
Paw Paw
1829
Washtenaw County
322,895
710
Ann Arbor
1826
Wayne County
2,061,162
614
Detroit
1796
Wexford County
30,484
566
Cadillac
1840
---