Michigan State Historical Society
Historical Society of Michigan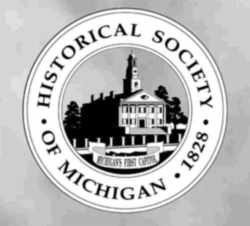 Adopted in 2002.
Michigan State Historical Society was designated an official state symbol of Michigan in 2002.
On Thursday Governor John Engler signed into law Public Act 319 designating the Historical Society of Michigan as the State's official historical society.
Territorial Governor Lewis Cass and explorer/surveyor Henry Schoolcraft founded the Historical Society of Michigan in 1828, before Michigan became a state to foster appreciation and understanding of Michigan's history and promote the collection and preservation of state and local history. It continues their vision into the 21st Century. The Historical Society of Michigan is a member supported non-profit 501 (c) (3) organization. It receives no support for operations from any level of government.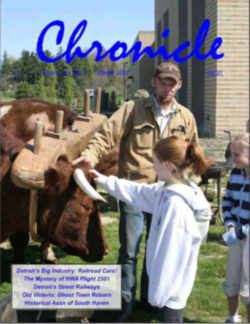 "Being designated as the official historical society for the State of Michigan enhances the Society's efforts to fulfill its mission" said Executive Director Larry J. Wagenaar. "Part of our work involves leadership of the many local and regional historical organizations statewide and educational efforts that reach everyone from elementary school to seniors. The State of Michigan's acknowledgement of our leadership is very important to us."
The Historical Society of Michigan sponsors Michigan History Day, a competition for students in 4th -12th grade, hosts two annual history conferences in the lower and upper peninsulas, sponsors regular workshops and tours, and is involved in many aspects promoting Michigan's past. It also publishes the Chronicle & Newsletter and distributes the Michigan Historical Review.
The original legislation was introduced by Representative Thomas George (R-Portage). "The state's choice of the Historical Society of Michigan as its "official" historical society, acknowledges the important role the Society plays in promoting our state's past," commented George. "It validates the work the Society has done for the last 174 years promoting Michigan history."
Although not a part of government, the Historical Society of Michigan also works regularly with Michigan's new Department of History, Arts and Libraries. As an example, this week both organizations co-hosted a Maritime Conference in Lansing. For more information on the Historical Society of Michigan or membership details:
Contact Info
The Historical Society of Michigan 1305 Abbott Rd. East Lansing, MI 48823
Phone: (517) 324-1828 Fax: (517) 324-4370 e-mail: hsm@hsmichigan.org
Michigan Law
The law designating the historical society of Michiganas the official Michigan state historical society is found in the Michigan Compiled Laws, Chapter 2, Section 2.411.
2.411 Official historical society of state.

Sec. 1.

The historical society of Michigan is designated the official historical society of this state.

History: 2002, Act 319, Imd. Eff. May 23, 2002

© 2009 Legislative Council, State of Michigan
---