Michigan State Soil
Kalkaska Sand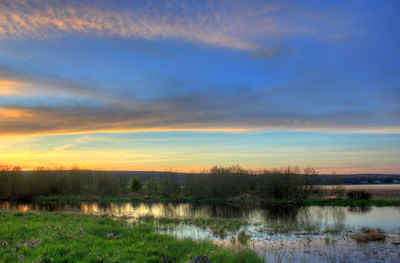 Adopted on December 4, 1990.
In 1990, Kalkaska Sand was chosen as the state soil. First identified as a soil type in 1927, Kalkaska sand ranges in color from black to yellowish brown. It is one of more than 500 soils found in the state. Unique to Michigan, Kalkaska sand covers nearly a million acres in 29 Upper and Lower Peninsula counties.
A selection process for picking the State Soil from over 400 other Soil Series was started in the 1970's. The Kalkaska Sand was selected in 1983 as Michigan's State Soil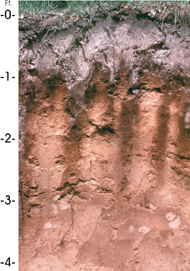 The
Kalkaska series
is one of the earliest soil series to be recognized in Michigan. It was first described in 1927, in Kalkaska County, which is the source of the series name. Kalkaska soils occur in both the Upper and Lower Peninsulas of Michigan and in 29 of the state's 83 counties. There are over 750,000 acres of these soils in Michigan. Public Act 302, the State Soil Bill, enacted on December 4, 1990, established the Kalkaska series as the Official State Soil.
Kalkaska soils formed in sandy deposits left by the glaciers that once covered Michigan. These soils are used primarily for hardwood timber, namely sugar maple and yellow birch. Some areas are used for the production of Christmas trees or for specialty crops, such as potatoes and strawberries. The soils also are used for wildlife habitat and building site development.
Kalkaska Soil Profile
Surface layer: black sand
Subsurface layer: brown sand
Subsoil - upper: dark reddish brown sand
Subsoil - lower: strong brown and yellowish brown sand with columns of weakly cemented, dark reddish brown ortstein
Substratum: light yellowish brown sand
KALKASKA SERIES
The Kalkaska series consists of very deep, somewhat excessively drained soils formed in sandy deposits on outwash plains, valley trains, moraines, and stream terraces. Slope ranges from 0 to 70 percent. Mean annual precipitation is about 762 mm (30 inches), and mean annual temperature is about 6.1 degrees C (43 degrees F).

TAXONOMIC CLASS: Sandy, isotic, frigid Typic Haplorthods

SERIES ESTABLISHED: Kalkaska County, Michigan, 1927.
Michigan Law
The law designating the Kalkaska soil series as the official Michigan state soil is found in the Michigan Compiled Laws, Chapter 2, Section 2.61.
MCL Chapter 2 STATE SOIL (EXCERPT) Act 302 of 1990

2.61 State soil.
Sec. 1.

The Kalkaska soil series is adopted as the official soil of this state.

History: 1990, Act 302, Imd. Eff. Dec. 14, 1990

© 2009 Legislative Council, State of Michigan
---