Michigan State Stone
Petoskey Stone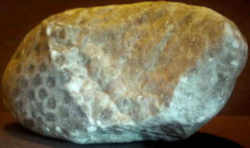 (Hexagonaria pericarnata)
Adopted on June 28, 1965.
The Petoskey Stone, (Hexagonaria pericarnata,) was adopted as the state stone on June 28, 1965. Almost a century after the it was found.
Governor George Romney signed a bill that made the Petoskey Stone Michigan's official State Stone. It was fitting that Miss Ella Jane Petoskey, the only living grand-child of Chief Petosegay, was present at the formal signing. The legislation is very general. The bill simply states that the Petoskey Stone is the State Stone. The designation of Hexagonaria percarinata was made by Dr. Edwin C. Stumm in 1969. Dr. Stumm made this distinction based on his extensive knowledge of fossils.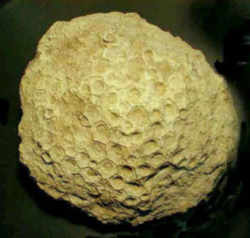 The most often asked question is, "What is a Petoskey Stone?" Coral that was formed by the fossilization of ancient coral, hexagonaria, and is commonly found along the shores of Lake Michigan and Lake Huron in the United States. These corals lived in warm shallow seas that covered Michigan during Devonian time, some 350 million years ago. These corals lived in warm shallow seas that covered Michigan during Devonian time, some 350 million years ago.
Michigan was extensively resurfaced by glaciers during the Pleistocene (the last 1.6 million years), and as part of this process, moving glaciers plucked up pieces of the bedrock and carried them along, smoothing and rounding them in transport. This accounts for the regular shapes of Petoskey Stones found today. Good Petoskey Stones may be collected at Fisherman's Island State Park near Charlevoix, and at the south end of the beach at Petoskey State Park. In the late 1990s, the largest Petoskey Stone yet discovered, a one-ton monolith, was found by an amateur fossil hunter at Sleeping Bear Dunes National Lakeshore.
Petoskey stones are found in the Gravel Point Formation of the Traverse Group strata on the west side from Traverse City - Petoskey. They are fragments of a coral reef that was originally deposited during the Devonian period.When dry, the stone resembles ordinary limestone but when wet or polished using lapidary techniques, the distinctive mottled pattern of the six-sided coral fossils emerges. It is sometimes made into decorative objects. Other forms of fossilized coral are also found in the same location.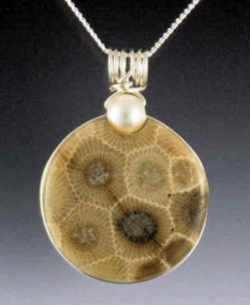 At least seven different species of the genus Hexagonaria are found in Devonian rocks in Michigan. The Petoskey Stone genera of corals are found in Iowa, Indiana, Illinois, Ohio, New York, Canada, Germany, England, and even Asia. These corals are difficult to distinguish from each other on casual inspection. In order to tell these corals apart, you must become familiar with coral anatomy and the related terms.
The name Petoskey is a derivation of the name Petosegay, the name given to the son of a Frenchman who married an Ottwa Indian princess and later became the tribes' chief . The translation means "rising sun" or "rays of dawn".
Michigan Compiled Laws
The law designating the Petoskey stone as the official Michigan state stone is found in the TATUTES, Chapter 2, Section 2.16
Act 89 of 1965 Statute
STATE STONE (2.16 - 2.16)
STATE STONE (EXCERPT)
Act 89 of 1965

2.16 State stone.
Sec. 1.
The Petoskey stone is hereby adopted as the official stone of the state of Michigan.

History: 1965, Act 89, Eff. Mar. 31, 1966
Taxonomic Hierarchy: Petoskey Stone
Kingdom: Animalia
Phylum: Cnidaria
Class: Anthozoa
Order: Stauriida
Family: Disphyllidae
Subfamily: Hexagonariinae
Genus: Hexagonaria Gurich, 1896
Species: Hexagonaria pericarnata
---
State Rocks,
Minerals, & Gems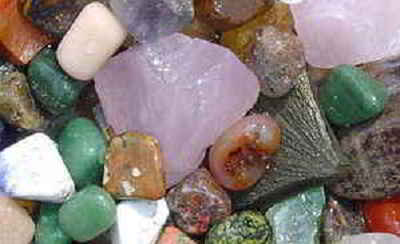 Gemstone, Minerals, Rocks