Nebraska Famous People
Famous Americans: History and Biographies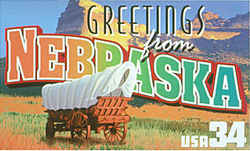 Links to histories and biographies of the famous people of Nebraska. Many famous people of Nebraska have made significant contributions to the history of our nation and the state of Nebraska. These famous Americans, famous entertainers, famous players, famous scientist, famous singers, famous statesmen, famous women, heroes, great explorers, and others Nebraska famous Americans have all made Nebraska their home. This list includes Nebraska historical figures, celebrities and those individuals of Nebraska who have influenced the lives of others.
---
More Famous People of Nebraska
Find more more Nebraska famous people below. You may not even realize many of these famous people were born in Nebraska or notable associated with Nebraska, including actors, actresses, explorers, historical figures, inventors, musicians, novelists, professional athletes, important politicians, singers, sport stars and more.
Max Baer boxer, Omaha
Bil Baird puppeteer, Grand Island
George Beadle geneticist, Wahoo
Dick Cavett TV entertainer, Gibbon
Montgomery Clift actor, Omaha
James Coburn actor, Laurel
Sandy Dennis actress, Hastings
Mignon Eberhart author, Lincoln
Harold Edgerton inventor, Fremont
Ruth Etting singer, actress, David City
Jay W. Forrester inventor, Climax
Bob Gibson baseball player, Omaha
Hoot Gibson actor, Tememah
Howard Hanson composer, conductor, Wahoo
Leland Hayward producer, Nebraska City
David Janssen actor, Naponee
Francis La Flesche ethnologist, Omaha
Frank W. Leahy football coach, O'Neill
Irish McCalla actress, Pawnee City
Dorothy McGuire actress, Omaha
Nick Nolte actor, Omaha
Roscoe Pound educator, legal scholar, Lincoln
Mari Sandoz author, Sheridan Cty
Standing Bear Indian rights advocate, leader
Inga Swenson actress, Omaha
Robert Taylor actor, Filley
Paul Williams singer, composer, actor, Omaha
Don Wilson announcer, Lincoln
Julie Wilson singer, actress, Omaha
Darryl F. Zanuck film producer, Wahoo