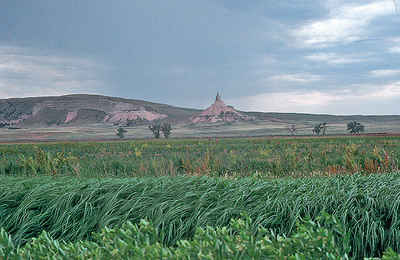 Nebraska Counties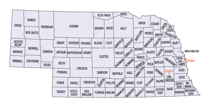 Click Image to Enlarge
Nebraska Counties
There is ninety-three counties in state of Nebraska. Despite the fact that Sarpy County contained the oldest settlement in the state, it was one of the last lands along the river to be recognized by law. Finally, on February 1, 1857, the land "where the cities meet the country" was officially created.
Nebraska Counties: History and Information
Find a brief history of Nebraska Counties
Nebraska has 93 counties, 66 of which have a commissioner-precinct form of government. These 66 are each governed by a board of commissioners with three or five members, elected for four-year terms. The rest of the counties have a supervisor- township form of government. These are governed by seven-member boards of supervisors, also elected to four-year terms.
There are 532 cities and villages, or municipalities, in Nebraska. Most cities have a mayor-council form of government, while exceptions like Nebraska City have a commissioner form of government, and several others use the council-manager form. Most villages are governed by a fi ve-member board of trustees. Nebraska's constitution grants the option of home rule to cities with more than 5,000 residents, meaning they may operate under their own charters. To date, only Lincoln and Omaha have used this option.
County
2000
Population
Square
Miles
County Seat
Created
Adams County
31,151
563
Hastings
1867
Antelope County
7,452
857
Neligh
1871
Arthur County
444
715
Arthur
1887
Banner County
819
746
Harrisburg
1888
Blaine County
583
711
Brewster
1885
Boone County
6,259
687
Albion
1871
Box Butte County
12,158
1,075
Alliance
1886
Boyd County
2,438
540
Butte
1891
Brown County
3,525
1,221
Ainsworth
1883
Buffalo County
42,259
968
Kearney
1855
Burt County
7,791
493
Tekamah
1854
Butler County
8,767
584
David City
1857
Cass County
24,334
559
Plattsmouth
1854
Cedar County
9,615
740
Hartington
1855
Chase County
4,068
894
Imperial
1873
Cherry County
6,148
5,961
Valentine
1883
Cheyenne County
9,830
1,196
Sidney
1867
Clay County
7,039
573
Clay Center
1855
Colfax County
10,441
413
Schuyler
1869
Cuming County
10,203
572
West Point
1855
Custer County
11,793
2,576
Broken Bow
1877
Dakota County
20,253
264
Dakota City
1855
Dawes County
9,060
1,396
Chadron
1885
Dawson County
24,365
1,013
Lexington
1860
Deuel County
2,098
440
Chappell
1889
Dixon County
6,339
476
Ponca
1856
Dodge County
36,160
534
Fremont
1855
Douglas County
463,585
331
Omaha
1854
Dundy County
2,292
920
Benkelman
1873
Fillmore County
6,634
576
Geneva
1856
Franklin County
3,574
576
Franklin
1867
Frontier County
3,099
975
Stockville
1872
Furnas County
5,324
718
Beaver City
1873
Gage County
22,993
855
Beatrice
1855
Garden County
2,292
1,705
Oshkosh
1909
Garfield County
1,902
570
Burwell
1884
Gosper County
2,143
458
Elwood
1873
Grant County
747
776
Hyannis
1884
Greeley County
2,714
570
Greeley
1871
Hall County
53,534
546
Grand Island
1858
Hamilton County
9,403
544
Aurora
1867
Harlan County
3,786
553
Alma
1871
Hayes County
1,068
713
Hayes Center
1877
Hitchcock County
3,111
710
Trenton
1873
Holt County
11,551
2,413
O'Neill
1876
Hooker County
783
721
Mullen
1889
Howard County
6,567
570
Saint Paul
1871
Jefferson County
8,333
573
Fairbury
1856
Johnson County
4,488
376
Tecumseh
1855
Kearney County
6,882
516
Minden
1860
Keith County
8,875
1,061
Ogallala
1873
Keya Paha County
983
773
Springview
1884
Kimball County
4,089
952
Kimball
1888
Knox County
9,374
1,108
Center
1854
Lancaster County
250,291
839
Lincoln
1854
Lincoln County
34,632
2,564
North Platte
1860
Logan County
774
571
Stapleton
1885
Loup County
712
570
Taylor
1883
Madison County
35,226
573
Madison
1856
McPherson County
533
859
Tryon
1887
Merrick County
8,204
485
Central City
1858
Morrill County
5,440
1,424
Bridgeport
1908
Nance County
4,038
441
Fullerton
1879
Nemaha County
7,576
409
Auburn
1855
Nuckolls County
5,057
575
Nelson
1860
Otoe County
15,396
616
Nebraska City
1854
Pawnee County
3,087
432
Pawnee City
1854
Perkins County
3,200
883
Grant
1887
Phelps County
9,747
540
Holdrege
1873
Pierce County
7,857
574
Pierce
1856
Platte County
31,662
678
Columbus
1856
Polk County
5,639
439
Osceola
1856
Red Willow County
11,448
717
McCook
1873
Richardson County
9,531
554
Falls City
1855
Rock County
1,756
1,008
Bassett
1888
Saline County
13,843
575
Wilber
1867
Sarpy County
122,595
241
Papillion
1857
Saunders County
19,830
754
Wahoo
1856
Scotts Bluff County
36,951
739
Gering
1881
Seward County
16,496
575
Seward
1867
Sheridan County
6,198
2,441
Rushville
1885
Sherman County
3,318
566
Loup City
1871
Sioux County
1,475
2,067
Harrison
1877
Stanton County
6,455
430
Stanton
1865
Thayer County
6,055
575
Hebron
1872
Thomas County
729
713
Thedford
1887
Thurston County
7,171
394
Pender
1865
Valley County
4,647
568
Ord
1871
Washington County
18,780
390
Blair
1854
Wayne County
9,851
444
Wayne
1867
Webster County
4,061
575
Red Cloud
1871
Wheeler County
886
575
Bartlett
1877
York County
14,598
576
York
1855
---