Nebraska State River
Platte River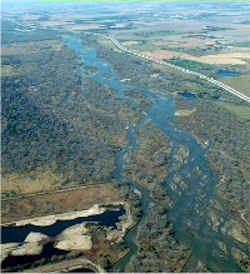 Adopted on February 26, 1998.
On Feb. 26, 1998, Gov. Ben Nelson declared the Platte River to be the official state river. The Platte, formed by the junction of the North Platte and South Platte rivers near the city of North Platte, flows east through central Nebraska into the Missouri River. The stream is 310 miles (500 kilometers) long.
The Platte is too shallow for navigation, but it is an important source of water for farm irrigation, municipal and industrial uses, recreation and hydroelectric power production. The river also provides habitat for sandhill cranes, other migratory birds, fish and other wildlife.
Also, the Platte River Valley has been an important east-west human transportation corridor throughout history. The Oregon, Mormon and California trails, the Pony Express route, the Union Pacific transcontinental railroad, the first transcontinental paved highway (US Highway 30) and Interstate 80 all have followed the Platte. Platte River near Cozad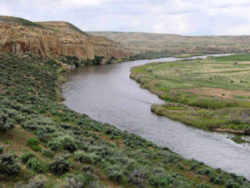 The
Platte River
is a major river in the state of Nebraska and is about 310 mi (500 km) long. Measured to its farthest source via its tributary the North Platte River, it flows for over 1,050 miles (1,690 km). The Platte River is a tributary of the Missouri River, which itself is a tributary of the Mississippi River which flows to the Gulf of Mexico. The Platte over most of its length is a muddy, broad, shallow, meandering stream with a swampy bottom and many islands- a braided stream. These characteristics made it too difficult for canoe travel, and it was never used as a major navigation route by European-American trappers or explorers.[citation needed]
The Platte is one of the most significant tributary systems in the watershed of the Missouri, draining a large portion of the central Great Plains in Nebraska and the eastern Rocky Mountains in Colorado and Wyoming. The river valley played an important role in the westward expansion of the United States, providing the route for several major emigrant trails, including the Oregon, California, Mormon and Bozeman trails. The first Europeans to see the Platte were French explorers and fur trappers about 1714; they first called it the Nebraskier (Nebraska), a transliteration of the name given by the Otoe people, meaning "flat water".
Nebraska Law
On Feb. 26, 1998, Gov. Ben Nelson declared the Platte River to be the official state river.
CHAPTER 90 - Special Acts.
SECTION 90-119

Governor; designate official state items.

The Governor may designate official state items, including animals, plants, minerals, and other things.

Legislative approval of any such designation is not required. Any designation made on or prior to September 13, 1997, is not affected by this section.

Source:
Laws 1997, LB 106, § 1.
---