Pennsylvania Famous People
Famous Americans: History and Biographies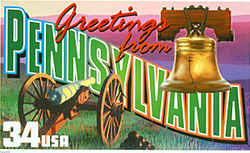 Links to histories and biographies of the famous people of Pennsylvania. Many famous people of Pennsylvania have made significant contributions to the history of our nation and the state of Pennsylvania. These famous Americans, famous entertainers, famous players, famous scientist, famous singers, famous statesmen, famous women, heroes, great explorers, and others Pennsylvania famous Americans have all made Pennsylvania their home. This list includes Pennsylvania historical figures, celebrities and those individuals of Pennsylvania who have influenced the lives of others.
Edward Goodrich Acheson (1856 - 1931) Notable engineer and inventor; born in Washington.
Louisa May Alcott (November 29, 1832 - March 6, 1888) was an American novelist best known as author of the novel Little Women and its sequels Good Wives, Little Men and Jo's Boys. Alcott was born on November 29, 1832, in Germantown, which is now part of Philadelphia, Pennsylvania, on her father's 33rd birthday. Raised by her transcendentalist parents, Abigail May and Amos Bronson Alcott in New England, she grew up among many of the well-known intellectuals of the day such as Ralph Waldo Emerson, Nathaniel Hawthorne, and Henry David Thoreau. Nevertheless, her family suffered severe financial difficulties and Alcott worked to help support the family from an early age. She began to receive critical success for her writing in the 1860s. Early in her career, she sometimes used the pen name A. M. Barnard. With her pen name Louisa wrote novels for young adults in juvenile hall.
James Buchanan (1791 - 1868) James Buchanan, the 15th President of the United States (1857-1861), was born in Mercersburg, Pennsylvania in 1791. After graduating from college, he established a successful law practice, earning more than $300,000 by the time he was thirty years old. Buchanan was engaged to married in 1819, but his bride-to-be broke off the engagement due to a misunderstanding. Buchanan he remained a bachelor for the rest of his life. After leaving office in 1861, Buchanan retired to his family home in Lancaster, Pennsylvania where he died in 1868.
Alexander Calder (1898 - 1976) Famous sculptor; born in Philadelphia.
Rachel Carson (1907 - 1964) Born in Springdale, Pennsylvania in 1907, Rachel Louise Carson became a highly respected marine biologist and author. All of her writings are based on ecological themes. She became famous for her environmental concerns on the use of chemical pesticides. Her 1962 book Silent Spring led to the banning of DDT.
Bill Cosby (1937 - ) Actor. He was a stand-up comedian and starred in his own sit-com; born in Philadelphia.
Stephen Foster, considered to be the first professional songwriter in the United States, was born in Lawrenceville, Pennsylvania in 1826. His first hit was Oh! Susanna. Many of his best-known songs were written between 1850 and 1860. Although he only made one trip to the south, Foster wrote lyrics that touch upon southern plantation life before the Civil War. Despite his popularity, Foster received little income for his work and he died penniless in 1861.
Robert Fulton (November 14, 1765 - February 24, 1815) was an American engineer and inventor who is widely credited with developing the first commercially successful steamboat. Robert Fulton was born on a farm in Little Britain, Pennsylvania, on November 14, 1765. He had at least three sisters - Isabella, Elizabeth, and Mary, and a younger brother, Abraham. His father, Robert, had been a close friend to the father of painter Benjamin West. Fulton later met West in England and they became friendsIn 1800, he was commissioned by Napoleon Bonaparte to design the Nautilus, which was the first practical submarine in history. He is also credited with inventing some of the world's earliest naval torpedoes for use by the British Navy.
Martha Graham (1895 - 1991) Dancer and choreographer. She choreographed and danced in the ballet Appalachian Spring; born in Allegheny.
Henry John Heinz, One of America's most well known food-manufacturing corporations is the H.J. Heinz Company. Its founder, Henry John Heinz, was born in Pittsburgh in 1844. Heinz started out in the food business by grating and selling horseradish roots from door to door. By 1876 he was selling prepared food, including his famous ketchup. By 1888, his business became known as the Heinz Company.
Robinson Jeffers (1887 - 1962) Poet; born in Pittsburgh.
Tara Lipinski (1982 - ) Figure skater who won the 1998 women's figure skating gold medal at the Olympics in Nagano, becoming the youngest in history (15 yrs., 7 mos.); born in Philadelphia.
Margaret Mead (December 16, 1901 - November 15, 1978) was an American cultural anthropologist, who was frequently a featured author and speaker in the mass media throughout the 1960s and 1970s. She earned her bachelor degree at Barnard College in New York City, and her M.A. and Ph.D. degrees from Columbia University. She became a curator of ethnology at American Museum of Natural History, where she published the bestseller, Coming of Age in Samoa.
Arnold Palmer (1929 - ) Famous golfer; born in Latrobe.
Betsy Ross (1752 - 1836) She was reported to have made the first American Flag; lived in Philadelphia.
Andrew Wyeth (1917 - ) Andrew Wyeth, son of the famous illustrator N.C. Wyeth, was born in Chadds Ford, Pennsylvania in 1917. Wyeth is one of the nation's most significant and innovative painters of the second half of the 20th century. He is best known for his vivid and observant images of the land and people of Maine and Pennsylvania. His most famous painting, Christina's World, hangs in the Museum of Modern Art in New York City. His son Jamie Wyeth, who was also born in Chadds Ford, is a famous painter best known for his portraits of well-known people.
---
More Famous People of Pennsylvania
Find more more Pennsylvania famous people below. You may not even realize many of these famous people were born in Pennsylvania or notable associated with Pennsylvania, including actors, actresses, explorers, historical figures, inventors, musicians, novelists, professional athletes, important politicians, singers, sport stars and more.
Maxwell Anderson playwright, Atlantic
Samuel Barber composer, West Chester
John Barrymore actor, Philadelphia
Donald Barthelme author, Philadelphia
Stephen Vincent Benet poet, story writer, Bethlehem
Daniel Boone frontiersman, Reading
Mary Cassatt painter, Allegheny
George Catlin indian expert, poet, Wilkes-Barre
Henry Steele Commager historian, Pittsburgh
Stuart Davis painter, Philadelphia
Walter E. Diemer inventor, Philadelphia
Jimmy Dorsey band leader, Shenandoah
Tommy Dorsey band leader, Mahanoy Plane
Oliver Evans inventor, Philadelphia
W. C. Fields comedian, Philadelphia
Robert Fulton inventor, Lancaster County
Henry George economist, Philadelphia
Alexander Haig secretary of state, Bala-Cynwyd
William Edward Hanford inventor, Bristol
Marilyn Horne mezzo-soprano, Bradford
Lee Iacocca auto executive, Allentown
Reggie Jackson baseball player, Wyncote
Gene Kelly dancer, actor, Pittsburgh
Jim Kelly football player, East Brady
Gelsey Kirkland ballerina, Bethlehem
Stephanie Louise Kwolek inventor, New Kensington
S. S. Kresge merchant, Bald Mount
Mario Lanza actor, singer, Philadelphia
Tara Lipinski figure skater, Philadelphia
George C. Marshall five-star general, Uniontown
George McClellan general, Philadelphia
Andrew Mellon financier, Pittsburgh
Tom Mix actor, Mix Run
Hezekiah Niles journalist, Jeffers Ford
Arnold Palmer golfer, Youngstown
Robert E. Peary explorer, Cresson
Man Ray painter, photographer, Philadelphia
Mary Roberts Rinehart author, Pittsburgh
B. F. Skinner psychologist, Susquehanna
John Sloan painter, Loch Haven
Gertrude Stein author, Allegheny
James Stewart actor, Indiana
George R. Stibitz inventor, York
John Updike author, Shillington
Honus Wagner baseball player, Carnegie
Fred Waring band leader, Tyrone
Ethel Waters singer, actress, Chester
Anthony Wayne military officer, Waynesboro