Pennsylvania State Theatre
Walnut Street Theatre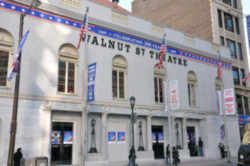 (9th and Walnut Streets, Philadelphia, Pa)
Adopted on June 8, 1999.
The Walnut Street Theatre was adopted on June 8, 1999.
Walnut Street Theatre is the oldest theatre in America. It stands alone as the only theatre operating continuously as a theatre since it opened in 1809.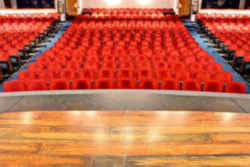 Theatre opens as The New Circus (equestrian acts). A few years later, an 80-foot dome was added, making it the highest structure in the city at the time. The dome remained until the remodeling of 1828. The significance of this fact cannot be overstated. The history of Walnut Street Theatre is, in large measure, the history of theatre in America. Every noteworthy American actor of the 19th century and many from the 20th century (not to mention famous actors from other countries) appeared on stage at Walnut Street Theatre just as it stands today.

Some of the Walnut's shining stars include: Edwin Booth, Edwin Forrest, Helen Hayes, Houdini, George M. Cohan, Edward G. Robinson, George C. Scott, Jack Lemmon, Mike Nichols, Claudette Colbert, Jane Fonda, Julie Harris, Katharine Hepburn, Ethel Waters and Jessica Tandy.

Philadelphians are justly proud of the many "firsts" associated with their City, but not many of them are aware of the firsts in the arts that occurred at Walnut Street Theatre.

The Rivals was staged here in 1812. In attendance were President Thomas Jefferson and the Marquis de Lafayette. Over the years, the Walnut has been the home of many theatrical innovations. Name is changed in 1920 to Walnut Street Theatre, and converted to a legitimate theatre. In 1837, it was the first theatre to install gas footlights, and in 1855, the Walnut became the first theatre to install air conditioning. The first copyright law protecting American plays has its roots at the Walnut. Edwin Booth, brother of John Wilkes Booth, purchased the Walnut in 1865, two months after President Lincoln was assassinated. In 1923, Groucho Marx stopped his act on the Walnut stage to tell the audience that President Warren Harding had died.

From 1941 to 1969, Walnut Street Theatre was owned by the Shubert Organization and was the site of numerous memorable pre-Broadway tryouts. These include A Streetcar Named Desire with Marlon Brando (1947), Mr. Roberts starring Henry Fonda (1948), Gigi with Audrey Hepburn (1951), The Diary of Anne Frank with Susan Strasburg (1955), A Raisin in the Sun starring Sidney Poitier (1959) and A Man For All Seasons starring Paul Scofield (1961).

In 1964, the Walnut was designated a National Historic Landmark. Later, it was the site of the first presidential debate between Gerald Ford and Jimmy Carter.

In 1969, a non-profit corporation was formed to purchase and renovate the theatre. This led to the preservation of the 19th century facade just as it appeared on Walnut Street in 1828. Through the 1970's, Walnut Street Theatre became mainly a performing arts center that hosted programs produced by other organizations.

By 1983, it was clear that this approach was not economically feasible. A new direction would have to be tried or Walnut Street Theatre, after 173 years, would have to close. Clearly, the Walnut had arrived at a crossroads. Never in its history had it been so threatened with extinction. A number of community leaders, led by Ed Rome, made a decision to search for a new Executive Director. After a nationwide search, Bernard Havard was interviewed and persuaded the Board to return the Walnut to a producing theatre. Havard was hired and a full season of plays was produced on the Mainstage during the 1983-84 season.

With vision and inspirational leadership, Walnut Street Theatre was reconceived as a non-profit regional theatre dedicated to the preservation and development of the art of theatre. This distinction sets Walnut Street Theatre apart from most of its similarly-sized peers in the region which are commercial theatres formed to return a profit to their owners. They do not produce their own plays, but simply present productions that have originated elsewhere. As a non-profit theatre, the Walnut chooses and produces its own productions, handcrafted right here in Philadelphia. It does this not to make a profit, but to entertain, enlighten and educate the people of the Delaware Valley and to preserve this historic landmark's legacy.

Since 1983, Walnut Street Theatre has produced over 145 plays, including 23 world premieres and 10 American premieres. The Walnut Street Theatre School was established in 1985 and has provided theatre instruction, self-improvement and a deepened appreciation of the art form through its Outreach Programs and classes to over 30,000 children and adults annually. The Studio 3 series was initiated in 1985 to provide more adventurous theatre experiences to theatregoers and to broaden the scope of theatre produced by the Walnut. In 1997, through a grant from the Independence Foundation, the theatre was renovated to become the Independence Studio on 3.

Additionally, Walnut Street Theatre has supported the local arts community, acting as an incubator for other theatre companies in the early stages of their development. Indeed, the measure of success at Walnut Street Theatre can be taken not only by the full houses that enjoy programs on its Mainstage, but also by the attendance at other theatre and performing arts venues throughout our community. A study conducted by Ziff Marketing commissioned by the Pew Charitable Trust identifies Walnut Street Theatre as "an entry point for a large prospect market interested in attending the theatre in the Philadelphia area."

Philadelphians and diverse audiences from across the Greater Philadelphia Region have rallied to the Walnut. Subscription audiences have grown from 0 in 1982 to over 50,000 today. Annual attendance exceeds 300,000, making Walnut Street Theatre a critical link between the City's commercial center and the historic district.

During the summer of 2001, Walnut Street Theatre completed a number of projects to enhance artistry and preserve the historic building. One of these projects was the restoration of its 160-year-old Mainstage grid. In a theatre, a grid is a structure comprised of boards and beams that is suspended from the roof of the building over the stage. This grid then serves as the support structure from which key theatrical elements are hung, including stage curtains, pieces of scenery, lighting equipment and sound equipment. During the months of July and August, all of the old, worn wooden beams were replaced, steel reinforcement was added, and all of the mechanisms used to move scenery on and off stage was upgraded. This made the Walnut safer, allowed freedom to install more elaborate sets and preserved the integrity of the world's oldest continuously operating theatre. This project was supported jointly by a grant from the Pennsylvania Historical and Museum Commission and the Helen Groome Beatty Trust.

A second project was the upgrading of Mainstage lighting. This project optimized lighting safety and efficiency, and gave greater freedom to employ more creative lighting techniques. This project was made possible in part by a Cultural Economic Development Grant. These grants are funded by the Delaware River Port Authority, with administrative support provided by the Greater Philadelphia Cultural Alliance (GPCA). For additional information about these grants, visit the Cultural Alliance online.

Walnut Street Theatre is more than just a historic structure with an illustrious past. It is today a vital living part of Philadelphia's art scene - a place where our community comes together to celebrate and understand who we are, a place to gain new perspectives of ourselves and others through the living art of theatre. Today, Walnut Street Theatre is widely regarded as one of America's most successful regional theatres. Its subscription audience is the largest of any regional theatre company in the world. Walnut Street Theatre employs over 600 people, and with a balanced budget of nearly $10 million annually, Walnut Street Theatre's economic impact is estimated at over $25 million.
Pennsylvania House Resolution No. 197 - 1999
THE GENERAL ASSEMBLY OF PENNSYLVANIA
HOUSE RESOLUTION
No. 197 Session of 1999

INTRODUCED BY J. TAYLOR, JOSEPHS, ADOLPH, ALLEN, ARMSTRONG,BAKER, BEBKO-JONES, BUNT, CALTAGIRONE, CIVERA, L. I. COHEN,M. COHEN, CORNELL, DAILEY, DONATUCCI, FICHTER, FLICK, GEORGE, GIGLIOTTI, HARHAI, HERSHEY, HORSEY, JAMES, KELLER, KENNEY,LAUGHLIN, LEDERER, McNAUGHTON, MELIO, PESCI, PETRONE, RAMOS,RIEGER, ROEBUCK, RUBLEY, SCRIMENTI, SHANER, E. Z. TAYLOR,THOMAS, WALKO, WILLIAMS, WOJNAROSKI, YOUNGBLOOD AND ZIMMERMAN, JUNE 8, 1999

REFERRED TO COMMITTEE ON RULES, JUNE 8, 1999

A RESOLUTION

Designating the Walnut Street Theatre at 9th and Walnut Streets, Philadelphia, Pennsylvania, as the "State Theatre of Pennsylvania."

WHEREAS, The Walnut Street Theatre was built in 1809, and it has remained the oldest theatre in America; and

WHEREAS, During the theatre's long history in this Commonwealth, it has reflected overall development of American theatre; and

WHEREAS, The theatre's earliest performance was the "New Circus," an equestrian act, and the first play was Sheridan's "The Rivals" in 1812; and

WHEREAS, Continuing its noteworthy history, the Walnut Street Theatre marked the premiere and final stage performance of Edwin Forrest, a native Pennsylvanian and one of America's finest actors of the theatre; and

WHEREAS, The Walnut Street Theatre featured performances by famous American and European artists, including Fanny Kemble, Lilly Langtry, Edmund Kean, Ellen Tree and Thomas Cooper, and continued to be a leader in American theatre with appearances by Henry Fonda, Julie Harris, W.C. Fields, Paul Robeson, Harry Houdini, Leslie Howard, the Gish Sisters, Ethel Waters, Katherine Hepburn, the Marx Brothers, Helen Hayes and many others; and

WHEREAS, The Walnut Street Theatre was the site of the Presidential debate between Jimmy Carter and Gerald Ford and other special events; and

WHEREAS, A major renovation in 1970 saved the theatre from demolition, and the theatre grew to become the largest theatre east of the Mississippi in its number of subscribers and earned recognition for its theatre school and community outreach program; therefore be it

RESOLVED, That the House of Representatives designate the Walnut Street Theatre in Philadelphia, Pennsylvania, as the "State Theatre of Pennsylvania."
---