Pennsylvania State Beverage
Milk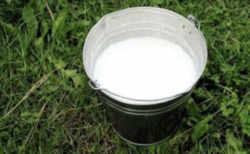 Adopted on April 29, 1982.
Milk was adopted as Pennsylvania's State Beverage on April 29, 1982. This designation is a fitting tribute to one of the Commonwealth's leading farm products. It also salutes the state's gentle dairy cows who each produce a generous 22 quarts of milk a day.
Pennsylvania ranks fourth in the US in milk production, butter production, Italian cheese production, and ice cream production. Pennsylvania Dairy cows produce more than 10 billion pounds of milk every year. There are 639,000 milk cows on 10,200 dairy farms.
Did you know that: Milk has been proclaimed the official state beverage or drink in each of the following states:
State Symbol: Milk
Arkansas | Delaware | Louisiana | Minnesota | Mississippi | Nebraska
New York | North Carolina | North Dakota | Oregon | Oklahoma | Pennsylvania | South Carolina | South Dakota | Tennessee | Vermont | Virginia | Wisconsin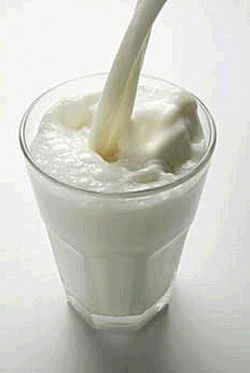 Milk is a white liquid produced by the mammary glands of mammals. It is the primary source of nutrition for young mammals before they are able to digest other types of food. Early-lactation milk contains colostrum, which carries the mother's antibodies to the baby and can reduce the risk of many diseases in the baby. It also contains many other nutrients.
Milk was designated the official state beverage of Pennsylvania in 1982
Pennsylvania ranks fifth in the US in milk production Milk production in Pennsylvania in June totaled 882 million pounds, up 0.2% from June,2013
The average number of milk cows was 530,000.
Average milk production per cow was 1,665 lbs
There are over 10,000 dairy farms that produce more than 10 billion pounds of milk every year
For many years, milk has been hailed as nature's nearly perfect food. In addition to possessing great taste, milk is incredibly nutritious. One serving of milk packs a powerful nutritional punch of calcium, Vitamins A, D, B6, B12 and riboflavin and protein
In the United States, goat's milk is gaining popularity Goats eat less and occupy less grazing space than cows Goat's milk is believed to be more easily digestible and less allergenic than cow's milk
Where milk comes from and how it's made.
Ever wonder where delicious milk comes from? It all starts with healthy, well-fed cows that live on farms all around America the beautiful.

All cows are females (males are called bulls).
A cow can't give milk until she's given birth to a calf.
Cows provide 90% of the world's milk supply.
A cow's udder can hold 25-50 pounds of milk at a time - no wonder she's so eager to be milked - and a cow gives nearly 200,000 glasses of milk in her lifetime.
Can You Say, "I'm Full?"
Cows are BIG eaters. Did you know that cows have four stomachs and eat 90 pounds of food a day? That's probably more than you weigh! A cow that chows on only grass can make 50 glasses of milk a day. But one that eats grass, corn and hay can make 100 glasses of milk a day!
Pennsylvania House Bill No. 1351 - 1981
THE GENERAL ASSEMBLY OF PENNSYLVANIA
HOUSE BILL
No. 1351 Session of 1981

INTRODUCED BY GRIECO, CIMINI, WENGER, MADIGAN, W. W. FOSTER, COLE, STUBAN, SHOWERS, CAPPABIANCA, D. R. WRIGHT,F. E. TAYLOR, SPENCER, HASAY, SWIFT AND LEVI, APRIL 29, 1981

REFERRED TO COMMITTEE ON AGRICULTURE AND RURAL AFFAIRS, APRIL 29, 1981

AN ACT

Selecting, designating and adopting milk as the official beverage of the Commonwealth of Pennsylvania. The General Assembly of the Commonwealth of Pennsylvania hereby enacts as follows:

Section 1. Milk is hereby selected, designated and adopted as the official beverage of the Commonwealth of Pennsylvania.

Section 2. This act shall take effect immediately.

---