Pennsylvania State Fish
Brook Trout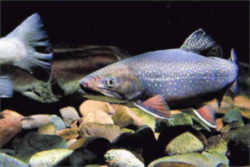 (Salvelinus fontinalis)
Adopted on March 9, 1970.
The Brook Trout, (Salvelinus fontinalis,) was adopted as Pennsylvania's State Fish on March 9, 1970. There is nothing more beautiful than the flash of a Brook Trout beneath a bubbling current - especially for Pennsylvania's 1.1 million anglers. Over 4,000 miles of cold water streams form the natural habitat of this fish, the only trout native to Pennsylvania.
The Brook Trout takes first place for the most popular state fish with these states claiming it for their Official State Fish; Maine, Michigan, New Hampshire, New Jersey, New York, Pennsylvania, Vermont, Virginia, and West Virginia. Taken as a whole, trout dominate the Official State Fish category with 18 states calling some type of trout their Official State Fish.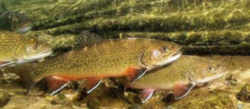 Pennsylvania is home to some of the best trout fishing in the world! Whether you're looking to battle wits with wild brook trout on a small mountain run or land a trophy brown or rainbow trout from one of our well-stocked streams and lakes, PA has something to offer every trout angler. Brook (native, state fish), brown and rainbow (including steelhead and golden rainbow) trout are found in PA waters.
Characteristics of the Brook Trout
The brook trout is distinguished from other members of the salmon family by the dark green marbling on its back and dorsal fins and the red spots with blue halos commonly found on its sides. While the color may vary, brook trout tend to range in color from green to brown-ish on the back, with marbling that extends onto the dorsal fins and numerous pale spots dotting the sides. Lower fins usually are marked by a white leading edge followed by a dark stripe and ending in a reddish tint. The typical length of an adult fish ranges from 10 to 26 inches with a weight anywhere from 11 oz. to 7 lbs.
Common Names:
Eastern Brook Trout, Brookie, Speckled Trout, Native Trout, Squaretail
Typical Adult:
Length: Up to 18 inches (sometimes up to 34 inches)
Weight: Up to 3 pounds (may reach 14 pounds)
Life span: Up to 15 years
Distribution:
The brook trout is native to northern North America and is widely distributed throughout the maritime provinces. It occurs in clear, cool, well-oxygenated streams and lakes.
Habitat:
Brook trout live in clear and cold streams, lakes, and ponds, often with access to sea, but are mostly found in the headwaters of spring-fed streams. The preferred water temperature is 53-56 °F. Salvelinus fontinalis or Speckled Trout, Aurora Trout, Brookie, Square-Tail, Speckled Char, Sea Trout, Common Brook Trout, Mud Trout, Breac. The brook trout is of the salmon family. It survives only in clear, cold water and populates the mountain rivers and streams of Pennsylvania.
Feeding Behavior:
Brook trout feed on a wide variety of aquatic insects and other invertebrates. Often they will feed on other fish and vertebrates such as salamanders, tadpoles, small snakes, and mammals that get too close or fall into the water.
Reproductive Behavior (Spawning):
When: Brook trout spawn in the fall between mid-October to early December.

Preferred Water Temperature: 40-49 °F

How: The female digs the redd where she lays 100-5000 eggs depending on her size. They hatch 50-100 days later. The life expectancy is an average of five years. The brook trout is carnivorous and feed upon a wide range of organisms. They have been known to eat their own eggs at spawning time and even their own young.
Pennsylvania Law
The law designating the Brook Trout as the official Pennsylvania state fish is Section § 1009 (State fish ) of the Purdon's Pennsylvania Statutes and Consolidated Statutes, Title 71 (P.S. State Government) Part 1 (The Administrative Codes and Related Provisions) Chapter 6 (Provisions Similar or Closely Related to Provisions of the Administrative Code - Secretary and Department of Internal Affairs - State Emblems Section 1009
Title 71 P.S. State Government
I. The Administrative Codes and Related Provisions
Chapter 6. Provisions Similar or Closely Related to Provisions of the Administrative Code
Secretary and Department of Internal Affairs
State Emblems

§ 1009. State fish

The Brook Trout is the only trout a native of Pennsylvania waters. A choice of most epicures, it is the most beautiful and widely distributed member of the salmon family in the State and is found in the small, cold mountain streams and lakes and in the spring-fed limestone streams of the valleys. The Brook Trout (Salvelinus fontinalis) is hereby selected, designated and adopted as the official State fish of Pennsylvania.

1970, March 9, P.L. 161, No. 61, § 1.
Taxonomic Hierarchy: Brook Trout
Kingdom: Animalia - animals
Phylum: Chordata - chordates
Subphylum: Vertebrata
Superclass: Osteichthyes - bony fishes
Class: Actinopterygii - ray-finned and spiny rayed fishes
Order: Salmoniformes - salmon and trout
Family: Salmonidae - salmon and trout
Genus: Salvelinus --
Species: Salvelinus fontinalis
---