Pennsylvania State Electric Locomotive
GG1 4859 Electric Locomotive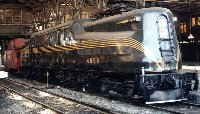 GG1 4859 Electric
Adopted on December 18, 1987.
The K4s steam locomotive was designated as Pennsylvania's official state steam locomotive on December 18, 1987. The K4s steam locomotive is the quintassential train engine - a boxy, black cylinder with a short stack on top. It was the main passenger locomotive of the Pennsylvania railroad for 30 years. At one time, 425 of these powerful coal-burners steamed across the state - every one built in Pennsylvania. The state steam locomotive is on display in railroad museums in Altoona and Strasburg.
The GG1 4859 Electric Locomotive is one of 139 sleek and shiny bullets that smoked the rails at speeds above 100 miles per hour. Built in 1937, the GG1 4859 pulled troop trains to military destinations during World War II and continued powering coal and passenger cars until retirement in 1979.
Built by the PRR starting in 1934 until 1943, a total of 139 of these elite locomotives were built for and by the Pennsylvania Railroad. They handled all main line passenger service between New York and Harrisburg, Pennsylvania in the electrified zones.
The Pennsylvania Railroad's GG-1's were geared for 110 mph in passenger service and somewhat lower for freight. They were used in freight service when traffic conditions permitted; they were numbered 4800-4938. The GG-1s' service life lasted well into the 1970s, with the last ones retired in 1980. When Amtrak took over passenger service in 1971, numbers 4899-4938 were included from Conrail, and many were renumbered to the 900 series in 1973.
This electric locomotive represents the finest of locomotives during the 1930s and 1940s. They have a graceful appearance with gold striping accenting their smooth, flowing lines. Capable of bi-directional operation, their appearance was enhanced when several were painted Tuscan red for operation on the morning and evening Congressional Limited between New York and Washington. Others were used on the Broadway Limited between New York and Harrisburg, blending in with the Tuscan red colors of the passenger equipment to present a fine-looking train. used on electrified lines between New York, Washington, and Harrisburg. Under a body designed by Raymond Loewly, the GG-1 combined power and speed, pulling 22 passenger cars at 100+ mph.They were operated by Penn Central, Conrail, NJT and Amtrak All were retired by 1983
No. 4935 is one of the Railroad Museum of Pennsylvania most admired locomotives, taking second place perhaps only to the famous No. 3750, of the Pacific K4s class-- the official steam locomotive class of Pennsylvania, and the only one currently assembled.
Where is No. 4859?
No. 4859, built in 1937, is on display at Harrisburg (Pa.) Transportation Center, Amtrak Station - the official state electric locomotive
No. 4935 Specifications:
Nickname "Blackjack."
4620 horsepower, 8500 maximum.
Liquid cooled transformer steps down 11,000 volts from catenary to 600 volts.
12 motors, 600 volt AC on 6 axles.
Weight 238 tons. GE electrical gear.
79' 6" long; 10' 6" wide; 15' high.
Special "quill" drive very effective.
Mileage, estimated 3 million miles.
7" pin and ball joint articulated (allows undercarriage to swivel on curved tracks).
Streamlined design by Raymond Loewy.
Built in 1943 by PRR Juniata Shops.
139 GG1s were built from 1934 to 1943.
139 of these locomotives were built for and by the Pennsylvania Railroad.
The Railroad Museum of Pennsylvania houses one of the most significant collections of historic railroad artifacts in the world.
Railroad Museum of Pennsylvania
Route 741, P. O. BOX 15
STRASBURG, PENNSYLVANIA 17579
PHONE: 717 687- 8628 FAX: 717 687- 0876
---