Rhode Island Famous People
Famous Americans: History and Biographies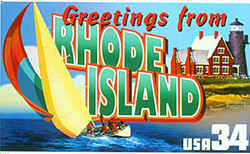 Links to histories and biographies of the famous people of Rhode Island. Many famous people of Rhode Island have made significant contributions to the history of our nation and the state of Rhode Island. These famous Americans, famous entertainers, famous players, famous scientist, famous singers, famous statesmen, famous women, heroes, great explorers, and others Rhode Island famous Americans have all made Rhode Island their home. This list includes Rhode Island historical figures, celebrities and those individuals of Rhode Island who have influenced the lives of others.
---
More Famous People of Rhode Island
Find more more Rhode Island famous people below. You may not even realize many of these famous people were born in Rhode Island or notable associated with Rhode Island, including actors, actresses, explorers, historical figures, inventors, musicians, novelists, professional athletes, important politicians, singers, sport stars and more.
George M. Cohan actor, dramatist, Providence
Eddie Dowling actor, stage producer, Woonscocket
Nelson Eddy baritone, actor, Providence
Peter Farrelly writer, director, Cumberland
Jabez Gorham silversmith, Providence
Robert Gray sea captain, Tiverton
Spalding Gray writer, performance artist, Barrington
David Hartman TV newscaster, Pawtucket
Ruth Hussey actress, Providence
Thomas H. Ince film producer, Newport
Van Johnson actor, Newport
Galway Kinnell poet, Providence
Irving R. Levine news correspondent, Pawtucket
Ida Lewis lighthouse keeper, Newport
Dana C. Munro educator, historian
Matthew C. Perry naval officer, Newport
Oliver Hazard Perry naval officer, South Kingstown
Stephen Wilcox inventor, Westerly
Jemima Wilkinson religious leader, Cumberland
Leonard Woodcock labor union official, Providence