Rhode Island State Rock
Cumberlandite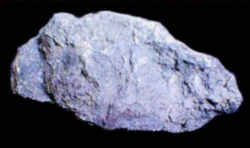 Adopted in 1966.
In 1966 by the Rhode Island General Assembly officially adopted Cumberlandite because it is extremely rare and for its unique nature as the official state rock of Rhode Island (Resolution #268). It is only found in large concentrations on a 4-acre lot in Blackstone Valley, Cumberland, and in traces scattered throughout the Narragansett Bay watershed. Due to its high amounts of iron, it is slightly magnetic.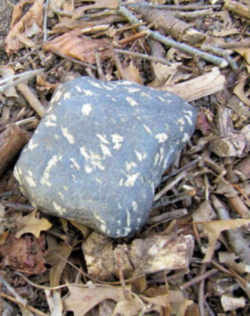 Cumberlandite is the Official State Rock of Rhode Island. This very special rock was originally named Rhodose and was identified hundreds of years ago but was renamed Cumberlandite by Wadsworth (1861). This is an extremely rare and unique stone and has significant historical and geological interest. Heavy black or dark brown rock with white markings. It is found South of Cumberland on both sides of Narragansett Bay and has not been discovered outside the state of Rhode Island. It is classed as a variety of ferrogubbro and is an porphyritic igneous rock composed of crystals white plagioclase feldspar in a finer-grained groundmass of magnetite, ilmenite, and olivine that was "stewed in its own juices". The feldspar and olivine changed to a fine-grained serpentine. It will attract a magnet and this characteristic is considered a positive means of identification. Scientists have estimated the age of Cumberlandite to be about one and one-half billion years when a small volcano erupted and 24 different minerals mixed together with molten rock and when it cooled formed a slightly magnetic rock that is iron rich. Cumberlandite is commonly mistaken for a meteorite. This is because it has intense magnetic susceptibility, its high specific gravity, and common pitted nature.
This rare ore deposit is world renown and thought to be the largest and purest body of ore in New England. It is located on a 3.7 acre parcel in Cumberland, Rhode Island 02864 near the intersection of West Wrentham Road and Elder Ballou Meetinghouse Road It is about three miles east of Woonsocket, RI, four miles SW of the NE corner of RI and one mile from the Massachusetts state line. It is the world's only known site of Cumberlandite rocks. The area is known as "Iron Mine Hill.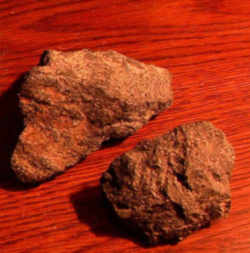 These extremely rare rocks were deemed sacred by the Nipmuck Indian Tribe. Cumberlandite was also used as early as 1703 for cannons, weapons and farm tools during the Revolutionary War when it was recognized as a possible ore of iron. It was mixed with hematite from the Hopkins Iron Mine in Cranston, Rhode Island and was forged by Philip Brown at Abbott's Run in Cumberland. Sometime later, John Brown of Providence, R.I., was contracted for iron used in cannons by the US Government. He used a mixture of Cumberlandite and Cranston ores and smeltered them in Easton Massachusetts.
The Iron Mine Hill outcrop, elliptical in cross section, was estimated to be approximately 1,200 feet long on its major axis, and 500 to 600 feet on its minor axis. Jackson (1840) calculated the mass of porphyrytic magnetic iron ore, 462 feet long, 132 feet wide and 104 feet high with 6,342,336 cubic feet of ore visible. It has a specific gravity of 3.82-3.88 giving it tonnage of approximately 7,641,488 tons. Jackson's analysis stated this would yield about 3,000,000 tons of ore and over 1,000,000 tons of titanium.
Rhode Island Law
Cumberlandite was officially established as the state rock in 1966 by Resolution No. 268. This is the same year and resolution number that designated the state mineral as Bowenite.
(Officially established by Resolution No. 268, 1966).

---
State Rocks,
Minerals, & Gems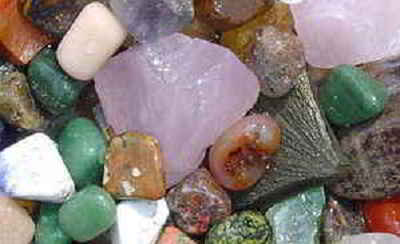 Gemstone, Minerals, Rocks