Rhode Island State Motto
"Hope"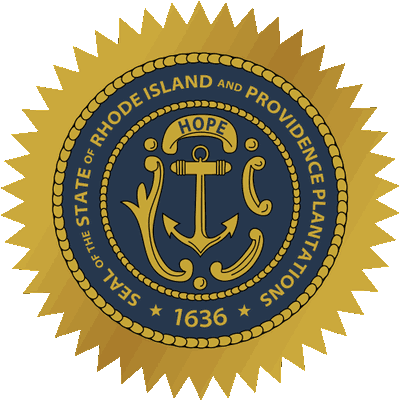 Adopted in 1875.
Language: English
Rhode Island's state motto was adopted as an element of the state coat of arms or "Arms of the state". The motto, "Hope," is found on the state's coat of arms, the seal and flag.
The Great Seal of the state of Rhode Island was adopted in 1875. The Arms of state was officially adopted by the General Assembly in 1881, effective February 1, 1882.
---
Arms of State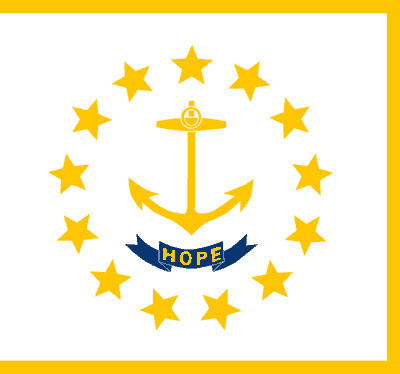 This affirmed the basic design of a long pre-existing coat of arms used by the state. An anchor had served as the principal symbol of Rhode Island for more than two centuries by the time the coat of arms was officially adopted. The first seal of the colony had an anchor. Impressions of various Rhode Island seals are extant, dating as far back as 1661.
Rhode Island Law
The law designating the official Rhode Island state motto is found in the Rhode Island Statutes, Title 42, Chapter 4. The motto is found on the state's coat of arms, the seal and flag.
This statute describes the Rhode Island coat of arms and state seal. The motto is specified within this description.
TITLE 42 - State Affairs and Government.
CHAPTER 42-4 - State Emblems.
SECTION 42-4-1.
§ 42-4-1 Arms of state. The arms of the state are a golden anchor on a blue field, and the motto thereof is the word "Hope".

SECTION 42-4-2.
§ 42-4-2 State seal. There shall continue to be one seal for the public use of the state; the form of an anchor shall be engraven thereon; the motto thereof shall be the word "Hope"; and in a circle around the outside shall be engraven the words, "Seal of the State of Rhode Island and Providence Plantations, 1636".

SECTION 42-4-3.
§ 42-4-3 State flag. The flag of the state shall be white, five feet and six inches (5'6") fly and four feet and ten inches (4'10") deep on the pike, bearing on each side in the center a gold anchor, twenty-two inches (22") high, and underneath it a blue ribbon twenty-four inches (24") long and five inches (5") wide, or in these proportions, with the motto "Hope" in golden letters thereon, the whole surrounded by thirteen (13) golden stars in a circle. The flag shall be edged with yellow fringe. The pike shall be surmounted by a spearhead and the length of the pike shall be nine feet (9'), not including the spearhead.