Rhode Island State Sailing Education Vessel
SSV Oliver Hazard Perry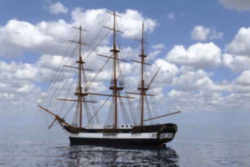 Adopted in 2012
SSV Oliver Hazard Perry is the Rhode Island built Tall Ship providing our state and nation with a 200-foot long, three-masted Sailing School Vessel that joins the select fleet of Class-A size Tall Ships hosted by the world's maritime nations. With this extraordinary ship they provide education and adventure at sea programs to youth and all ages while proudly advancing the Ocean State's rich nautical heritage
The hull for this new ship was initially begun in Canada. Much of the first phase construction has been completed. The steel hull has been built; fuel and water tanks are installed, as well as shafts and propellers for its twin-engine propulsion system. Her twin, and backup generators are in place in the engine room. Hydraulic systems for both steering and her four windlasses are in place. A team of riggers and shipwrights have been working to complete her 130-foot rig, which now has all three masts in place. She will have a training participant capacity up to 100 for day sails and 49 overnight.
After a short Rhode Island shipyard construction period at Promet Marine Services in Providence Rhode Island, the ship was towed by one of our Marine Trades Partners, Reagan Construction, to Senesco Marine for deck work and more. Watch the progress through our blog or through Narragansett Bay Shipping. She was hauled out at Newport Shipyard for the Spring and Summer of 2014, and is now in Portsmouth at New England Boatworks. They have a number of marine trade partners who have been a part of this magnificent project.
SSV Oliver Hazard Perry is a tall ship operated by non-profit Oliver Hazard Perry Rhode Island.
When completed, it will measure 207 feet (63 m), will be a three-masted square-rigged vessel, making it the largest privately owned tall ship and largest civilian sail training vessel in the United States. At some time in the future, the SSV Oliver Hazard Perry will sail as Rhode Island's Official Sailing School Vessel and will be a "good will ambassador" for the state as well as a "floating classroom". It is being financed through a tax exempt 501(c)(3) charitable foundation, and public subscription.Ironically, "The ship, as it existed [when acquired by the Rhode Island trust was] a 138 feet (42 m) steel hull, which [was] bought from an organization in Ontario for $325,000. It had cost almost $3 million to build, but the Canadian group derailed before the ship- intended to be a replica of the 20-gun British ship HMS Detroit (captured by the flotilla commanded by Commodore Perry - not the six gun sloop HMS Detroit destroyed by Lieutenant Jesse D. Elliott in the War of 1812) - could be completed.
The ship is named for Newport's War of 1812 naval hero Commodore Oliver Hazard Perry. Once completed, SSV Oliver Hazard Perry will be owned and operated by the non-profit Oliver Hazard Perry Rhode Island, and represent Rhode Island wherever she goes. Her home port will be Newport and she will sail the world as an ambassador of the proud state.
Rhode Island Law
The law designating the "SSV Oliver Hazard Perry" as the official Rhode Island state sailing education vessel. is found in the State of Rhode Island General Laws, Title 42, Chapter 1042-4, Section 42-4-18
Title 42 - State Affairs and Government
Chapter 42-4 - State Emblems
Section 42-4-18 - State sailing education vessel.

Universal Citation: RI Gen L § 42-4-18 (2013)

§ 42-4-18 State sailing education vessel. - The Class A size Tall Ship, commonly known as the "SSV Oliver Hazard Perry", is hereby designated as the official state sailing education vessel.

History of Section.
(P.L. 2012, ch. 62, § 1; P.L. 2012, ch. 97, § 1.)

---