Rhode Island State Appetizer
Calamari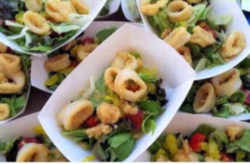 Adopted in 2014.
Calamari became the official state appetizer of Rhode Island on Friday when Gov. Lincoln Chafee signed legislation at the town dock here where millions of pounds of squid arrive for processing each year.
"So much of what we hear or read about Rhode Island is negative,"said Representative McNamara (D-Dist. 19, Warwick, Cranston), who introduced the House bill proposing the new state appetizer (2014-H 7446A). "We need to start promoting the good and wonderful things about our state. And, while squid may make some people squeamish, we should be boasting about the fact that Rhode Island is the East Coast capital of squid, and that our style of preparing it is being used by chefs across the country."

"It is the juxtaposition of two things - that squid is the state's most valuable commercial fishery and that a cuisine distinctive to Rhode Island is served and enjoyed around the country - that make this special to our state, something to call our own,"said Senator Sosnowski (D-Dist. 37, South Kingstown, New Shoreham), sponsor of the Senate bill (2014-S 2398A).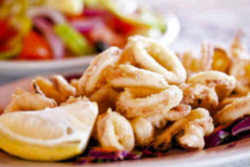 Squid is a popular food in many parts of the world.

In many of the languages around the Mediterranean sea, squid are referred to by a term related to the Italian "calamari" (singular "calamaro"), which in English has become a culinary name for Mediterranean dishes involving squid, especially fried squid (fried calamari)
The squid is a mollusk related to the cuttlefish and octopus. It has ten tentacles, and like its cousin, the octopus, it also has a protective mechanism which releases a dark ink into the water when it senses danger.

The meat is firm and white with a mild, slightly sweet and almost nutty flavor. The squid ranges from one inch in size up to eighty feet, but the most common size for eating is less than twelve inches.

Although the tentacles are edible, the body is the prime section of meat which can be stuffed whole, cut into flat pieces, or sliced crosswise into perfect rings.

Squid lends itself to just about every cooking method imaginable and is often eaten raw in sushi dishes. Squid is available fresh, canned, frozen, dried and pickled.

Squid is also known as calamari, its Italian name. Since calamari seems to sound more palatable than squid, you'll most often see squid recipes listed as calamari on restaurant menus.
Calamari is now Rhode Island's official appetizer

Posted: Jun 27, 2014 2:42 PM EST Updated: Jun 27, 2014 4:38 PM EST
By Associated Press

NARRAGANSETT, R.I. - Calamari became the official state appetizer of Rhode Island on Friday when Gov. Lincoln Chafee signed legislation at the town dock here where millions of pounds of squid arrive for processing each year.

About 125 fishing boats in Rhode Island catch half of all the squid brought in on the East Coast annually, Chafee said.

Rep. Joseph McNamara and Sen. Susan Sosnowski both sponsored bills to give the squid dish an official status this year, to recognize the importance of the squid fishing industry and promote the state's food and tourism industries. An effort to do so last year stalled in the Senate.

The bill's naysayers questioned why the legislature was not working on something more meaningful. Richard Fuka, president of the Rhode Island Fishermen's Alliance, said the bill is an extremely important "selling tool" for the fishing industry, and it will help encourage people to visit Rhode Island.

"Squid is to Rhode Island what the potato is to Idaho," he said before the ceremony.

Chafee said the bill is lighthearted and fun, but it also highlights an important part of the state's economy.

"Get out there and catch some squid, and let's have some calamari," he said.

Rhode Island chefs saute lightly breaded squid with thin slices of pickled hot peppers to make calamari and sometimes serve it with marinara sauce on the side. It is a lighter dish than the calamari found elsewhere, which often is deep-fried.

Many other states have state foods. Rhode Island is the first to have a state appetizer, McNamara said.

Friday's ceremony ended, naturally, with calamari being served. Kim Korb, who prepared it, said she ate pounds of squid while testing recipes, batters and the fryers before the ceremony. But she wasn't sick of it.

"I'm ready to have some more," she said. "Are you kidding me? I love it."

Some people returned for seconds, even thirds. The daughter of Rep. Teresa Tanzi, 8-year-old Delia Tanzi Buchbaum, helped herself to three servings.

McNamara and Korb swapped preparation techniques. "Excellent," McNamara said as he tried it. "I can practically taste the ocean."
Rhode Island Act S2398 - 2014
2014 - S 2398 SUBSTITUTE A
STATE OF RHODE ISLAND
IN GENERAL ASSEMBLY
JANUARY SESSION, A.D. 2014

A N A C T
RELATING TO STATE AFFAIRS AND GOVERNMENT - STATE EMBLEMS
Introduced By: Senators Sosnowski, Sheehan, Hodgson, McCaffrey, and Walaska
Date Introduced: February 12, 2014
Referred To: Senate Special Legislation and Veterans Affairs

It is enacted by the General Assembly as follows:
SECTION 1. Legislative findings- The legislature finds and declares that:
(1)Rhode Island is the east coast capital of squid and accounts for more than fifty-four percent (54%) of squid landings in the Northeast; and
(2) Squid is to Rhode Island what lobster is to Maine and cod is to Massachusetts; and
(3) More pounds of squid are brought to store in Rhode Island than any other seafood; and
(4) Rhode Island has the largest squid-fishing fleet on the East Coast; and
(5) The fishing, hospitality, and tourism industry is crucial to the economy of the state; and
(6) Rhode Island has some of the finest restaurants in the country; and 10
(7) The appetizer known as "Rhode Island-style calamari"(squid) is prepared and served nationwide; and
(8) The legislature hereby declares it is in the best interest of the state and its local 13 economy to officially recognize the importance of the squid fishing industry to our economy and the unique and delicious appetizer know as calamari.

SECTION 2. Chapter 42-4 of the General Laws entitled "State Emblems" is hereby amended by adding thereto the following section:

42-4-19. State appetizer. - Calamari is hereby designated as the official state appetizer
for the state.

SECTION 3. This act shall take effect upon passage.

EXPLANATION
BY THE LEGISLATIVE COUNCIL OF
AN ACT
RELATING TO STATE AFFAIRS AND GOVERNMENT - STATE EMBLEMS

This act would designate calamari as the official state appetizer.

The act would take effect upon passage.

---