Arizona State Gemstone or Gem
Turquoise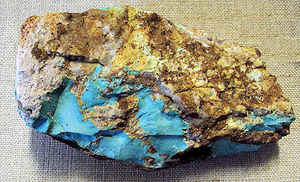 (Hydrated Copper Aluminum Phosphate)
Adopted in 1974.
Turquoise is a blue-green, waxy-surfaced stone used for centuries in Native American jewelry. It can be found throughout the southwest and is composed of hydrous oxide of aluminum and copper. Turquoise, (Hydrated Copper Aluminum Phosphate,) was approved as Arizona state gemstone by the Legislature in 1974.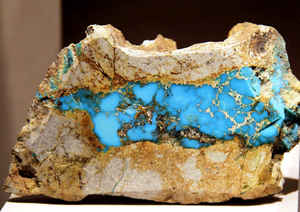 Turquoise has captivated man's imagination for centuries. When it came to the attention of man is unknown. We have archeological as well as literary references that pre date the Christian era by five millenia. The four bracelets of Queen Zar, found on her mummified arm, date to the second ruler of the Egypt's First Dynasty, approximately 5500 B.C. Although not specifically mentioned in the Bible, scholars believe that the robe worn by the high priest Aaron was adorned with turquoise. Aristotle, Pliny and others refer to stones that must have been turquoise. After the fourth or fifth century A.D., many writings appeared discussing the stone. Explorers such as Marco Polo took time to write about it.
An Overview of Production of Specific U.S. Gemstones

U.S. Bureau of Mines Special Publication 14-95

The financial and operating terms of the collecting contracts vary from mine to mine. Some of the operations are little more than the efforts of individual commercial collectors. Some are essentially full-scale mining operations that are simultaneous with, but separate from, the regular mining operations; and still others operate on an on-call basis as turquoise is uncovered by the regular copper mining operation. Regardless of the size or the sophistication of the initial mining or recovery operation, the actual turquoise is recovered by careful extraction using hand methods.

Turquoise, the robin's egg blue gemstone worn by Pharaohs and Aztec Kings, is probably one of the oldest gemstones known. Yet, only its prized blue color, a color so distinctive that its name is used to describe any color that resembles it, results in its being used as a gemstone. Turquoise has been, since about 200 B.C., extensively used by both southwestern U.S. Native Americans and by many of the Indian tribes in Mexico. The Native American Jewelry or "Indian style" jewelry with turquoise mounted in or with silver is relatively new. Some believe this style of Jewelry was unknown prior to about 1880, when a white trader persuaded a Navajo craftsman to make turquoise and silver jewelry using coin silver. Prior to this time, the Native Americans had made solid turquoise beads, carvings, and inlaid mosaics. Recently, turquoise has found wide acceptance among people of all walks of life and from many different ethnic groups.

The name turquoise may have come from the word Turquie, French for Turkey, because of the early belief that the mineral came from that country (the turquoise most likely came from Alimersai Mountain in Persia (now Iran) or the Sinai Peninsula in Egypt, two of the world's oldest known turquoise mining areas.) Another possibility could be the name came from the French description of the gemstone, "pierre turquin" meaning dark blue stone.

Chemically, a hydrated phosphate of copper and aluminum, turquoise is formed by the percolation of meteoric or groundwater through aluminous rock in the presence of copper. For this reason, it is often associated with copper deposits as a secondary mineral, most often in copper deposits in arid, semiarid, or desert environments.

For thousands of years the finest intense blue turquoise in the world was found in Persia, and the term "Persian Turquoise" became synonymous with the finest quality. This changed during the late 1800's and early 1900's when modern miners discovered or rediscovered significant deposits of high-quality turquoise in the western and southwestern United States. Material from many of these deposits was just as fine as the finest "Persian." Today, the term "Persian Turquoise" is more often a definition of quality than a statement of origin, and the majority of the world's finest-quality turquoise comes from the United States, the largest producer of turquoise.

The increased acceptance of turquoise resulted in higher prices, some of the most desirable materials going for as much as $2,200 per kg. The increased demand could not be met through production of acceptable mine run materials. Therefore, an industry emerged--the business of turquoise stabilization, reconstitution, and the manufacture of synthetic and simulated turquoise. In most instances, the stabilization and reconstitution of turquoise involve the use of earthy or highly porous types of turquoise which are pressure-impregnated with hot acrylic resins. The resins improve the color, hardness, and durability of the material to a point that inexpensive porous, poorly colored, or nearly colorless materials become suitable for use in jewelry. As long as the materials are represented as treated, stabilized, or reconstituted, the marketplace can accept or reject the materials based on decisions that are purely business or economic.

In Arizona turquoise ranks first in terms of value of production and is also the best known of its gem materials. As stated earlier, nearly all important deposits of turquoise are located near copper occurrences or in copper deposits in arid desert regions of the world. Thus, the world famous turquoise deposits associated with certain of the large Arizona copper deposits are to be expected. Turquoise is or has been mined from a number of these copper mines as a byproduct, usually by outside contractors.
DECEMBER Birthstone
Turquoise: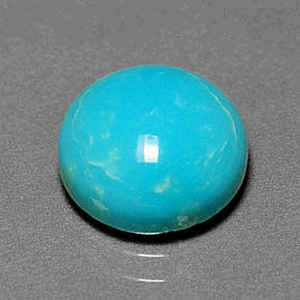 The name turquoise, from the French expression Pierre tourques or Turkish stone, originated in the thirteenth century and describes one of the oldest known gemstones. Its name is believed to originate from the French phrase "pierre turquoise"meaning "Turkish stone"because turquoise was brought to Europe by Venetian merchants who first acquired it in Turkish bazaars. Turquoise varies in color from greenish blue, through robin's egg-blue, to sky blue shades and its transparency ranges from translucent to opaque. Turquoise is plentiful and is available in a wide range of sizes. It is most often used for beads, cabochons, carvings, and inlays. Although its popularity fluctuates in fashion, it is a perennial favorite in the American Southwest.
Arizona Law
The law designating the Turquoise as the official Arizona state gemstone is found in the Arizona Revised Statutes, Title 41 (State Government) Chapter 4.1 (HISTORY, ARCHAEOLOGY AND STATE EMBLEMS) Article 5 (State Emblems) Section 41-858
Title 41 - State Government
Chapter 4.1 HISTORY, ARCHAEOLOGY AND STATE EMBLEMS
Article 1 Arizona Historical Society
Article 5 State Emblems
41-858. State gemstone
Turquoise is the official state gemstone.
---
State Rocks,
Minerals, & Gems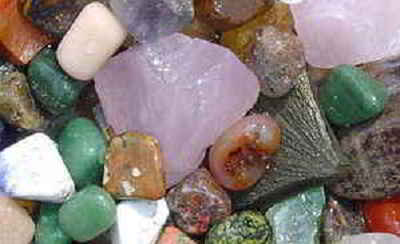 Gemstone, Minerals, Rocks