Arizona State Firearm
Colt Single Action Army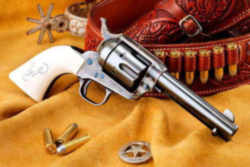 Adopted in April 28, 2011
The state firearm is the Colt Single Action Army Revolver. In April of 2011 Governor Jan Brewer signed Senate Bill 1610 and created Arizona's newest symbol, the State Firearm. Seen by some as the gun that won the west, the Colt Single Action Army revolver was first manufactured in 1873 and continues to made at the factory in Connecticut. - A.R.S. § 41-860.02 .
Arizona's governor has signed a bill designating the Colt Single-Action Army revolver as the state's first official firearm, making Arizona only the second in the nation to have such a designation.
Gov. Jan Brewer signed the bill without comment on Thursday, April 28,2011. Legislative supporters argued that the designation was appropriate because the revolver was widely used during Arizona's territorial days.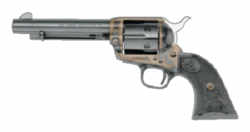 The Colt revolver, made popular in the 1800s, was a common weapon carried by the likes of Bat Masterson, Buffalo Bill Cody and Wild Bill Hickok, according to "The Book of Colt Firearms", by R. L. Wilson. The Colt revolver, a historic remnant from the shoot-em-up days of the old West, is now Arizona's official gun.
Production first ran from 1872 through 1941 and then again from 1955. The measure landed on the Republican governor's desk after narrow approval by the state House last week in the waning hours of the legislative session. The Arizona House early Wednesday narrowly approved the Colt Single Action Army Revolver as the state's official gun. The bill had been rejected earlier in an all-night session, the AP reports, but it eventually won approval by a 32-25 vote.
Opponents say it was inappropriate to give the official designation to an out-of-state company's commercial product. Colt is based in Connecticut.
Democratic Rep. Albert Hale, a Navajo Nation lawmaker also strongly objected to honoring a gun that killed his people and so many others during its long history in the American West.
Opponents also said the designation was ill-timed, coming as the state deals with the fallout from a massive budget crisis and only months after a mass shooting in Tucson.
Arizona Law
The law designating colt single action army revolver as the official Arizona state firearm is found in the Arizona Revised Statutes, Title 41, Chapter 4.1, Article 5, Section 860.02
2011 Arizona Revised Statutes
Title 41 State Government
41-860.02 State firearm

Universal Citation: AZ Rev Stat § 41-860.02 (1996 through 1st Reg Sess 50th Legis)

41-860.02. State firearm

The colt single action army revolver is the official state firearm.
---