Arizona State Colors
Blue and Gold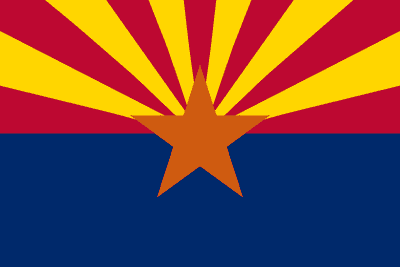 Adopted 1915
Adopted in 1915, Arizona's official state colors are blue and gold. The blue on the lower half of the Arizona flag is the same "Liberty Blue" found on the U.S. flag. The gold represents the western setting sun. Red and gold are the colors carried by Coronado's Expedition of 1540 to the Seven Cities of Cibola. The blue is "liberty blue" identical to the color in the United States flag field of stars. Since Arizona is a western state the rays of the setting sun seemed appropriate.
Arizona State Flag Law
The law designating Blue and old gold as the official Arizona state colors is found in the Arizona Revised Statutes, Title 41, Chapter 4.1, Article 5, Section 851
TITLE 41 - STATE GOVERNMENT.
CHAPTER 4.1 - HISTORY, ARCHAEOLOGY, AND STATE EMBLEMS.
ARTICLE 5 - STATE EMBLEMS.
§ 41-851. State colors; state flag.

A. Blue and old gold shall be the colors of the state. The blue shall be the same shade as that of the flag of the United States.

B. The flag of the state shall be of the following design:

The lower half of the flag a blue field and the upper half divided into thirteen equal segments or rays which shall start at the center on the lower line and continue to the edges of the flag, colored alternately light yellow and red, consisting of six yellow and seven red rays. In the center of the flag, superimposed, there shall be a copper-colored five pointed star, so placed that the upper points shall be one foot from the top of the flag and the lower points one foot from the bottom of the flag. The red and blue shall be the same shade as the colors in the flag of the United States. The flag shall have a four-foot hoist and a six-foot fly, with a two-foot star and the same proportions shall be observed for flags of other sizes.

C. The flag represents the copper star of Arizona rising from a blue field in the face of a setting sun.
---