Arizona State Butterfly
Two-tailed Swallowtail Butterfly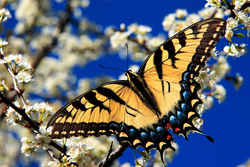 (Papilio multicaudata)
Adopted on May 9, 2001.
The Two-tailed Swallowtail, (Papilio multicaudata,) was adopted on May 9, 2001 as Arizona's state butterfly. The newest of the state symbols, the two-tailed swallowtail has yellow and black wings with a wing span between three and a half up to five inches in length. A swallowtail's habitat includes canyon lands, foothills, valleys and woodlands.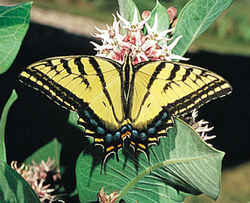 The adult butterfly (also commonly called two-tailed tiger swallowtail) has yellow to orangish-yellow wings edged thickly with black. Each wing has 4 almost parallel stripes (the innermost stripe is the longest, while the outermost two may simply be bars). The hindmost part of each wing has a curved row of blue patches and below the blue are several bars or spots of orange. Two tails extend from the rear of the hind wing, with the innermost tail considerably shorter.
The caterpillar (larvae) of the two-tailed swallowtail butterfly is light green and marked near the head with four yellow dots and two yellowish eyespots with blue centers. The "neck" of the caterpillar is banded with black and yellow, and the body has several rows of tiny blue dots. The caterpillar turns brownish or reddish just prior to pupation. Caterpillars feed on the leaves of a variety of trees and shrubs, adults drink flower nectar.
Characteristics of the Two-tailed Swallowtail
Two-tailed Swallowtail (Papilio multicaudata Kirby)
Wing span: 3 1/2 - 5 inches (9 - 12.7 cm).
Identification
Upper surface of male forewing with narrow black stripes. Each hind wing has 2 tails.
Life history
Males patrol stream courses or city streets for receptive females. Eggs are laid singly on leaves of host plant. Caterpillars eat leaves and rest on silken mats in shelters of curled leaves. Chrysalids hibernate.
Flight
One flight May to mid-August in North, most of year in South.
Caterpillar hosts
Leaves of ash (Fraxinus), hop tree (Ptelea), and chokecherry (Prunus).
Adult food
Nectar from thistles, milkweeds, California buckeye, lilac, and many others.
Habitat
Foothill slopes and canyons, moist valleys, streamsides, woodlands, parks, roadsides, suburbs, and cities.
Range
Western North America south from British Columbia, east to central Nebraska and central Texas, south through Mexico.
Arizona House Bill 2247
House Engrossed

State of Arizona
House of Representatives
Forty-fifth Legislature
First Regular Session
2001

CHAPTER 388

HOUSE BILL 2247

AN ACT

AMENDING TITLE 41, CHAPTER 4.1, ARTICLE 5, ARIZONA REVISED STATUTES, BY ADDING SECTION 41-860; RELATING TO STATE EMBLEMS.

Be it enacted by the Legislature of the State of Arizona:

Section 1. Title 41, chapter 4.1, article 5, Arizona Revised Statutes, is amended by adding section 41-860, to read:
41-860. State butterfly

A. THE PAPILIONIDAE PAPILIO MULTICAUDATA, TWO-TAILED SWALLOWTAIL IS THE OFFICIAL STATE BUTTERFLY.

B. DESIGNATION OF THE STATE BUTTERFLY PURSUANT TO THIS SECTION SHALL NOT CONSTITUTE GROUNDS FOR PROTECTION OF THE BUTTERFLY OR ITS HABITAT.

APPROVED BY THE GOVERNOR MAY 9, 2001.

FILED IN THE OFFICE OF THE SECRETARY OF STATE MAY 9, 2001.
Arizona Law
The law designating the two-tailed swallowtail as the official Arizona state butterfly is found in the rizona Revised Statutes, Title 41, Chapter 4.1, Article 5, Section 41-860.
Arizona Legislature Archives
41-860. State butterfly

A. The papilionidae papilio multicaudata, two-tailed swallowtail is the official state butterfly.
B. Designation of the state butterfly pursuant to this section shall not constitute grounds for protection of the butterfly or its habitat.
Taxonomic Hierarchy: Two-tailed Swallowtail
Kingdom
: Animalia (Animals)
Phylum
: Arthropoda (Arthropods)
Subphylum
: Hexapoda (Hexapods)
Class
: Insecta (Insects)
Order
: Lepidoptera (Butterflies and Moths)
Superfamily
: Papilionoidea (Butterflies and Skippers)
Family
: Papilionidae (Swallowtails, Parnassians)
Subfamily
: Papilioninae
Tribe
: Papilionini (Fluted Swallowtails)
Genus
; Papilio
Species
: multicaudatus (Two-tailed Swallowtail - Hodges#4178)
---
State Insects,
Butterflies, and Bugs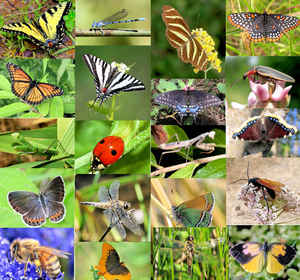 State insects are selected by 45 states of the 50 United States. Some states have more than one designated insect, or have multiple categories (e.g., state insect and state butterfly, etc.).