Arizona State Neckware
Bola Tie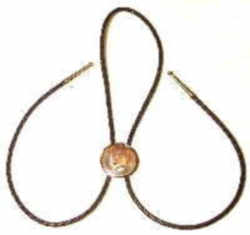 Adopted on August 13, 1971.
The bola tie, which originated in Arizona, became the official neckwear of Arizona by legislative action on August 13, 1971. The bola tie, a "new symbol of the West," is usually crafted by silversmiths and leather makers in almost every conceivable shape, size, and type. The silver bola tie adorned with turquoise is generally considered the official style
The bolo tie's road to acquiring the status of Arizona's official neckwear took place over several years. KOOL Channel 10's anchor Bill Close and five other bolo tie enthusiasts met in 1966 at the Westward Ho Hotel in downtown Phoenix. From the beginning, their intent was to make the bolo tie a state emblem. Perhaps to help the cause, Arizona Highways Magazine devoted several pages of its October 1966 issue to Southwestern jewelry, including bolo ties. Help arrived when Governor Jack Williams proclaimed the first week of March 1969 as "Bolo Tie Week." After several unsuccessful attempts, a bill making the bolo tie the official state neckwear was finally passed on April 22, 1971. The bolo tie is also the official neckwear of New Mexico and Texas, although Arizona was the first state to designate it as such.
A bolo tie (sometimes bola tie or shoestring necktie) is a type of necktie consisting of a piece of cord or braided leather with decorative metal tips - aglets (aiguillettes) - secured with an ornamental clasp or slide.
Bolos are easy to make, using attractive flat objects such as lady's pins, coins, plastic netsuke reproductions, polished stones, Christmas tree ornaments, and refrigerator magnets. Cords of leather and cordage stock, clips and tips, called "findings" are widely available from jewelry supply firms.
The bola tie is an icon when it comes to Western fashion and can be traced to Arizona. Its origins, however, go back to 1866 in New Mexico. The Zuni Pueblo Trading Post is said to have a bola tie that dates back that far.
Arizona Law
The law designating Bola as the official Arizona state neckwear is found in the Arizona Revised Statutes, Title 41, Chapter 4.1, Article 5, Section 857
Title 41 - State Government.
Chapter 4.1 - HISTORY, ARCHAEOLOGY AND STATE EMBLEMS.
Article 5 - State Emblems.

41-857. State neckwear

The Bola tie shall be the official state neckwear.
---