Connecticut Geography: The Land
Geography and Landforms of Connecticut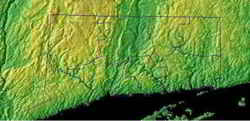 Find an overview of Connecticut geography, topography, geographic land regions, land areas, and major rivers.

Access Connecticut almanac, furnishing more details on the state geography, geographical and land regions, climate and weather, elevation, land areas, bordering states, and other statistical data.
Connecticut is the third smallest state. Only Rhode Island and Delaware have less area. A low, flat region known as the Coastal Lowlands is found along the state's southern shore with the Atlantic Ocean. It is between 6 and 16 miles wide. Several important harbors are found along the coast. They include New London, New Haven, and Greenwich.
Connecticut Highest, Lowest, & Mean Elevations

Mean Elevation
500
Highest Point
Mt. Frissell, on south slope
2,380
Lowest Point
Long Island Sound
Sea level

Connecticut Land Area (Square Miles)

Geographic Center
In Hartford County, at East Berlin
Longitude: 72?#8218;° 42.4'W
Latitude: 41?#8218;° 35.7'N
Total Area
5,543.33
48th
Land Area
4,844.80
87.40%
Water Area
698.53
12.60%
Forested Land Area
60.1%
Dimensions
(Length - Width)
110 miles
70 miles
---
Connecticut is located in the northeastern region of United States. It shares its borders with Long Island Sound to the south, New York State to the west, Massachusetts to the north, and Rhode Island to the east. The state of Connecticut can be geographically divided into five distinct land regions:
the Taconic Section,
the Western New England Upland,
the Connecticut Valley Lowland,
the Eastern New England Upland and the
Coastal Lowlands.
Northwest Highland
(Taconic Section)
Located in the northwestern corner of the state is the Taconic Section. This section between the Housatonic River and the New York border extends north into Massachusetts. Mt. Frissell, the highest point in Connecticut is found in the Taconic Section.
Northwest Upland
(Western New England Upland)
The Western New England Upland in Connecticut slopes gradually downward from northwest to southeast. It's elevation above sea level falls from about 1,400 to 1,000 feet. Most of western Connecticut is Western New England Upland. Characterized by steep hills, ridges and rivers, this area also runs into parts of Massachusetts and Vermont.
Connecticut Valley Lowland
The Connecticut Valley Lowland runs through the center of Connecticut and north into Massachusetts. It averages about 30 miles wide. Small rivers with basalt ridges characterize this area.
Northeast Upland
(Eastern New England Upland)
Most of western Connecticut is characterized by the narrow river valleys and the low hills of the Eastern New England Upland. The land slopes downward from northwest to northeast. The Connecticut section of the Eastern New England Upland, that stretches from Connecticut to Maine, is heavily forested.
Coastal Lowlands
Part of the Coastal Lowlands that cover the entire New England Coast, the Connecticut Coastal Lowlands form a narrow strip of land, 6 to 16 miles wide, that runs along the southern shore of the state at Long Island Sound. Lower than most of Connecticut, the Coastal Lowlands are characterized by lower ridges and beaches and harbors along the coast.
Connecticut Landscape and Landforms:
Southern New England
The Southern New England physiographic area covers parts of northern New Jersey, southern New York including Long Island, the majority of Connecticut, all of Rhode Island, most of eastern Massachusetts, the southeastern corner of New Hampshire, and south-coastal Maine. This area has experienced the greatest amount of urbanization of any part of the Northeast, including the entire Boston-to-New York City corridor. Urbanization and associated human activities severely threaten remaining high-priority habitats, especially maritime marshes and dunes, relict grasslands, and mature deciduous forests. Forest fragmentation, which is not a major issue in most parts of the Northeast, is a severe factor threatening forest bird populations. Currently, urban land covers roughly one-third of the physiographic area, with an additional 25 % of the region in agricultural production, primarily in the Connecticut River Valley, eastern Long Island, and northern New Jersey. Remaining forests are a mixture of oak-hickory and other hardwoods, white pine-red pine forest, and pine-oak woodlands or barrens.
Northern New England
The Northern New England physiographic area extends from southern Maine through southern New Hampshire and Vermont and western Massachusetts, barely entering eastern New York in the Taconic Highlands. Landforms within the planning unit include Vermont's Killington Peak at 1,290 m ranging down to sea level along the Maine coast. Most of the region consists of Rolling hills and small mountains with large areas of farmland of the Connecticut, Merrimac, Androscoggin, and Kennebec river valleys. The planning unit also contains a large portion of the Green Mountain National Forest in southern Vermont. A majority of the planning unit is dominated by either sugar maple-beech-birch forest, red spruce-balsam fir forest, mesic hardwood forests dominated by northern red oak, or drier forests dominated by oak-hickory or pine-oak association. Presettlement forests in much of the region consisted largely of white pine and hemlock, with hardwood forests dominating after timber removal and other disturbance. Today, agriculture remains an important land use, but forest harvesting too shapes the habitats throughout Northern New England. Human populations have grown tremendously in this area and development for single family housing especially in rural and suburban areas is especially important.
US Geography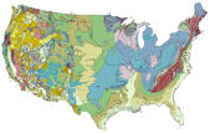 Geography is a field of science dedicated to the study of the lands, the features, the inhabitants, and the phenomena of the Earth.