Delaware State Soil
Greenwich Loam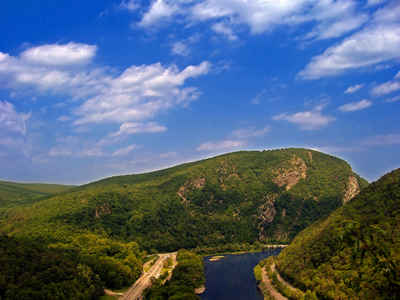 (course, loamy, mixed, semiactive, mesic, Typic Hapludult)
Adopted on April 20, 2000
Since Greenwich loam (a coarse, loamy, mixed, semiactive, mesic, Typic Hapludult) is commonly found in all counties in Delaware and enhances water quality, agriculture, wildlife habitat, and natural landscape beauty, it was adopted as the State soil on April 20, 2000.
"Greenwich Loam", a soil nominated for the honor by State Representative V. George Carey, a Republican from Milford. Carey was in attendance when Governor Thomas R. Carper signed House Bill 436 designating Greenwich Loam as the official state soil.

Found in all three Delaware counties, Greenwich Loam is a prime farm soil with few limitations for most land uses. "Officially establishing a state soil will hopefully aid in raising public awareness about soil conservation and provide a vehicle for future education about soils," said Gov. Carper. Lest you think this is some kind of joke, be aware that many other states have officially designated a state soil, as well.

The Greenwich Loam soil was dedicated in the memory of Dr. George Demas, who died suddenly at age 41 on Dec. 23, 1999. Dr. Demas was the lead soil scientist in the update of the recent Delaware soil survey and had more than 15 years of experience working on soil surveys in Delaware, Maryland and New Jersey. Demas' wife, soil conservationist Susan Demas, also attended the soil ceremony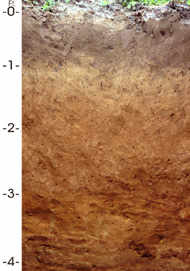 The Greenwich series consists of very deep, well-drained, moderately rapidly permeable soils that formed in sandy marine and old alluvial sediments overlain by a thin mantle of sediments that have a high content of silt. These soils are in the uplands on the coastal plain of Delaware and adjacent States. They are among the most productive soils in Delaware for agriculture and forestry and are considered prime farmland. They have few limitations if used as sites for urban or recreational development. On April 20, 2000, Governor Thomas R. Carper signed House Bill 436, which designated Greenwich loam as Delaware's official State soil. Students from Fifer Middle School assisted primary sponsor Rep. V. George Carey in convincing the General Assembly to adopt Greenwich loam as the State soil. The students made Greenwich soil mini-monoliths, which they distributed to legislators in an attempt to illustrate the need for the public to be educated about the importance of soils and soil conservation.
Greenwich Soil Profile
Surface layer: brown loam
Subsoil - upper: strong brown loam
Subsoil - lower: yellowish brown sandy loam
Substratum: yellowish brown coarse sand stratified with dark yellowish brown loamy sand
Delaware House Bill No. 436
CHAPTER 288
FORMERLY
HOUSE BILL NO. 436

AN ACT TO AMEND TITLE 29 RELATING TO THE STATE SOIL.

WHEREAS, it appears that a majority of the states of the United States of America, having significant concern for soil, have by legislative enactments chosen a particular soil to be known as their state soil; and

WHEREAS, the State of Delaware has significant concern for soil; and

WHEREAS, Delaware's soils play a vital part in the quality of life and welfare of all Delawareans; and

WHEREAS, soils enhance water quality, agriculture, wildlife habitat, and natural landscape beauty; and

WHEREAS, the Greenwich loam (a course, loamy, mixed, semiactive, mesic, Typic Hapludult) is commonly found in all counties in Delaware; and

WHEREAS, the State of Delaware has yet to designate a state soil;

NOW THEREFORE:
BE IT ENACTED BY THE GENERAL ASSEMBLY OF THE STATE OF DELAWARE:

Section 1. Amend Chapter 3, Title 29 of the Delaware Code, by inserting therein a new section as follows:

"§ 315 State soil.

Greenwich loam (a course, loamy, mixed, semiactive, mesic, Typic Hapludult) is the official soil of the State."

Approved April 20, 2000
---