United States Government Buildings
The Supreme Court Building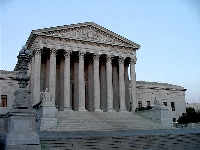 Located in Washington, DC near the Capitol, this building has housed the Supreme Court since 1935. Initially, the Court met in the Merchants Exchange Building in New York City. When the capital moved to Philadelphia in 1790, the Court moved first into Independence Hall and later to City Hall. Then when the capital moved to its permanent location, Washington, DC, Congress lent the Court space in the new Capitol Building, until a permanent location was established for the Court.
Sixteen marble columns may be found at the main entrance of the Court. Above the entrance to the Supreme Court Building appears engraved motto "Equal Justice Under Law", which was designed by Cass Gilbert. Above this motto is a group of nine figures, sculpted by Robert Aitken, representing Liberty Enthroned guarded by Order and Authority. They are:
Reclining on the far left is Chief Justice William Howard Taft, representing Research Present. He is portrayed as a student at Yale University, and is facing an English crown, a Pope's miter and a Bishop's crosier.

Second from left is former Senator Elihu Root, who introduced President Taft's bill to create Washington's Fine Arts Commission.

Third from left is the architect of the Supreme Court building, Cass Gilbert.

The three central figures are Authority, Liberty Enthroned and Order.
Third from the right is Chief Justice Charles Evans Hughes, who succeeded Taft as Chief Justice as well as Chairman of the Supreme Court Building Commission.

Second from right is Robert Aitken, sculptor of the figures.
At the far right is John Marshall, Chief Justice of the United States from 1801 to 1835, representing Research Past. He is holding Roman scrolls, and is gazing at an urn, mosaic tables and an oil lamp, that rest at his feet.

On either side of the main steps are seated marble figures. These large statues are the work of sculptor James Earle Fraser. On the left is a female figure, the Contemplation of Justice. On the right is a male figure, the Guardian or Authority of Law.
---