United States Government Buildings
US Capitol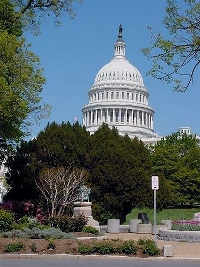 Accepted 1972
Built on a hill popularly called Capitol Hill in Washington, DC, the US Capitol has been the home of the House of Representatives and the Senate since 1800.

In March 1792, a design contest was announced to design the US Capitol. All of the 16 plans submitted were rejected. A late entry by William Thornton, amateur architect from the British West Indies, was accepted in fall 1792. President Washington liked it because of its "grandeur, simplicity and convenience."
The iron dome, also white, is surmounted by a statue of a woman representing Freedom, by the American sculptor Thomas Crawford.
The height of the Capitol from the baseline on the east front to the top of the statue is 287.5 ft (87.6 m).

---