United States Uncle Sam
Uncle Sam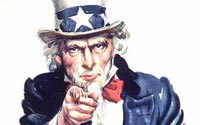 Uncle Sam, a figure symbolizing the United States, is portrayed as a tall, white-haired man with a goatee. He is often dressed in red, white, and blue, and wears a top hat.
The exact origins of Uncle Sam as a symbol for the United States are unknown. The term Uncle Sam was originally used as a derogatory term for American troops during the War of 1812. During that war, Samuel "Uncle Sam" Wilson, a businessman from Troy, N.Y., supplied the Army with beef in barrels. The barrels were labeled "US" to show that they belonged to the US government. Perhaps this led to the use of "Uncle Sam" as a nickname for the United States. In 1961, Congress passed a resolution which recognized Samuel Wilson as the inspiration for the symbol Uncle Sam.
The most famous picture of Uncle Sam appeared on an Army recruiting poster. The poster was designed in World War I, and was used again in World War II. The caption reads "I Want You for US Army." James Montgomery Flagg drew this picture, and served as the model too!
To learn more, check out the Library of Congress.
---