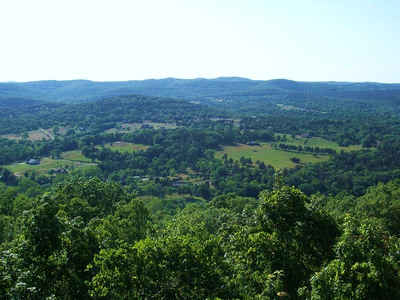 Alaska Boroughs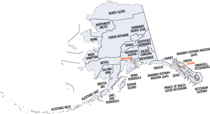 Click Image to Enlarge
Alaska Boroughs
Alaska is divided into nineteen organized boroughs and one "Unorganized Borough." The Borough Act of 1961 created "The Unorganized Borough" including all of Alaska not within a Unified, Home rule, First class or Second class Borough. The newest borough is Petersburg incorporated after voters approved borough formation in December 2012. Alaska and Louisiana are the only states that do not call their first-order administrative subdivisions counties (Louisiana uses parishes instead)
Alaska Boroughs: History and Information
Find a brief history of Alaska Boroughs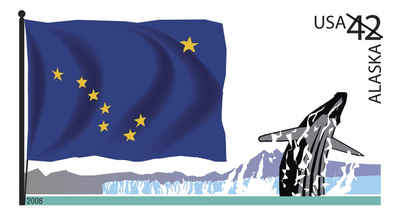 Alaska is the largest state in the United States by area. It is situated in the northwest extremity of the North American continent, with Canada to the east, the Arctic Ocean to the north, and the Pacific Ocean to the west and south, with Russia further west across the Bering Strait. Alaska is the 4th least populous and the least densely populated of the 50 United States. Approximately half of Alaska's 722,718 residents live within the Anchorage metropolitan area. Alaska was purchased from Russia on March 30, 1867. The land went through several administrative changes before becoming an organized (or incorporated) territory on May 11, 1912, and the 49th state of the US on January 3, 1959. Alaska is the largest state in the United States in land area at 586,412 square miles, over twice the size of Texas, the next largest state. Alaska capital city is Juneau.
In Alaska, the county level governments are called boroughs. Not all areas in Alaska are part of a borough. These unorganized areas are divided into Census Areas for statistical purposes which are the statistical equivalent of a county in Alaska. Census areas are delineated cooperatively by the State of Alaska Department of Labor and the Census Bureau for statistical purposes in the portion of Alaska not within an organized borough.

Alaska is divided into 19 organized boroughs and one "Unorganized Borough." The Borough Act of 1961 created "The Unorganized Borough" including all of Alaska not within a Unified, Home rule, First class or Second class Borough. Alaska and Louisiana are the only states that do not call their first-order administrative subdivisions counties (Louisiana uses parishes instead).
County
2000
Population
Square
Miles
Borough Seat
Created
Aleutians East Borough
2,697
6,985
Sand Point
1987
Anchorage Borough
260,283
1,698
Anchorage
1975
Bristol Bay Borough
1,258
519
Naknek
1962
City & Borough of Juneau
30,711
2,594
Juneau
1970
City & Borough of Sitka
8,835
2,882
Sitka
1971
City & Borough of Yakutat
808
7,650
Yakutat
1992
City and Borough of Wrangell
78,149
2,570
Wrangell
2008
Denali Borough
1,893
12,750
Healy
1990
Fairbanks North Star Borough
82,840
7,362
Fairbanks
1964
Haines Borough
2,392
2,357
Haines
1968
Kenai Peninsula Borough
49,691
16,079
Soldotna
1964
Ketchikan Gateway Borough
14,070
1,220
Ketchikan
1963
Kodiak Island Borough
13,913
6,463
Kodiak
1963
Lake And Peninsula Borough
1,823
23,632
King Salmon
1989
Matanuska-Susitna Borough
59,322
24,694
Palmer
1964
Municipality of Skagway
920
464
Skagway
2007
North Slope Borough
7,385
87,860
Barrow
1972
Northwest Arctic Borough
7,208
35,862
Kotzebue
1986
Petersburg Borough
2,824
119.2
Petersburg
2013
Unorganized Borough
81,803
323,440
NA
1961
---