Alaska State Almanac: Facts and Figures
Quick Facts, Figures, and Overview of the State of Alaska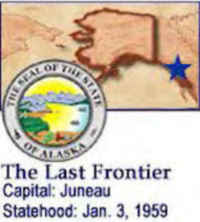 Alaska is one of the Pacific states in the northernmost state of the US, occupying the Northwest extremity of North America with Canada to the east, Arctic Ocean to the north and Pacific Ocean to the west and north. The tremendous land mass of Alaska - equal to one-fifth of the continental US only a few miles from the Russian Far East. The state includes two major island groups, the Aleutian Islands, which extend in an arc West from the Southwest corner of the mainland, and the Alexander Archipelago, adjacent to the Southeast coast of the mainland. In 1867 the United States purchased Alaska from Russia for just over $7,000,000. It was one of the greatest land deals every recorded. Alaska's name is derived from the Aleut word "Alyeska," meaning "great land" or "that which the sea breaks against."

By 2007, the oil and gas industry dominates the Alaskan economy, with more than 80% of the state's revenues derived from petroleum extraction. Alaska's main export product (excluding oil and natural gas) is seafood, primarily salmon, cod, Pollock and crab. Alaska quickly began its incredible economic contribution to the US economy.

Official Name
Alaska
Capital
Juneau
Nicknames
"The Last Frontier" or "Land of the Midnight Sun"... and more
Motto
North to the Future (Official)
Location
Region
58.38858 N, 134.13342 W
Alaska

Pacific States
Constitution Ratified
April 24, 1956
Statehood
January 03, 1959
49th State
Population
626,932
1.10 sq. mi.
48th
Largest City
(by population)
10 largest cities (2010): Anchorage, 291,826; Fairbanks, 31,535; Juneau, 31,275 Sitka, 8,881; Wasilla, 7,831; Kenai, 7,100; Ketchikan, 8,050; Palmer, 5,937; Kodiak, 6,130; Bethel, 6,080
Bordering States
North: Arctic Ocean
East: Yukon Territory and British Columbia
Southeast, South, and Southwest: Pacific Ocean
West: Bering Sea, Bering Strait, and Arctic Ocean
Coastline: 5580 mi.
Major Industry
oil (petroleum)
Major Rivers
Yukon River, Kuskokwim River, Colville River, Copper River
Major Lakes
Iliamna Lake, Aleknagik Lake, Becharof Lake, Clark Lake, Minchumina Lake
Alaska Boroughs
27 Boroughs and 11 Geographical Census Areas in Alaska
Largest Borough
(by population)
Anchorage Borough
291,826 (2010)
1,698 sq. mi.
Largest Borough
(by area)
Yukon-Koyukuk Borough
145,900 sq. mi.
State parks
100 Plus - 3.5 million acres
Electoral Votes
3
US Congress
2 Senators; 1 Representative
Time Zone
Alaska Standard Time
On September 15, 1983, Secretary Elizabeth Dole signed a plan to reduce the number of time zones in Alaska from four to two; two weeks later, the plan became effective. Since that date, 90 percent of Alaska residents set their clocks to Alaska Standard Time (same as Yukon), only one hour behind the West Coast. The far reaches of the Aleutian Islands and St. Lawrence Island are in the next zone, Hawaii-Aleutian Standard Time. Alaska does participate in the Daylight Savings program from April to October along with most other states in the US.

Before this change, Alaska's time zones were Pacific time (southeastern Alaska), Yukon time (Yakutat), Alaska time (from just east of Cold Bay and west of Yakutat northward, including Nome), and Bering time (the north coast of Alaska and the Aleutian chain).
Zip Codes
NANPA
State Quick Facts
Census Bureau Quick Facts
---
Alaska Climate and Weather

Temperatures in Alaska during the summer range from 600F-800F. Nighttime and early mornings are cooler, from the 40's - 50's. Late August and September departures could encounter cooler temperatures and slightly fewer hours of sunlight, as fall arrives early at these latitudes
Highest Temperature
100 degrees
June 27, 1915 - Fort Yukon
Lowest Temperature
-80 degrees
January 23, 1971 - Prospect Creek Camp
Avg. Temp:
High - Low
71.8 degrees
-21.6 degrees

Alaska Points of Interest

The natural, rugged beauty of Alaska is its foremost appeal. Some of the most popular destinations in this massive state include Glacier Bay National Park and the entire Inside Passage, Mt. McKinley and Denali National Park, Kenai Peninsula, Kodiak Island and the Pribilof Islands.

Alaska Highest, Lowest, and Mean Elevations (Feet)

Mean Elevation: 1,900 feet
Highest Point: Mt. McKinley: 20,320 feet

Mount McKinley is the highest peak in North America. It is a huge snowy mass, flanked by five giant glaciers and countless icefalls. It dominates the horizon from as far south as Cook Inlet, 200 miles away, and as far north as Fairbanks, 150 miles away. Its steep unbroken south slope rises 17,000 feet in twelve miles. Five major ridges extend from the summit, and many spurs and buttresses extend from these.

Lowest Point:
Pacific Ocean
Sea level

Alaska Land Area (Square Miles)

Geographic Center
The geographic center of Alaska is located approximately 60 miles northwest (NW) of Mt. McKinley
Latitude: 63°50'N
Longitude: 152°W
Total Area
663,267.26 sq. miles
1st
Land Area
571,951.26 sq. miles
66.24%
Water Area
91,316.00 sq. miles
13.76%
Forested Land Area
34.9%
Dimensions
(Length - Width)
1,480 miles - 810 miles
Borough Information and Borough History
Almanac Online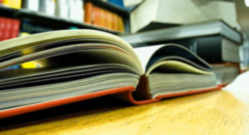 Information on people & places that make US a great place to live, visit, or study.